printer friendly version
IT infrastructures for estates
Residential Estate Security Handbook 2016 - Vol 1 Residential Estate (Industry), CCTV, Surveillance & Remote Monitoring, IT infrastructure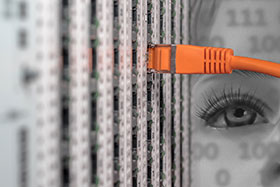 The burgeoning residential security business in South Africa is driven by a steady increase in all categories of robbery, particularly violent property crimes. House robberies, as defined by law enforcement, occur when people are confronted by armed gangs while they are in their homes. On average 53 households are attacked each day.
With South Africans increasingly at risk of personal injury and emotional trauma in the place where they should feel safest, demand for security systems, particularly video surveillance systems is on the rise. This is driving persistent, uncompromising innovation in this field. Today's digital systems have come a long way from the early analogue tube cameras connected to video cassette recorders.
A majority now feature network-linked IP (Internet Protocol) cameras and employ servers for image recording in hybrid or fully digitised systems. Vendors are thus moving away from simple, legacy cameras towards the provision of higher resolution cameras supported by platforms facilitating the plug-in of many other complementary technologies, such as storage, analytics and two-way audio. These systems are capable of monitoring more locations, serving larger geographic areas and delivering clearer images.
The IP video marketplace now teems with new high definition camera options, new software, a variety of wireless communication and diverse control, management and data storage systems. In addition there are analytics solutions capable of recognising potential security breaches, often without human involvement.
Just a few years ago, the ability to provide an end-to-end, fully functioning, IT integrated video surveillance network was a goal that was out of reach for most households. One of the reasons was a lack of willingness among some traditional domestic video surveillance players to readily embrace the digital revolution.
While the IT industry has, to a large extent, made installing IP-linked residential video surveillance systems easier with the introduction of default configurations and templates, the real benefits of modern systems include remote image monitoring, cloud storage of crucial data and images, and the elimination of failures and system interruptions that violate the always-on premise of a security system that demands 24x7 reliability.
Against this backdrop, one of the more recent developments in the residential security systems arena has been the popularisation of wireless data transmission.
Today, wireless technology has advanced to the point where it can out-perform wireline alternatives in most applications, greatly enhancing deployment flexibility while significantly reducing implementation costs.
In this light, IP and the end-to-end wireless solutions that now exist, represent the keys needed to unlock a flood of additional information and situational awareness at an incident spot. Combining video, voice, data and still images will help first response teams make better, more informed decisions in emergencies when time is of the essence.
The need to speedily transmit this data to these teams' command centres has emphasised the need for high capacity network backbones with secure backhaul links which can be commissioned and managed instantly.
For more information contact Duxbury Networking, +27 (0)11 351 9800, mara@duxnet.co.za, www.duxbury.co.za
Credit(s)
Further reading:
Supporting local manufacturing
Industrial (Industry) IT infrastructure
Smart Security asked Esenthren Govender, Solutions Executive at Technodyn for insight into how the company supports local manufacturing organisations to optimise their business.
Read more...
---
AI technology to empower vertical markets
Dahua Technology South Africa Mining (Industry) CCTV, Surveillance & Remote Monitoring Products
Dahua WizMind is a full portfolio of solutions comprising project-oriented products that use deep learning algorithms to provide more business value to its global customers and deliver reliable and comprehensive AI solutions for vertical markets.
Read more...
---
Elvey partners with HALO
Elvey Security Technologies News CCTV, Surveillance & Remote Monitoring
Elvey Group has partnered with HALO Europe to provide Africa's first body-worn solution with zero upfront costs. This includes an IP68-certified body camera and a 4G-connected device.
Read more...
---
Invisible connection and tangible protection via cloud
Dahua Technology South Africa Perimeter Security, Alarms & Intruder Detection CCTV, Surveillance & Remote Monitoring Products
Dahua Technology has launched its AirShield security solution that uses advanced, stable and reliable RF communication technology and cloud services, integrating alarm hubs, various detectors and accessories, with several software apps.
Read more...
---
Smart buildings require smarter networks
Commercial (Industry) IT infrastructure
The smart building is not a new concept, but it's more than just four walls built sustainably, but a network that interconnects people, processes, data, and things. Lots and lots of things.
Read more...
---
VMware unveils new security capabilities
Cyber Security IT infrastructure Products
At the RSA Conference 2023, VMware unveiled enhanced features for its suite of security solutions to address the increasing sophistication and scale of cyberattacks and to deliver strong lateral security across multi-cloud environments.
Read more...
---
The importance of the operator's frame of reference
Leaderware Editor's Choice CCTV, Surveillance & Remote Monitoring Security Services & Risk Management Mining (Industry)
The better the operator's frame of reference and situational awareness, and the more informed they are in dealing with CCTV surveillance in the mining industry, the more successful they are likely to be in surveillance.
Read more...
---
Complex, but critical partner in security
Technews Publishing Bidvest Protea Coin Editor's Choice Integrated Solutions IT infrastructure Mining (Industry)
Smart Security looks at how drones can be applied effectively in mine security operations. The ability to quickly gain a birds-eye view of a situation, whether security, safety or operational in nature, makes drones a significant value-add to mines.
Read more...
---
5G and IoT set to transform mining
Mining (Industry) IT infrastructure
BCW Wireless delivers significant enhancements in worker safety and business productivity at the Nungu Mine in Elandspruit, with 5G wireless-enabled technology instantly addressing a wide range of challenges faced by the mining industry.
Read more...
---
Enhancing surveillance on mines
Avigilon Technews Publishing Axis Communications SA Forbatt SA Hikvision South Africa Bosch Building Technologies Editor's Choice CCTV, Surveillance & Remote Monitoring Integrated Solutions Mining (Industry)
Smart Security approached a number of surveillance vendors to find out what the latest in surveillance technology is that can make a difference to security operations in mines, as well as general operations.
Read more...
---