printer friendly version
Reliable communications means reliable security
Residential Estate Security Handbook 2016 - Vol 1 Residential Estate (Industry), IT infrastructure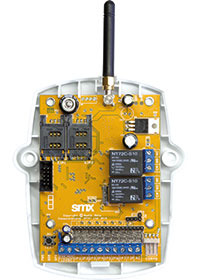 It is a common belief in large sections of South African society that living in residential estates or closed communities greatly enhances security levels and contributes to a more open and free lifestyle. Due to consistently high levels of crime and attacks on residential properties, people have gradually bought into communal living and, quite understandably, believe that the safety in numbers approach is the best way forward.
While there is a valid argument for this approach, one needs to bear in mind that as security barriers are introduced, the ability of criminal elements to overcome these is also evolving. Most reputable security companies offer a multi-level solution focused on back-up and redundancy. This takes various forms and includes the human element as well as a number of technology layers.
A key element
Regardless of the type of on-site resources, such as guards, vehicles and CCTV-based elements, one of the critical denominators is always communication. This includes the on-site point-to-point aspects as well as the links to off-site control rooms, monitoring centres and vehicle assets.
A very important part of the solution is to be able to offer honest and consistent assessment to the providers and customers regarding which types of products and which service providers should be used. A number of consultants tend to push either a single range of their own products or products closely related to theirs. We at RDC have always held the belief that a wide range of different manufacturers and products is in the best interests of the clients as this spreads the risk and the customer is not trapped or tied in too tightly to one or two providers.
The basic structure
If one accepts that the basics of estate security are in place, walls, gates, etc, the next step is to identify the critical elements that are needed and how these will form an integrated turnkey solution. These can be broken up as follows:
1. Human resource deployment – guards.
2. Access control – gates, booms, turnstiles.
3. Electronic visual monitoring – CCTV.
4. Communications centre – control room.
5. Incident management – armed response units.
The right communication
The key to providing a manageable and trustworthy solution lies in being able to communicate quickly and reliably with the various components listed above. Current technology platforms are widely used by manufacturers, and herein lies one of the challenges. The question is 'which type of platform do we use?' The answer is not quite as easily reached when one considers the strengths and weaknesses inherent in electronic solutions. RDC offers VHF radio, GPRS and SMS communication options. Once again, we are directed back to the RDC philosophy of using a multi-layered approach to support the basic security components and provide redundancy.
VHF radio
The initial and prime communication form in the majority of security solutions is still VHF-based radio technology. This links the individual alarm systems to the control room/s to communicate critical and sometimes life-threatening incidents. VHF is often seen as an older form of communication but has over time proven to be one of the most practical forms of communication. It is often chosen because of its cost-effectiveness, proven reliability and simplicity. RDC continues to develop VHF technology, which will soon advance in leaps and bounds. Patented technology introducing the benefits of bi-directional communication will make this technology even more appealing in future and will be unique to RDC.
A VHF frequency is required and, in most cases, a communication network consisting of repeater equipment located at well-placed high sites to establish comprehensive coverage. A common misconception is that frequencies are no longer available. RDC is able to provide reliable coverage over most of the large urban centres in the country, greatly enhancing our ability to provide VHF coverage in security estates. The control room can be situated inside the estate itself and/or be linked to a second off-site control room, typically at an armed reaction company.
In-car monitoring
A unique offering provided in estate specific environments is RDC's ability to install an in-car base-station in patrol and response vehicles. Emergency signals are received in the vehicle at the same time as the control rooms. Client information is immediately made available to the reaction officer, cutting out control room processing time and enabling very rapid responses. This is particularly advantageous in estates where dedicated response vehicles are often in close proximity to homes.
In order to cover a number of requirements in estate structures, there are also self-contained VHF panic packs. These units can be used by static guards, patrolling guards, as well as located at clubhouses and play areas facilitating instant emergency alert access for parents, walkers and residents who find themselves in need of urgent assistance.
Advanced GPRS technology
The introduction of GPRS technology, driven by the cellular industry, has enabled RDC to provide reliable bi-directional communication utilising GPRS transceivers to send and receive a wide array of information. One of the key advantages when using GPRS-based systems is coverage. These communication devices can be installed at any location where cellular coverage is present.
Bi-directional features
Bi-directional communications enables an array of advanced features. Transceiver units can be accessed remotely through an easy-to-use web based application called GTXconnect. This allows the service provider to see a snapshot of the communication devices in the system and their basic status. The online access also allows remote programming of units in the field, status checks and even rectifying faults or programming errors without going to the site. End-users can even be given limited access to GTXconnect through a mobile app, which allows them to remotely control the on-board switching relays. The relays can be linked to control just about anything e.g. lights, gates, etc.
The advanced units are just as easy to install. The transceivers can be linked to security systems in the simple traditional ways by means of hard wired telemetry inputs, contact ID or serial connections. The GTX is also available in a self-contained panic pack with its own battery and power supply.
JamAction
RDC offers patented technology to combat signal jamming by initiating an appropriate action in response to the detection. Detecting jamming activity can act as an early warning system to prevent incidents before they happen in various scenarios. On detecting jamming activity, the GTX transmitter may trigger a relay (switch) which can be connected to a warning source such as a siren or even a secondary communications device such as a VHF transmitter.
SMS remote automation
RDC has once again taken a proactive leap ahead in the competitive remote automation field with the launch of the SMX unit. This is the natural evolution of the TX-SMS unit introduced some years ago and now widely utilised by users, both within and outside of the security industry.
Remote switching control
The unit is able to switch devices on and off using programmable timers, missed calls or SMS commands. Example applications for a user in an estate environment include controlling gate access, switching spotlights on and off, controlling access and lighting at squash courts, golf clubhouses and swimming pool pumps, etc. Switching functions are ideal for estates with holiday homes. Owners can use the switching features to disarm their alarm systems and allow access to cleaners or maintenance teams from practically anywhere in the world.
SMS monitoring and reporting
The unit has advanced reporting functions, highly advantageous to estate environments. Messages can be sent to up to 10 cellular numbers as well as a base-station. Inputs on the unit can be wired to alarm control panels or other sensors for telemetry monitoring. Examples include wiring a unit to a utility access gate or a level sensor on a pool or ­reservoir. Unwanted SMSs are controlled through advanced message distribution functions so that recipients receive only the relevant messages. This means that when an alarm system reports an intrusion at the club house, for example, both the estate manager as well as a duty officer is alerted. However, when the same alarm system reports a regular self-test, only the duty officer receives the SMS.
Combining both reporting and switching features enables advanced if-this-then-that functions. For example, when a unit reports that the reservoir level is low, a pump can be automatically switched on initiating a top up. The automatic activity can be reported to relevant people if needed.
Simple, inexpensive gate access control
The SMX can accept up to 500 cell users which can in turn phone into the unit via a no charge call as the SMX will accept and terminate the call creating a 'missed call' or the user can SMS the unit. This can be used by estate residents to open access booms or gates.
Choosing the correct technology and service providers is crucial to a successful and sustainably secure estate environment. It's clear that honest and informed advice is critical right from the planning stages.
Radio Data Communication (RDC) is a high-level technology-based communications organisation that is now in its 40th year in the South African security industry.
Credit(s)
Further reading:
Supporting local manufacturing
Industrial (Industry) IT infrastructure
Smart Security asked Esenthren Govender, Solutions Executive at Technodyn for insight into how the company supports local manufacturing organisations to optimise their business.
Read more...
---
RDC expands its production capabilities
Radio Data Communications Perimeter Security, Alarms & Intruder Detection Products
Local electronics manufacturer, RDC, recently acquired a new SMT (surface mount technology) machine to boost its manufacturing output and meet the needs of its global customer base.
Read more...
---
Smart buildings require smarter networks
Commercial (Industry) IT infrastructure
The smart building is not a new concept, but it's more than just four walls built sustainably, but a network that interconnects people, processes, data, and things. Lots and lots of things.
Read more...
---
VMware unveils new security capabilities
Cyber Security IT infrastructure Products
At the RSA Conference 2023, VMware unveiled enhanced features for its suite of security solutions to address the increasing sophistication and scale of cyberattacks and to deliver strong lateral security across multi-cloud environments.
Read more...
---
Complex, but critical partner in security
Technews Publishing Bidvest Protea Coin Editor's Choice Integrated Solutions IT infrastructure Mining (Industry)
Smart Security looks at how drones can be applied effectively in mine security operations. The ability to quickly gain a birds-eye view of a situation, whether security, safety or operational in nature, makes drones a significant value-add to mines.
Read more...
---
5G and IoT set to transform mining
Mining (Industry) IT infrastructure
BCW Wireless delivers significant enhancements in worker safety and business productivity at the Nungu Mine in Elandspruit, with 5G wireless-enabled technology instantly addressing a wide range of challenges faced by the mining industry.
Read more...
---
Off the grid and into the cloud
Mining (Industry) IT infrastructure
With over 200 days of load shedding in 2022, with blackouts likely to be the status quo for at least another two years, short-term solutions to reliable power services no longer suffice.
Read more...
---
Innovation is a matter of communication
Mining (Industry) IT infrastructure Security Services & Risk Management
Kennedy Chinganya from Altron Nexus unpacks how the most impactful innovation in mining is found in radios and digital networks rather than robotics and machinery.
Read more...
---
OT, 4IR and cybercrime
Technews Publishing Integrated Solutions IT infrastructure Mining (Industry)
The convergence of OT (operational technology) and IT in industrial environments offers numerous and tangible benefits. When 4IR technologies are added to the mix, the sky becomes the proverbial limit.
Read more...
---
Generative AI: Move beyond the hype to achieve competitive advantage
Editor's Choice IT infrastructure Security Services & Risk Management
Generative AI tools, like ChatGPT, can massively improve an enterprises' productivity and competitiveness but only if we have a realistic view of the technology's risks and limitations, says Michael Langeveld, Chief Technology Officer at Hewlett Packard Enterprise SA.
Read more...
---