printer friendly version
Surge protection basics
Residential Estate Security Handbook 2016 - Vol 1 Residential Estate (Industry), IT infrastructure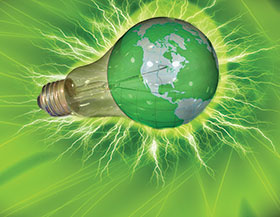 As soon as we are faced with a typical summer storm, with lightning and thunder to make it all the more interesting, most security electronic integrators expect to be working hard the next day. This would be on the insurance claims for equipment damaged during the storm.
When faced with equipment failure, the most common statement is "it was struck by lightning".
Then to make things interesting we find equipment failing, where there was no lightning at all.
Of course, the insurance company wants proof, which is difficult in most cases. After the third claim you are told, if there is no surge protection, the insurance will not cover the damage again. We have all been there.
The surge protection industry has come a long way with both good products and knowledge available to at least reduce the risk, but not remove it entirely. It is useful to understand some of the basics, so that the task of finding the most economical solution may be made easier.
Firstly, decide on value of equipment that is being protected and decide how much can be spent on the protection. It can easily result in equipment worth R100 00 being protected with surge protection equipment worth R25 000 or more. Although some may say that's probably a bit over the top.
As a rule, protection should not cost more than 8% to 10% of the equipment value. This would also depend on the importance of the equipment to the operation. We should also be looking to the vendors providing equipment, to provide some level of protection for the equipment as standard.
It is important to understand that an electrical surge will use any conductor available to rush at your equipment and damage it. That means it is not only the power supply, but also the data cables and video cables that are vulnerable. They all need to be protected, and as close to the equipment as possible.
The next requirement is to have a good quality earth connection for the protection device so that the surge can be discharged to earth.
Where do surges come from?
Typical causes are:
• Voltages induced into cables during an electric storm when large voltages and currents flash around the atmosphere. The air becomes full of static electricity and electromagnetic forces. The high voltages induced into the conductors then flow to lower potentials, usually in your equipment.
• Switching of large power circuits cause surges on the electrical system. This either has a direct impact on your equipment or does that induced voltage trick again.
• Load shedding events also cause surges.
• Large loads being switched on and off also cause surges in the electrical network.
So we can't always blame the weather, but the common factor is the inducing of voltages into the conductors. The solution is the use of surge protection devices that:
• Suppress the voltage so that it will not do any damage.
• Direct the energy from the surge into the earth.
• Act fast enough to keep the energy low enough, and also reduce the chance of the surge protection device failing. This device also has a limit on how hard it can work.
• Make sure that the devices are as close to the electronics as possible to reduce the length of conductor after the device. If not, the surge will also be out there looking for the next conductor to induce a voltage into.
• Make sure that the cables before the surge protector device don't run next to the cables after the device. This would cause induction.
Device selection has become a little more complex than it was 20 years ago, but the devices have become more efficient. They are divided into three categories. In most cases you will need to use all of them and others, depending on what is already installed.
The categories of Surge Protection Devices(SPD) are classified according to IEC and EN standards. These as a summary are:
• Lightning current arrester / combined arrester: Type 1 or Class I
• Surge arrester for distribution boards, sub-distribution boards: Type 2 or Class II
• Surge arrester for socket outlets / terminal devices: Type 3 or Class III
In most cases in the security Industry it will be the Type 3 or Class III arrestor that will be used. However, if it is not backed up by the installation of the other categories it will be all on its own in a war that it can't win.
All the manufacturers offer good equipment in this field of surge protection. It is worthwhile testing these devices before rushing into a specific installation, the reason being that some equipment may cause corruption of signals or the disappearance of the signal altogether.
Here are a few key factors to ensure some level of success:
• Have a good quality earth.
• Make sure that the upstream power system is also correctly protected.
• Be careful when wiring the installation to make sure that the protected cables don't run past the unprotected.
• Look for equipment that has some level of protection on board.
• The suppliers have experts who are able to help design the surge protection requirements.
• Evaluate the cost of protection against the value of equipment being protected.
For more information contact Rob Anderson, rob@robanderson.co.za, www.robanderson.co.za
Credit(s)
Further reading:
Supporting local manufacturing
Industrial (Industry) IT infrastructure
Smart Security asked Esenthren Govender, Solutions Executive at Technodyn for insight into how the company supports local manufacturing organisations to optimise their business.
Read more...
---
Smart buildings require smarter networks
Commercial (Industry) IT infrastructure
The smart building is not a new concept, but it's more than just four walls built sustainably, but a network that interconnects people, processes, data, and things. Lots and lots of things.
Read more...
---
VMware unveils new security capabilities
Cyber Security IT infrastructure Products
At the RSA Conference 2023, VMware unveiled enhanced features for its suite of security solutions to address the increasing sophistication and scale of cyberattacks and to deliver strong lateral security across multi-cloud environments.
Read more...
---
Complex, but critical partner in security
Technews Publishing Bidvest Protea Coin Editor's Choice Integrated Solutions IT infrastructure Mining (Industry)
Smart Security looks at how drones can be applied effectively in mine security operations. The ability to quickly gain a birds-eye view of a situation, whether security, safety or operational in nature, makes drones a significant value-add to mines.
Read more...
---
5G and IoT set to transform mining
Mining (Industry) IT infrastructure
BCW Wireless delivers significant enhancements in worker safety and business productivity at the Nungu Mine in Elandspruit, with 5G wireless-enabled technology instantly addressing a wide range of challenges faced by the mining industry.
Read more...
---
Off the grid and into the cloud
Mining (Industry) IT infrastructure
With over 200 days of load shedding in 2022, with blackouts likely to be the status quo for at least another two years, short-term solutions to reliable power services no longer suffice.
Read more...
---
Innovation is a matter of communication
Mining (Industry) IT infrastructure Security Services & Risk Management
Kennedy Chinganya from Altron Nexus unpacks how the most impactful innovation in mining is found in radios and digital networks rather than robotics and machinery.
Read more...
---
OT, 4IR and cybercrime
Technews Publishing Integrated Solutions IT infrastructure Mining (Industry)
The convergence of OT (operational technology) and IT in industrial environments offers numerous and tangible benefits. When 4IR technologies are added to the mix, the sky becomes the proverbial limit.
Read more...
---
Generative AI: Move beyond the hype to achieve competitive advantage
Editor's Choice IT infrastructure Security Services & Risk Management
Generative AI tools, like ChatGPT, can massively improve an enterprises' productivity and competitiveness but only if we have a realistic view of the technology's risks and limitations, says Michael Langeveld, Chief Technology Officer at Hewlett Packard Enterprise SA.
Read more...
---
Who is responsible for cloud data?
Arcserve Southern Africa News IT infrastructure
Arcserve global research reveals cloud investments grow while data protection lags behind: 82% of IT decision-makers expect an increase in hybrid cloud investments, while 70% expect an increase in multi-cloud investments, but 43% believe cloud providers are responsible for data.
Read more...
---