printer friendly version
Effective guarding operations
Residential Estate Security Handbook 2016 - Vol 1 Residential Estate (Industry), Security Services & Risk Management, Editor's Choice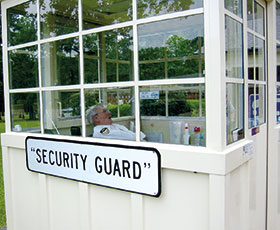 Effective residential estate security comprises a well-balanced mixture of physical security and technology. So how does one ensure that the security officer deployed to site is suitable to the job at hand and thereafter that he is performing according to spec? Hi-Tech Security Solutions spoke to industry representatives about best practice on estates.
Dave Sleep of Stallion Security, says that when considering guarding and security operations, estate managers should try and employ a company that is able to provide an holistic solution. Furthermore, service providers should have a solid reputation and comply with the necessary industry legislation.
Marcel Pienaar of ADT says that the primary step in appointing a security service provider is the undertaking of a comprehensive risk assessment. This will enable the estate manager and his team to devise a long- and short-term security plan, usually with assistance from a qualified consultant. The estate will then be able to determine who to employ, how many security officers are needed, and what the command and control structure will look like.
According to Sleep, the decision on minimum requirements in terms of skills, certifications and personality should be a collective one, with the homeowners or residents association playing an active role, together with the estate manager. In addition corporate governance should dictate that the estates acquire five or six proposals and whittle these down to the top three in terms of suitability. Finally, one of most important things to consider and one that is rarely factored in to the equation, is for the decision making team to pay a visit to the proposed service provider's offices to see their infrastructure and, most importantly, their control room.
If it's a case of replacing an existing service provider, estate management then needs to ask themselves the question as to why this is necessary in order to avoid similar mistakes in the future. Is the change necessitated by issues with the management levels provided by the supplier, by the quality of the security officers, because of an environment where they cannot operate effectively, or because there were too many incidents?
A collaborative partnership
Geoff Schapiro, 24/7 Security operations director, says that once a service provider has been appointed, a collaborative partnership between various stakeholders is critical to ensure the optimum security solution. This can be achieved through regular meetings between the stakeholders. A good indication of a successful partnership is the reaction of residents and visitors to the security officers and whether resolution to any issues is quickly achieved.
Sleep adds that the service provider needs to provide the estate management with complete employee records in terms of requisite security certification. The file should include, but is not limited to, screening integrity testing results and statutory requirements in terms of training and PSiRA certification.
Pienaar believes that one needs to go one step further than the basic level required by PSiRA. He explains that ADT conducts a 10-day estate security training course that includes a public relations component. The estate manager should furthermore conduct personal interviews with each security officer who is to be deployed in the estate and the officer should receive estate-specific training.
The right fit
Shapiro says that one needs to address both the hard line and the soft line skills. He defines hard line skills as those which are very specific to both the post standard operating procedure (SOP) and site SOP in terms of where the officer should stand and what he should do. This entails functions that are specific to his particular job and he therefore needs to understand the job requirements. He should also preferably be computer literate. Soft line skills involve how he greets both estate residents and visitors. This is an important function since he can be considered the guest relations officer for an estate, since he is the first interface that a resident or visitor has on the estate.
Outsourcing of security officers by service providers remains a hot potato. Sleep cites the fact that Government is trying to eradicate this from the security industry since contracted security officers generally do not receive a provident fund, leave pay, or any of the benefits normally associated with full-time employment. In addition, there will be no guarantee that the security officers have received the requisite training.
Another point of contention arises when one security officer is replaced with another. How does an estate ensure that the replacement guard has the same qualifications as his predecessor? Sleep maintains that this is another reason for insisting that each security officer is accepted on to an estate only if his personnel file, with the previously mentioned certifications, accompanies him.
Shapiro says that the integrity of the service provider and their relationship with the estate comes into play in this instance. However, estates are entitled to request a roster schedule which clearly outlines the grades of each security officer on duty, creating transparency and accountability from the service provider.
Estates should insist on screening tests such as criminal record checks and identity checks. In addition integrity testing, undertaken at least annually, will help to determine a criminal record and a history of dishonesty. Sleep says that testing involves the capturing of prospective employee fingerprints which are then sent for screening.
Pienaar adds that at management levels, Cattell's 16PF test is recommended to determine leadership skills and suitability for the post. Other tests worth noting are aptitude and psychometric evaluations, and Shapiro recommends an in-house induction programme.
Keeping tabs
Ensuring that security officers remain on track can be achieved in a number of ways. Firstly, there should be a comprehensive service level agreement (SLA) and individual job descriptions in place that are signed off by both the service provider and the estate.
There are also a number of reputable guard monitoring systems on the market which monitor whether the security officer has checked in timeously at pre-determined checkpoints around the estate. The estate will receive live system or daily download reports on each security officer's activities during his shift.
Another indication of performance is evident in instant rebukes from residents when the guard does not follow the correct process by admitting a visitor without the necessary pre-registration having taken place. Middle management and estate managers can also use guard reports to checking compliance with set procedures. Furthermore, surveillance systems provide a confirmation of the movements of the security officer on the estate for visual verification.
Pienaar points out that many estates prefer to institute an SLA that is based on financial payback or retention. This can negatively affect transparency since service providers will not want to be penalised if they are found to be transgressing. He adds that ADT bases their SLAs on ISO 9001 standards to ensure the highest quality levels. A procedure manual is supplied that specifies best practice for all elements of the guarding function and provides clear performance indicators.
Sleep suggests that property managers insist on attendance reports, particularly those linked to biometric systems, which negate any buddy clocking or fraud. Transparency can be guaranteed through the use of neutral technology reporting instead of relying on manual reports from the service provider. He continues that while external threats may have dwindled due to tighter security measures, there is still a large internal threat. It is therefore important for the security team to consider the demographic mix needs to be considered – the number of tenants versus permanent residents.
Common consensus amongst the industry representatives interviewed is that the security portfolio should be handled by a dedicated estate security manager who works hand in glove with the estate manager. Regular meetings with service providers will ensure that the performance indicators outlined in the SLA are adhered to.
Getting guarding right
Mariska Kinnear from Fidelity Security provides some tips on ensuring you have the right guards and they are performing as required.
When looking for a guarding solution it is important to select a company that has a proven track record. All security companies need to be compliant with the laws and regulations as set out by PSiRA and SASA. The security company also needs to have a solid infrastructure i.e. a training centre, firearm competency, vehicles, supervision etc. It is also imperative that managers have a hands on approach.
Ensure your guards are screened according to your requirements. The screening options available include: criminal checks, credit checks, DAT tests, pre-employment voice stress, reference checks and more.
For more information: www.fidelitysecurity.co.za
Compliance underpins the success of guarding solutions
According to Derek Lategan, MD of Enforce Security Services, estate managers would be well advised to call for mandatory paperwork in the first round of the tendering process for any guarding service provider. Primarily, this includes company registration with PSiRA, a Workmen's Compensation registration certificate, a tax certificate, a provident fund certificate and financial statements. SASA Gold membership is also a desirable and will pre-qualify the service provider as being compliant with the first four elements.
On a more personal level, the selected guarding complement needs to possess certain skills and personality characteristics. The most predominant skills requirement is PSiRA registration as a Grade D up to Grade A security officer. In instances where estates require security officers to work in control rooms, the candidate should furthermore be computer literate and need to have the correct attitude and undergo SAMAE testing.
He points out that specialised skills and personality types are required for specific environments. In the residential estate sector, the security officer must not only be personable and able to communicate easily with people, but should also have a professional appearance. In addition, the security officer in this position needs to be literate and able to make quick decisions.
It is important that expectations are carefully discussed and outlined in negotiations between service providers and residential estates. Other than performing physical checks, residential estates can call for biometrics audits from their service provider in order to ensure complete transparency and to eliminate fraud.
Lategan advises against using security officers provided by labour brokers since in the majority of cases, these security officers do not possess the basic compliance requirements as previously specified.
Vetting of security officers should include the provision of a landline number for identity and employment verification; Ideco fingerprint verification; and depending on the site, pre-employment polygraph testing and post- employment random or regular polygraph testing or voice stress analysis.
There are a host of security officer patrol checking devices available including the Bloodhound and Magtouch. The inclusion of these devices could be insisted on in a service level agreement (SLA) as a requirement of the tender process. In addition, camera surveillance systems can be used to relay footage on security officers back to the control room to check on his performance.
For more information: www.enforce.co.za
Contacts:
Stallion Security: www.stallion.co.za
ADT: www.adt.co.za
24/7 Security: www.24-7security.co.za
Credit(s)
Further reading:
Fidelity ADT and Vumacam join forces
Issue 5 2020, Fidelity ADT , News
Fidelity-ADT recently partnered with Vumacam to roll out a surveillance network of cameras across a number of southern suburbs in Johannesburg.
Read more...
---
The evolution of security in residential estates
Residential Estate Security Handbook 2020 , Editor's Choice, Integrated Solutions, Security Services & Risk Management
Two large estates discuss their security processes and the ever-expanding scope of responsibilities they need to fulfil.
Read more...
---
Bang for your security buck(s)
Residential Estate Security Handbook 2020, Alwinco , Editor's Choice, Security Services & Risk Management
Hi-Tech Security Solutions asks how estates can maintain a good security posture in the time of the ever-shrinking budget.
Read more...
---
Local or remote management
Residential Estate Security Handbook 2020, Xone Integrated Security, Vox Telecom, Fidelity ADT , Editor's Choice
Hi-Tech Security Solutions asked three companies well versed in offering control room services – either remote, local, or both – what's happening in the estate monitoring and/or management market.
Read more...
---
Range of grid-independent power systems
Residential Estate Security Handbook 2020, Specialised Battery Systems , Products, Security Services & Risk Management
SBS Solar has a range of solutions to provide power, save on costs and above all provide peace of mind.
Read more...
---
Efficient security monitoring and control
Residential Estate Security Handbook 2020 , Residential Estate (Industry)
PowerManage is a cloud-based virtual control room tool for residential estates to self-monitor their security solutions.
Read more...
---
Directory listings
Residential Estate Security Handbook 2020 , Residential Estate (Industry)
Read more...
---
Technology and new systems
Issue 3 2020, Fidelity ADT , Smart Home Automation
The SA crime profile, along with its unique socio-economic landscape, means that South Africa's security industry is one of the oldest bespoke private security industries in the world.
Read more...
---
Fidelity Fire Solutions partners with Eaton
Issue 3 2020, Fidelity ADT , News
Fidelity Fire Solutions has announced its partnership with Eaton to source, service and install fire alarm and fire suppression solutions across sub-Saharan Africa.
Read more...
---
From physical security to cybersecurity
Access & Identity Management Handbook 2020, Genetec , Cyber Security, Security Services & Risk Management
Genetec discusses the security-of-security concept as a means to protect cameras, door controllers and other physical security devices and systems against cybercriminal activity.
Read more...
---