printer friendly version
Secure access in a nutshell
Residential Estate Security Handbook 2016 - Vol 1 Residential Estate (Industry), Access Control & Identity Management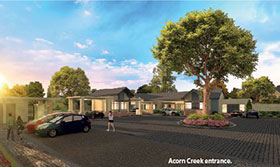 The Helderberg Basin in the Western Cape has proven to be one of the busiest development nodes in South Africa. Acorn Creek is one of the new developments in the area.
With their experience in developing estates of this nature, MSP Developments recognised the value of security and the cost saving of getting it done right the first time round. From the start of the Acorn Creek Project, the developer appointed two security companies to form part of the design team. Security experts from Astrosec (independent monitoring and risk management specialist) and Fang Fences and Guards (security infrastructure specialists) were tasked to create a security solution that will effectively manage the estate's security risks.
The design methodology and approach was to understand the vision of MSP Developments as the developer of the estate and then evaluate all the risk factors in line with this vision. The first step was to do an in-depth risk assessment to assess the various risk factors and identify high-risk areas and weak spots. The perimeter security system was then designed to mitigate specific risks
With the main gate forming a pivotal role in the access control strategy, considerable time was spent in the design of the area to support the security function. A team of architects and urban planners from Dennis Moss Partnership together with estate risk management professionals form Astrosec visited a number of estates in the Western Cape. The aim of the visits was to understand how the design of the main gate could support or undermine the security systems and procedures.
Instead of building a small house with two sets of booms the design was created to support access control procedures and the security of the estate. The architects from Dennis Moss created a design to support every function, from the registration of contractors to searching of staff on exit. Not only does this increase the security of the estate but improve flow of traffic and the general experience of all who visit the estate. Every detail went into the design of this truly holistic security system. Everything from conduit size, to wheelchair accesses and the location of the ablutions for the security guards.
The end result of the project was a hybrid design incorporating onsite systems and response, supported by off-site monitoring and disaster recovery. The perimeter security system will include an electrified fence supported by thermal cameras with embedded video analytics, monitored remotely.
Biometric access control, lockout gates and full height turnstiles will control the access points of the estate. The security system will be connected on a dedicated fibre backbone with backup power generation. A single systems integrator will ensure quality and accountability throughout the lifespan of the system.
The design allows for maximum security while keeping the amount of guards to a minimum and thus keeping the levy low over the long term. Acorn Creek will truly be an estate designed to be secure.
For more information contact Adriaan Bosch, Astrosec, +27 (0)21 007 1034, adriaan@astrosec.co.za, www.astrosec.co.za
To read the full article go to www.securitysa.com/316rhb22.pdf
Further reading:
Off-grid power solution for residential estate
Editor's Choice Security Services & Risk Management Residential Estate (Industry) Products
Coral Beach Estate, an upmarket residential estate based in East London, has been struggling with load shedding and power outages due to South Africa's energy crisis, as well as the vandalism of its power infrastructure.
Read more...
---
Zero Trust to dominate 2023
Cyber Security Access Control & Identity Management
Traditional ways of safeguarding data are no longer sufficient in 2023. Zero Trust has emerged as a more proactive way for businesses to keep their systems, data, and networks protected against compromise.
Read more...
---
Turnstar opens an office in the UK
Turnstar Systems News Access Control & Identity Management
Turnstar Systems recently established an office in the Greater Manchester borough in the North East of England, as part of the company's ongoing expansion strategy.
Read more...
---
Enkulu Technologies to distribute Brazil's Control iD
News Access Control & Identity Management Products
Enkulu Technologies has been appointed as the first South African distributor of Control iD products; a Brazilian company offering a T&A range of solutions based on its range of biometric products.
Read more...
---
HID Technology Seminar
Technews Publishing HID Global News Access Control & Identity Management Products
HID Global's technology seminar introduced partners and distributors to the company's new Signo range of readers and highlighted the benefits and global growth of mobile access credentials.
Read more...
---
Celebrating a successful year
Gallagher Technews Publishing News Access Control & Identity Management Products
Gallagher Security hosted an end-of year event at the Steyn City Equestrian Centre in which it thanked its partners for another successful year and provided a glimpse into what the company will be releasing in 2023.
Read more...
---
Improving safety and security
Gallagher Education (Industry) Access Control & Identity Management Integrated Solutions
Education facilities have more than enough to deal with when it comes to allocating budget. Security often seems to be the last item on the agenda but is more important than ever.
Read more...
---
SA banking sector chooses enterprise-grade ID verification
Financial (Industry) Access Control & Identity Management Integrated Solutions
In terms of the secure digital onboarding of customers, South Africa's major banks have made massive inroads by using remote facial authentication.
Read more...
---
The problem with biometrics
Technews Publishing Editor's Choice Access Control & Identity Management Integrated Solutions
We have come to rely heavily on biometrics for many aspects of access and identity management, especially in identity management where selfie authentication is accepted with confidence. Are we doing it right? Roger Grimes has his own take on the matter.
Read more...
---
Paxton begins Tech Tour in South Africa
Paxton Training & Education Access Control & Identity Management
The Paxton Tech Tour 2023 is free to attend and a chance for installers to develop knowledge and explore business opportunities with Paxton's products and services. Its South African events start in February and will continue at locations around the country for months.
Read more...
---