printer friendly version
Secure access in a nutshell
Residential Estate Security Handbook 2016 - Vol 1 Residential Estate (Industry), Access Control & Identity Management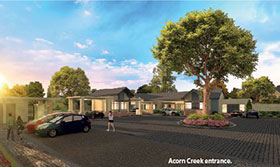 The Helderberg Basin in the Western Cape has proven to be one of the busiest development nodes in South Africa. Acorn Creek is one of the new developments in the area.
With their experience in developing estates of this nature, MSP Developments recognised the value of security and the cost saving of getting it done right the first time round. From the start of the Acorn Creek Project, the developer appointed two security companies to form part of the design team. Security experts from Astrosec (independent monitoring and risk management specialist) and Fang Fences and Guards (security infrastructure specialists) were tasked to create a security solution that will effectively manage the estate's security risks.
The design methodology and approach was to understand the vision of MSP Developments as the developer of the estate and then evaluate all the risk factors in line with this vision. The first step was to do an in-depth risk assessment to assess the various risk factors and identify high-risk areas and weak spots. The perimeter security system was then designed to mitigate specific risks
With the main gate forming a pivotal role in the access control strategy, considerable time was spent in the design of the area to support the security function. A team of architects and urban planners from Dennis Moss Partnership together with estate risk management professionals form Astrosec visited a number of estates in the Western Cape. The aim of the visits was to understand how the design of the main gate could support or undermine the security systems and procedures.
Instead of building a small house with two sets of booms the design was created to support access control procedures and the security of the estate. The architects from Dennis Moss created a design to support every function, from the registration of contractors to searching of staff on exit. Not only does this increase the security of the estate but improve flow of traffic and the general experience of all who visit the estate. Every detail went into the design of this truly holistic security system. Everything from conduit size, to wheelchair accesses and the location of the ablutions for the security guards.
The end result of the project was a hybrid design incorporating onsite systems and response, supported by off-site monitoring and disaster recovery. The perimeter security system will include an electrified fence supported by thermal cameras with embedded video analytics, monitored remotely.
Biometric access control, lockout gates and full height turnstiles will control the access points of the estate. The security system will be connected on a dedicated fibre backbone with backup power generation. A single systems integrator will ensure quality and accountability throughout the lifespan of the system.
The design allows for maximum security while keeping the amount of guards to a minimum and thus keeping the levy low over the long term. Acorn Creek will truly be an estate designed to be secure.
For more information contact Adriaan Bosch, Astrosec, +27 (0)21 007 1034, adriaan@astrosec.co.za, www.astrosec.co.za
To read the full article go to www.securitysa.com/316rhb22.pdf
Further reading:
Turnstar ramps up countermeasures
Turnstar Systems Editor's Choice Access Control & Identity Management News Products
Turnstar has developed and patented an early warning and deterrent system which will alert security, and anyone nearby, of any attempt to place ramps over the raised spikes.
Read more...
---
Suprema integrates biometric access control with Genetec
Suprema News CCTV, Surveillance & Remote Monitoring Access Control & Identity Management
Suprema has announced the successful integration of its biometric access control products with Genetec Security Center, a unified security platform that connects security systems, sensors and data in a single intuitive interface.
Read more...
---
IDEMIA South Africa achieves level 1 B-BBEE status
IDEMIA News Access Control & Identity Management
As part of the action plan to improve its status to Level 1, IDEMIA now works with over 40 black-owned local suppliers, representing over 30% of IDEMIA's local suppliers.
Read more...
---
Suprema no. 1 in the global biometric market excluding China
Suprema News Access Control & Identity Management
According to the latest report by Omdia, a global market research firm, Suprema ranks first in global market share, excluding China, in the field of biometric readers.
Read more...
---
Dahua and Yeastar PBX-intercom integration
Dahua Technology South Africa News Access Control & Identity Management
Dahua Technology and Yeastar announced their new ECO partnership on PBX-intercom integration to provide a comprehensive and unified communication solution for small- and medium-sized enterprises.
Read more...
---
Traka launches experience centres
News Access Control & Identity Management
Traka launches inaugural Experience Centres in Australia and South Africa; aims to drive continuous collaboration and innovation.
Read more...
---
Ring introduces new doorbell
Products Access Control & Identity Management
Ring has expanded its doorbell line-up with the Ring Video Doorbell Wired, featuring 1080p HD video with night vision, two-way talk and audio with noise cancellation.
Read more...
---
Don't bash your head over unsecured credentials
Paxton News Access Control & Identity Management
Server administrators are likely to perform the same commands repeatedly, so it makes sense that all executed commands are stored, however, this also makes it easy for adversaries to compromise systems.
Read more...
---
Comprehensive casino security and surveillance
Gallagher Editor's Choice Access Control & Identity Management Entertainment and Hospitality (Industry)
With approximately 400 million dollars channelled through its facility each week, the casino's concerns include security across multiple points of entry, vendor offices, cashier cages, count room areas and high limit rooms.
Read more...
---
BPT releases new video and audio intercoms
Black Point Tech cc t/a BPT Products Access Control & Identity Management
AGT is the new range of audio or audio/video entry handset receivers from BPT with a high-performance speaker that provides a loud ringtone as well as crisp audio.
Read more...
---