printer friendly version
Secure access in a nutshell
Residential Estate Security Handbook 2016 - Vol 1 Residential Estate (Industry), Access Control & Identity Management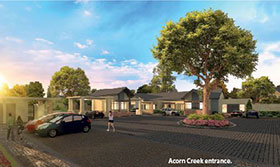 The Helderberg Basin in the Western Cape has proven to be one of the busiest development nodes in South Africa. Acorn Creek is one of the new developments in the area.
With their experience in developing estates of this nature, MSP Developments recognised the value of security and the cost saving of getting it done right the first time round. From the start of the Acorn Creek Project, the developer appointed two security companies to form part of the design team. Security experts from Astrosec (independent monitoring and risk management specialist) and Fang Fences and Guards (security infrastructure specialists) were tasked to create a security solution that will effectively manage the estate's security risks.
The design methodology and approach was to understand the vision of MSP Developments as the developer of the estate and then evaluate all the risk factors in line with this vision. The first step was to do an in-depth risk assessment to assess the various risk factors and identify high-risk areas and weak spots. The perimeter security system was then designed to mitigate specific risks
With the main gate forming a pivotal role in the access control strategy, considerable time was spent in the design of the area to support the security function. A team of architects and urban planners from Dennis Moss Partnership together with estate risk management professionals form Astrosec visited a number of estates in the Western Cape. The aim of the visits was to understand how the design of the main gate could support or undermine the security systems and procedures.
Instead of building a small house with two sets of booms the design was created to support access control procedures and the security of the estate. The architects from Dennis Moss created a design to support every function, from the registration of contractors to searching of staff on exit. Not only does this increase the security of the estate but improve flow of traffic and the general experience of all who visit the estate. Every detail went into the design of this truly holistic security system. Everything from conduit size, to wheelchair accesses and the location of the ablutions for the security guards.
The end result of the project was a hybrid design incorporating onsite systems and response, supported by off-site monitoring and disaster recovery. The perimeter security system will include an electrified fence supported by thermal cameras with embedded video analytics, monitored remotely.
Biometric access control, lockout gates and full height turnstiles will control the access points of the estate. The security system will be connected on a dedicated fibre backbone with backup power generation. A single systems integrator will ensure quality and accountability throughout the lifespan of the system.
The design allows for maximum security while keeping the amount of guards to a minimum and thus keeping the levy low over the long term. Acorn Creek will truly be an estate designed to be secure.
For more information contact Adriaan Bosch, Astrosec, +27 (0)21 007 1034, adriaan@astrosec.co.za, www.astrosec.co.za
To read the full article go to www.securitysa.com/316rhb22.pdf
Credit(s)
Further reading:
Gallagher Security releases Command Centre v9
Gallagher News & Events Access Control & Identity Management Integrated Solutions
Richer features, greater integrations, with the release of Gallagher Security's Command Centre v9 security site management software designed to integrate seamlessly with various systems and hardware.
Read more...
---
Lock down your access control with Alcatraz AI
C3 Shared Services Healthcare (Industry) Access Control & Identity Management AI & Data Analytics
Alcatraz AI, represented in South Africa by C3 Shared Services, changes access control by harnessing the power of artificial intelligence and analytics at the edge, where facial recognition becomes the essential credential autonomously.
Read more...
---
New generation of cyber-focused controllers
Gallagher News & Events Access Control & Identity Management Products & Solutions
The C7000 gives users an opportunity to leverage their hardware and firmware to build a platform designed to catapult their organisation into the future, with cybersecurity baked in from inception.
Read more...
---
New T&A terminal features revolutionary AI technology
Suprema News & Events Access Control & Identity Management AI & Data Analytics
Suprema has launched BioStation 2a, the world's first deep learning-based fingerprint recognition solution, providing powerful access control features and an improved ability to extract templates from low-quality fingerprints.
Read more...
---
Reliable access management for famous film location
Paxton Access Control & Identity Management Residential Estate (Industry)
The Royal Connaught Park features a private swimming pool, health and fitness suite, outdoor tennis court and onsite parking, with over 100 residents coming and going every day.
Read more...
---
Smart opener for gates and garages
Smart Home Automation Access Control & Identity Management
The Smart Gate and Garage Opener allows consumers to control and monitor gates and garage doors that have already been fitted with automation devices via the Yale Home app on their smartphone.
Read more...
---
Ring announces second generation indoor camera
Smart Home Automation Surveillance Residential Estate (Industry)
Introducing a removable manual privacy cover, Ring's latest indoor camera provides customers with increased privacy, control and peace of mind when it comes to home security.
Read more...
---
Securing a luxurious estate
Access Control & Identity Management Residential Estate (Industry) Products & Solutions
Turnstar Systems recently partnered with Balwin Munyaka Residential Estate to secure the entrance to its Crystal Lagoon, ensuring only authorised residents and guests can access the site.
Read more...
---
Body-worn evidence
Technews Publishing Forbatt SA Betatrac Telematic Solutions Secutel Technologies Surveillance Residential Estate (Industry) Products & Solutions
Body-worn cameras are no longer just a good idea or a luxury item; in fact, they are gaining popularity and finding use in various situations, one of these being in residential estates.
Read more...
---
Integrating control rooms and response
WatchManager Integrated Solutions Residential Estate (Industry)
Control rooms have become a standard in large estates, and remote control rooms are finding a home even in smaller estates due to cost efficiencies and the increasing reliability of analytics and artificial intelligence.
Read more...
---