printer friendly version
Secure access in a nutshell
March 2016 Residential Estate (Industry), Access Control & Identity Management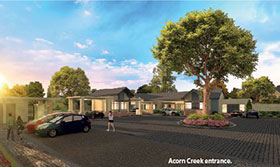 The Helderberg Basin in the Western Cape has proven to be one of the busiest development nodes in South Africa. Acorn Creek is one of the new developments in the area.
With their experience in developing estates of this nature, MSP Developments recognised the value of security and the cost saving of getting it done right the first time round. From the start of the Acorn Creek Project, the developer appointed two security companies to form part of the design team. Security experts from Astrosec (independent monitoring and risk management specialist) and Fang Fences and Guards (security infrastructure specialists) were tasked to create a security solution that will effectively manage the estate's security risks.
The design methodology and approach was to understand the vision of MSP Developments as the developer of the estate and then evaluate all the risk factors in line with this vision. The first step was to do an in-depth risk assessment to assess the various risk factors and identify high-risk areas and weak spots. The perimeter security system was then designed to mitigate specific risks
With the main gate forming a pivotal role in the access control strategy, considerable time was spent in the design of the area to support the security function. A team of architects and urban planners from Dennis Moss Partnership together with estate risk management professionals form Astrosec visited a number of estates in the Western Cape. The aim of the visits was to understand how the design of the main gate could support or undermine the security systems and procedures.
Instead of building a small house with two sets of booms the design was created to support access control procedures and the security of the estate. The architects from Dennis Moss created a design to support every function, from the registration of contractors to searching of staff on exit. Not only does this increase the security of the estate but improve flow of traffic and the general experience of all who visit the estate. Every detail went into the design of this truly holistic security system. Everything from conduit size, to wheelchair accesses and the location of the ablutions for the security guards.
The end result of the project was a hybrid design incorporating onsite systems and response, supported by off-site monitoring and disaster recovery. The perimeter security system will include an electrified fence supported by thermal cameras with embedded video analytics, monitored remotely.
Biometric access control, lockout gates and full height turnstiles will control the access points of the estate. The security system will be connected on a dedicated fibre backbone with backup power generation. A single systems integrator will ensure quality and accountability throughout the lifespan of the system.
The design allows for maximum security while keeping the amount of guards to a minimum and thus keeping the levy low over the long term. Acorn Creek will truly be an estate designed to be secure.
For more information contact Adriaan Bosch, Astrosec, +27 (0)21 007 1034, adriaan@astrosec.co.za, www.astrosec.co.za
To read the full article go to www.securitysa.com/316rhb22.pdf
Further reading:
Managing visitors effectively and responsibly
June 2019, Powell Tronics, IDEMIA , Vox Telecom, Technews Publishing , Access Control & Identity Management
Managing access for visitors has always been something of a balancing act between keeping unwanted people out, and letting authorised people in. Particularly in a business environment, it is also crucial to make guests feel welcome and safe.
Read more...
---
Foresight means secure offices
June 2019, Bosch Building Technologies , Commercial (Industry), CCTV, Surveillance & Remote Monitoring, Access Control & Identity Management
If you're responsible for a medium or large-sized office, it's more important than ever that you have access to a means of ensuring people's safety, managing risks and fraud, and protecting property.
Read more...
---
Centurion announces new board of directors
June 2019, Centurion Systems , News, Access Control & Identity Management
After more than 30 years at the helm of access automation manufacturer, Centurion, co-founder Pat Dickens stepped down as the company's MD at the end of March, with current sales and marketing director Richard Rohman being named as his successor.
Read more...
---
Identity management in West Africa
June 2019 , News, Access Control & Identity Management, Conferences & Events
HID Global's Wisam Yaghmour was at Securex West Africa 2019 and spoke to Hi-Tech Security Solutions about the company and its operations in Africa.
Read more...
---
Powell Tronics enhances PT-Guest
June 2019, Powell Tronics , Products, Access Control & Identity Management
Powell Tronics' PT-Guest 2019 model brings a number of enhancements that increase user-friendliness and overall functionality on both the web application and the scanner option.
Read more...
---
PoPI-compliant identity scanner
June 2019, OnGuard , Products, Access Control & Identity Management
Identiscan is a web-based, PoPI-compliant visitor access system targeted primarily at residential estates and complexes.
Read more...
---
Electronic visitor information management system
June 2019, Access Track , Products, Access Control & Identity Management
Access Track Integri-Register is an easy-to-use and cost-effective electronic visitor information management system aimed at replacing traditional access registers.
Read more...
---
The face of visitor management
June 2019, ZKTeco , Commercial (Industry), Access Control & Identity Management
Visible light facial recognition technology can ensure that visitor management processes make everyday proceedings easier, especially for regular clients.
Read more...
---
First impressions matter
June 2019, Secutel Technologies , Products, Access Control & Identity Management
With the aim of making office reception areas more welcoming, Proxyclick has developed an effective way of trading a paper logbook for a smart visitor management system.
Read more...
---
Manage the full visitor ecosystem
June 2019, Kenai , Products, Access Control & Identity Management
Paper visitor books are useless in terms of data capture, non-compliant with PoPI and create the worst kind of impression on visitors.
Read more...
---