printer friendly version
14 km thermal perimeter
Residential Estate Security Handbook 2016 - Vol 1 Residential Estate (Industry), Perimeter Security, Alarms & Intruder Detection
If you are looking for luxury, exclusivity and security around the area of Johannesburg and Midrand, then Waterfall Estates is the place to be for you. The new, exquisite residential and business area offers uniquely South African architecture, indigenous landscaping and state-of-the-art security provided by advanced thermal security cameras from FLIR Systems.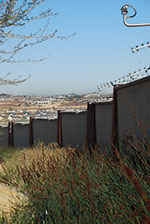 Securing the 14 km perimeter around Waterfall Estates.
Waterfall Estate was completed in May 2015 by Century Property Developments. Next to providing its residents the ultimate luxury lifestyle, the estate was intended to provide its residents with a sense of security. Nick Crow of Century Property Developments elaborates: "The intention is to commission high-specification security systems such as this across all Century Estates. One thing that sets our developments apart from others is the high level of security we offer. Our mission is to keep our residents secure, which is something we're proud to say we're achieving."
Advanced security solution
To ensure the security of its residents, the developers focused on securing the premises, which comprises a number of access gatehouses as well as a substantial perimeter around the estate. To secure the residential sections, security integrator 4C Technology was asked to design a reliable security monitoring solution for the 14 km perimeter as well as for the eight entry/exit gatehouses.
According to Paul Frewen, CEO of 4C Technology, the 14 km perimeter presented many challenges, the most critical being the Jukskei River that runs through the estate. Securing the river ingress and exit from the estate was especially challenging and required added measures to ensure the areas were secured.
4C opted for 98 perimeter cameras, a combination of thermal imaging cameras and analogue cameras with infrared lighting. A total of 68 FLIR thermal cameras and 30 analogue cameras were installed. The thermal and analogue cameras were used to monitor the perimeter, while visual cameras and access control serve as additional means of verification at the entries and exits. All perimeter cameras are equipped with advanced video analytics and are linked back to a central command control room where operators are able to view events and take the appropriate course of action.
All the recording and analytics are done on the edge, i.e. at the camera, so that only relevant information needs to be transmitted to the command centre in order not to overload the IP network. FLIR dis­tributor, Timeless Technologies, supplied the thermal cameras and video analytics. When an incident or event is detected by the thermal cameras, the control room operator can assess the situation and implement the appropriate action.
Cost-effective perimeter security
Tinus Diedericks, CEO at Timeless Technologies, comments on the selection of thermal imaging cameras for Waterfall Estates. "Protecting a perimeter of this size presented a significant challenge. The developer considered several options, including visible-light CCTV cameras, but that would have meant placing a camera every 70 metres. That is why they opted for thermal imaging cameras from FLIR."
Thermal cameras indeed have a much longer detection range than visual cameras, and they don't need additional lighting and concomitant installation works to operate. Thermal cameras provide an image based on heat coming off the environment, and thus allow you to see intruders at night, during the day and in bad weather conditions like thunderstorms.
Thanks to the smaller number of cameras required and the absence of additional lighting installations, thermal imaging cameras proved to be the most sensible and most cost-effective choice for perimeter security and intrusion detection.
Reliable detection in all conditions
With the FLIR FC-Series S and SR-Series cameras, 4C Technology opted for FLIR's top of the range cameras, providing the best image detail and quality for optimal intrusion detection in challenging imaging environments.
"At the time of selection, these FLIR cameras provided the most advanced and reliable perimeter protection solution. They also trialled other cameras, but FLIR was the best performer. The product's massive install base and 10-year warranty also proved that this was the right camera for the job," says Diedericks. To meet the specifics of the perimeter outline, various lenses were chosen. To efficiently monitor the entry and exit to Waterfall Estates via the Jukskei River, a wide-angle lens was chosen, so the entire width of the entry was covered.
For more information contact FLIR Systems, +44 780 151 4810, theresa.turner@flir.uk.com, www.flir.com
Further reading:
Matt De Araujo joins Ajax Systems
Ajax Systems News Perimeter Security, Alarms & Intruder Detection
Matt De Araujo has joined Ajax Systems as Head of Sales in sub-Saharan Africa with a goal to strengthen the local team and exceed expectations.
Read more...
---
Gallagher achieves SOC2 Type 2 certification
Gallagher Access Control & Identity Management Perimeter Security, Alarms & Intruder Detection Products
Gallagher announced it has achieved System and Organization Controls (SOC2 Type 2) certification for the cloud-hosted services of its flagship security solution, Command Centre.
Read more...
---
New Partner Manager covering Gauteng for Olarm
Olarm News Perimeter Security, Alarms & Intruder Detection
Phillip Pretorius recently joined Olarm as an additional Partner Manager covering Gauteng and the surrounding areas with the goal of enhancing Olarm's ability to deliver services to its partners and clients in the region.
Read more...
---
The importance of CCTV for internal perimeter protection
Leaderware Editor's Choice CCTV, Surveillance & Remote Monitoring Perimeter Security, Alarms & Intruder Detection
Constant violations of procedures governing access, unusual handling of goods, empty boxes or containers of product lying around or hidden behind other goods, unauthorised use of exit areas, and movement to unexpected perimeter areas can be a major issue.
Read more...
---
One solution for swift, satisfactory response
Cathexis Technologies CCTV, Surveillance & Remote Monitoring Perimeter Security, Alarms & Intruder Detection
CathexisVision's continually evolving analytics suite offers a range of customable detection and alarm offerings to cover all security events, no matter the market.
Read more...
---
Off-grid power solution for residential estate
Editor's Choice Security Services & Risk Management Residential Estate (Industry) Products
Coral Beach Estate, an upmarket residential estate based in East London, has been struggling with load shedding and power outages due to South Africa's energy crisis, as well as the vandalism of its power infrastructure.
Read more...
---
Smart surveillance can make our homes safer
Axis Communications SA CCTV, Surveillance & Remote Monitoring Residential Estate (Industry)
Over the last decade, South Africa's private security industry has gradually been adopting more advanced security technologies to safeguard private properties and neighbourhoods, making it easier and more effective to detect and respond to threats.
Read more...
---
Smart home security
Olarm Smart Home Automation Perimeter Security, Alarms & Intruder Detection Products
The applied use of smart technology within the Olarm ecosystem, through smart features coupled with existing systems, extends the benefits of technology into different spheres.
Read more...
---
Fire-fighting force at Vergelegen
Editor's Choice Fire & Safety Residential Estate (Industry)
Vergelegen wine estate in Somerset West, and its neighbours, are set to enjoy greater peace of mind this summer, thanks to the delivery of a brand new fire truck .
Read more...
---
Be cautious when receiving deliveries at home
News Perimeter Security, Alarms & Intruder Detection Security Services & Risk Management
Community reports of residents being held up at their gate when collecting fast food deliveries at home are once again surfacing.
Read more...
---