printer friendly version
Solving 'coastal click'
Residential Estate Security Handbook 2016 - Vol 1 Residential Estate (Industry), Perimeter Security, Alarms & Intruder Detection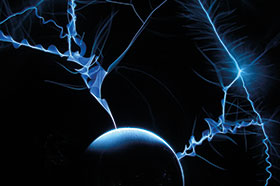 Coastal click, a phenomena experienced predominantly on electric fence installations along coastal areas, but which can also occur in very dusty areas, is caused by salt or dirt build-up on insulators. This results when there is a dew or light mist in current tracking across the now salty or dirty conductive surface of an insulator and arcing onto a support post. The resultant 'click, click', or worse, 'klack, klack', aside from being annoying can lead to false alarms being triggered.
Until the 1980s the maximum output voltage of an electric fence energiser was capped at 5000 volts. With the advent of solid state electronics and improved, safer circuity, this cap was later lifted to 10 000 volts. The problem, however, is that insulator design did not keep pace with energiser power output and when steel supports are used, as is the case with most electric security fences, tracking becomes a problem.
The solutions to this problem to date have been to periodically wash down the insulators, which is time consuming, or alternatively to resort to large, bulky, agricultural type insulators which are not attractive around a prestigious estate. Bi-polar fencing is proving to be an attractive solution to this irritating problem and is being increasingly used by many of the country's top installers.
Bi-polar fencing
The wiring configuration of a conventional electric security fence is generally configured with alternate live and earth return wires. This is done because an intruder wearing rubber soled shoes will be insulated from the ground and thus will not receive a good deterrent shock. It is in fact necessary for an intruder to touch both the live and earth return wires to receive a shock.
So what is bi-polar fencing? On a bi-polar fence a positive pulse is transmitted along one wire and a negative pulse along the next wire. This means that every wire on the fence, with the exception of one true earth wire, is now live and, just as with a conventional electric fence, when both wires are touched the intruder receives the full shock.
The big difference, however, between a bi-polar and a conventional electric fence is that voltage on the wires on a bi-polar fence is half that of the single live wire configuration and this reduction in voltage, while in no way reducing the security provided by the fence, eliminates the tracking and annoying clicking and false alarms.
Nobody can tell the difference between touching the live and earth on a conventional electric fence and the live and earth on a bi-polar fence because the shock is exactly the same. So the net advantage of bi-polar fencing is improved security with all wires being live, all wires being monitored and no annoying coastal click.
Finally, the use of JVA bi-polar energisers, in conjunction with a JVA Windows compatible Perimeter Patrol electric fence software management package, with its optional High Level Integration program (HLI) has become the electric fence management tool of choice among many of the country's professional fence installers. JVA bi-polar energisers and Perimeter Patrol software can use either hard-wiring, fibre optics, GSM or Wi-Fi for information transmission giving the end-user peace of mind and a comprehensive solution to their perimeter security challenges.
For more information contact Ndlovu Fencing t/a Stafix Electric Fence Centre, +27 (0)33 342 6727, [email protected], www.stafix.co.za
Credit(s)
Further reading:
Smart home security
Olarm Smart Home Automation Perimeter Security, Alarms & Intruder Detection Products
The applied use of smart technology within the Olarm ecosystem, through smart features coupled with existing systems, extends the benefits of technology into different spheres.
Read more...
---
Fire-fighting force at Vergelegen
Editor's Choice Fire & Safety Residential Estate (Industry)
Vergelegen wine estate in Somerset West, and its neighbours, are set to enjoy greater peace of mind this summer, thanks to the delivery of a brand new fire truck .
Read more...
---
Be cautious when receiving deliveries at home
News Perimeter Security, Alarms & Intruder Detection Security Services & Risk Management
Community reports of residents being held up at their gate when collecting fast food deliveries at home are once again surfacing.
Read more...
---
Future-proofed intrusion detection for retail
Elvey Security Technologies Retail (Industry) Perimeter Security, Alarms & Intruder Detection Products
One of the ongoing challenges that has faced retailers during their adoption of security technology is the issues caused by non-standardisation of technology.
Read more...
---
Residential Estate Security Conference 2022
Technews Publishing Residential Estate (Industry) Conferences & Events
The first Residential Estate Security Conference since March 2020 discussed the people, technology and processes involved in mitigating risks to deliver smart, secure living.
Read more...
---
Safety first, aesthetics a close second
Allbro Industries Residential Estate (Industry)
Residential estates are constantly upgrading as the needs of the estate outgrow the existing infrastructure.
Read more...
---
Provide a strong, integrated security solution
Arteco Global Residential Estate (Industry)
Through the Omnia VMS, Arteco offers a unique, intuitive and friendly interface that focuses on events to centralise all security alarms.
Read more...
---
Successful show for body-worn tech
Elvey Security Technologies Residential Estate (Industry)
Moving beyond products to full cybersecurity service for residential estates.
Read more...
---
The benefits of contactless biometrics
IDEMIA Residential Estate (Industry)
IDEMIA displayed its biometric fingerprint and facial readers, focusing on touchless technologies for estate security.
Read more...
---
Access Portal from Impro Technologies
Impro Technologies Residential Estate (Industry)
Impro Technologies offers the Access Portal suite, which provides powerful features wrapped in a simple and easy-to-use interface.
Read more...
---