printer friendly version
The security nerve centre
Residential Estate Security Handbook 2016 - Vol 1 Residential Estate (Industry), CCTV, Surveillance & Remote Monitoring, Editor's Choice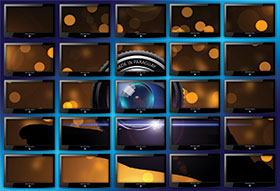 It's all good and well to deploy the latest security technology with cameras covering every inch of your estate and the most sophisticated access control solution available at the gates, but then what? Are you going to ask the guard at the gate to keep an eye on the cameras in-between doing his rounds and scanning people's licence disks? Or is the poor security manager supposed to constantly monitor the cameras on his smartphone?
That would be a complete waste of time and money as nothing good would come of that solution. Of course, there is nothing wrong with making video feeds available via mobile to those who need it, or to have a screen or two in the guardhouse, but that can't be your primary solution. The most effective way to get value from your investment in security is to have everything monitored in a control room.
Whether that control room is on the estate, staffed by your own employees or a service provider's people, or if it's an off-site control room run by a service provider is something for each estate to decide for themselves. The reality is every estate needs a control room. But what exactly goes into a control room and what are its outputs?
Ian Downie, director of Xone Integrated Security, says an estate is a highly complex environment which has numerous processes and needs. These include "health & safety, perimeter monitoring, access control, contractor and visitor management, productivity, guard force supervision, maintenance monitoring, traffic/fine enforcement, medical, fire and other emergency co-ordination and numerous other tasks".
Downie says these need to be carried out through a command and control centre. A control room is the ideal place for this as all electronic systems can be brought together with the relevant human/machine interfaces to drive out reliable, measurable results. Taking such a complex environment and ensuring it runs correctly, without error where possible, requires a great deal of thought, including spatial ergonomics, technology integration, process mapping, staff selection and training, as well as implementation of incident management systems and report driven results. This requires a dedicated space and should be the heartbeat of any estate's operational capability.
Laurence Smith, executive at Graphic Image Technologies (GIT), echoes Downie, noting that a control room, operations centre, or operations control centre is a room serving as a central space where a large physical facility or physically dispersed service can be monitored and controlled.
He adds, "One of the main reasons one should not utilise the security manager's office as a control room is that it should be dedicated to monitoring a number of security systems, and distractions to the personnel managing the systems must be limited. If a security manager has other roles outside of CCTV monitoring, more often than not the CCTV is neglected, and as a result, the greater security operation. The result is a disorganised and even unprofessional working environment that is not conducive to the effective management of incidents."
What goes into a control room?
Even once an estate recognises the need for a control room, there is still the question of how it should be designed and what functions it should fulfil. Basically, where does one start?
Careful thought needs to go into the site procedure manual, which should thoroughly detail all the required processes, notes Downie. Once this has been done, one can get an understanding of what the control room will be required to do. "Only then can one optimally configure the equipment, finalise the process and decide on the calibre and number of staff. Once this has been done, a considered ergonomic design can be implemented around the control room, which allows the processes to run effectively."
The design of a control room, says Smith, its size in terms of the number of cameras, monitors and operators, and the organisation of monitoring can have a noticeable impact on the effectiveness of the whole operation. "The probability of detecting an incident on the cameras is substantially reduced when there is a high camera-to-operator and camera-to-monitor ratio. We have seen cases where there were more than 100 cameras per operator."
There are many factors that go into the design of a control room, according to Smith. The correct approach provides a framework where decisions on matters such as equipment selection, operating practices, working environments and furniture selection are based around the operating demands. No matter how well designed a workstation might be, the overall system will fail if operators are overloaded, undertaking tasks for which they are poorly trained or straining to read displays which are illegible.
Downie offers an example. If staff have to run 200 cameras, of which 100 are black-screen due to analytic triggers, how many operators do you require? A great deal will depend on the number of nuisance alarms. Now if you want the staff to run real-time guard tracking, access control enrolment, mailing, telephone and radio conversations, alarm management and incident management systems, what do they need to do for each?
One can then break down realistic effective achievement of these tasks per staff member per hour. This will also tell you how many staff you need, what their seniority should be, and how the equipment should be placed and managed. Only now will you have an idea of how many chairs, screens and power plugs you need, as well as the type of control room configuration and what type and size of room should be created.
You will then also be able to decide on the correct level of control room security, such as, should the control room be hidden in the estate, who is allowed in, what administrator rights are granted, security of the network, biometric access, cameras in the control room, physical barriers such as concrete slabs, secure windows, fire retardant doors, airlocks and door closers.
The question of personnel
Choosing the technology to install in your control room is a challenging task, but there are many options out there to choose from. However, choosing the right people as operators is definitely not as simple. Smith admits organisations that manage CCTV control rooms often focus more on the technical or equipment requirements of the room. However, he says the human factor is equally as important in achieving the objectives of the CCTV function.
"Certain human characteristics, for example vision, memory capacity and attention span may be considered similar across all individuals," Smith adds. "Therefore, technical systems and job tasks should be designed to work in harmony with these characteristics. In other words, employees should be tasked with roles they are suited to with the correct match of skills and experience in order to avoid human errors."
"Personnel should never be guards", warns Downie. "Furthermore, the PSiRA grading is a singularly unreliable tool. Well-paid, incentivised, motivated and trained individuals who are handpicked are required. Typically, they will have several characteristics such as good attention to detail, high boredom threshold, react well under pressure, enjoyment of successful execution of tasks, computer literacy, maturity and other skills such as report writing.
"The most important factor is that there should always be a person in charge to take accountability and run the team. This person must be part of the team, but not employed by the estate to allow for full accountability. This must be followed by rigorous, continuous training and continuous improvement."
With the personnel question managed, one can then consider technology requirements. Downie says the norm would be to have an incident management system, radio and other communications, real-time guard tracking, camera views linked to some form of alarming, whether it be fence, analytics or other means, and access control is crucial.
Smith adds a few more factors that should be considered. A well-constructed perimeter fence is key, as are high definition cameras (HD and 4K), as well as thermal cameras (with analytics) which are suited to residential estates where footage can be viewed in detail day or night over longer distances. Electric fences also serve as a deterrent and should be equipped with alarms in order to detect breaches. Coupling CCTV cameras with activated alarms and smart analytics can significantly bolster the solution. "A control centre brings the whole system together," he says.
On-site or off-site?
As noted above, there is always the question in estates and almost any other organisation with a control room as to whether the best option is to host it on-site or off-site. Proponents of each option can list the benefits of each, but what should estates decide?
Smith notes there is no right answer to this question. "The operational and security requirements of the client determines the best option. An example is in a business environment where the CCTV is being used for both security and operational uses. Here an on-site control room is probably a better option, but a small residential estate might not have the resources for a dedicated control room and outsourcing this to an off-site service may be the better option."
Downie believes that due to the complexity of an estate environment, an on-site control room is always more effective on a larger estate. "There is more hands-on control with numerous tasks to be completed which run better with full site knowledge and immediate resolution. However, second-tier monitoring of an on-site control room by a remote control room will always be sig­nificantly beneficial."
At the end of the day, even with the best personnel and the optimal technology, there is no template to building a control room. Smith notes that to determine the best solution, the client's needs together with the environment must be assessed and a solution built based on this.
"The only way to build a successful command and control environment is to partner with a company that has a successful track record of establishing, building, installing and staffing estates," concludes Downie. "Simply putting in equipment or staff, however competent, will not achieve the desired result."
Contacts:
Xone Integrated Security: www.xone.co.za
Graphic Image Technologies: www.git.co.za
Credit(s)
Further reading:
Avoiding human error at ports
LD Africa Transport (Industry) CCTV, Surveillance & Remote Monitoring Products Logistics (Industry)
LD Africa introduced a local port to the AxxonSoft Port Security System ,a solution that helps overcome the element of human error and eliminate paperwork.
Read more...
---
Compact, lightweight bullet cameras with support for analytics
Axis Communications SA Products CCTV, Surveillance & Remote Monitoring
Axis Communications announced two new outdoor-ready bullet-style cameras featuring deep-learning processing units for analytics based on deep learning on the edge.
Read more...
---
Numerous challenges for transport and logistics
Transport (Industry) CCTV, Surveillance & Remote Monitoring Security Services & Risk Management Logistics (Industry)
Operators are making significant investments in automation and digitalisation in order to address security concerns, improve loss prevention as well as efficiency, and reduce unit order costs.
Read more...
---
A key to urban transport challenges
Axis Communications SA Transport (Industry) CCTV, Surveillance & Remote Monitoring Integrated Solutions Logistics (Industry)
There are many enabling technologies that can impact transportation in South Africa, but a good place to start is by considering the applications for smart physical technology with the ability to collect and respond to data.
Read more...
---
Hikvision aims for solutions
Technews Publishing Hikvision South Africa Editor's Choice CCTV, Surveillance & Remote Monitoring News Integrated Solutions Conferences & Events
Hikvision recently held a roadshow titled Industry X, where the company highlighted its latest products and solutions, supported by partners and distributors.
Read more...
---
Reliable, low-maintenance video appliances
Technews Publishing Editor's Choice CCTV, Surveillance & Remote Monitoring News IT infrastructure Products
Symetrix, part of the Agera Group, has added the AES range of video recording servers, storage appliances and workstations to its portfolio.
Read more...
---
Upgraded security and AI monitoring at upmarket estate
Watcher Surveillance Solutions Editor's Choice CCTV, Surveillance & Remote Monitoring Integrated Solutions Residential Estate (Industry)
Estate upgrades and enhances its security through a partnership between surveillance specialist Watcher and the incumbent guarding company.
Read more...
---
Security solutions that go the distance
Avigilon Logistics (Industry) CCTV, Surveillance & Remote Monitoring Asset Management, EAS, RFID Transport (Industry)
Avigilon self-learning video analytics help detect potentially critical events and issue an alert within the ACC dashboard, allowing officers to then verify event alarms.
Read more...
---
Advances in in-vehicle AI
Secutel Technologies Logistics (Industry) CCTV, Surveillance & Remote Monitoring Transport (Industry)
Artificial intelligence has a huge impact on the surveillance landscape and is adding enormous benefits to customers in terms of providing additional business intelligence and security.
Read more...
---
Privacy shield with optional face blur
Axis Communications SA Products CCTV, Surveillance & Remote Monitoring
Axis Live Privacy Shield compares a live camera view to a set background scene and applies dynamic masking to areas of change.
Read more...
---