printer friendly version
Trends for excellent estate security
March 2016 Residential Estate (Industry), CCTV, Surveillance & Remote Monitoring, Editor's Choice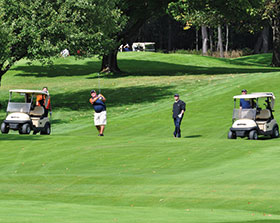 The primary lure of housing estates is one of safety and security. The thinking is that surely surrounding yourself with high walls and the latest technology leads to you and your family being safer than ever before. But this is a misconception.
To truly create a safe environment demands that several factors be in place. During a recent roundtable discussion hosted by Axis Communications, a number of trends surfaced that every estate manager should consider.
"The biggest mistake most security environments make is to adopt a knee-jerk reaction to improving security once a crime has already taken place. In contrast, the safest estates take a forward-looking approach and continually investigate new technologies worth deploying," says Roy Alves, business development manager at Axis Communications EMEA.
Proactive estates also constantly test their procedures for blind spots by running mock scenarios. They invest in the right training for personnel to ensure procedures are followed when something does happen. Complacency is the real sin: criminals are wily and will exploit whatever gaps they discover.
There is a caveat: "Don't throw the kitchen sink at this," says Carlo Cecchi, head of electronics and ICT at Steyn City. "Some technologies, such as sound analysis and number plate detection, have limited value in residential estates and are prohibitively expensive. The departure point for proactive security must always focus on what the estate requires and how new systems will complement its overall security strategy rather than creating an artificial sense of security."
Build situational awareness
Secure estates know what is going on both inside and around them. The best security technology in the world cannot stop a determined criminal. For example, it is not unusual for criminals to rent or even buy property within an estate to orchestrate crimes from this central location.
"This kind of inside job is impossible to spot if the estate's own residents and managers are not aware," says Max De Lorm, director at Surveillance Factory. "Too often, people move into a secure complex and assume that security is being taken care of, so they need not bother. This is a mistake; the most secure estates are those that actively engage with all stakeholders. This requires regular meetings with resident associations, estate managers, local policing, neighbouring estates and so on. An estate's security awareness does not end at its electrified fences and walls or perimeter cameras."
Fortunately new technologies have a role to play here. Software that analyses video feeds for suspicious behaviour is becoming more affordable. Combined with an array of cameras, such software can spot patterns, out-of-place movement, and build a picture of what should and shouldn't be happening.
In another tip of the hat to complacency, many estates will invest in the technology and procedures, but then leave it at that. It may check up on the people, but not pay as much attention to the condition of its hardware. Systems degrade over time. Cables fray, lenses become scuffed or smudged, and fences become dilapidated. As such, a maintenance agreement is critical for any security system to operate optimally.
No technology silver bullet
Although there are many advanced technologies that can boost or complement security systems, not all of them are necessarily the right fit. One such example is fibre connectivity, which is brilliant for many reasons. For example, a camera hooked to fibre can be monitored in real-time with ease and won't go down during a blackout. Fibre also isn't prone to signal failure, as is often the case with wireless systems.
"Fibre is expensive to install and the complementary security gadgets to hook into fibre can be costly too," says Cecchi. "Although an estate can definitely benefit from fibre-driven security, it should plan this process carefully, down to who owns and operates the fibre network itself. Simply rolling out the cables and connecting devices onto the network will not deliver optimal results."
"The best security technology has to be affordable, practical and meet the real everyday challenges of secure estates," says Alves. It comes back to communication and a proactive view of the estate's security situation. Involve all stakeholders, formulate a plan, find the right technologies to meet the challenges, and then treat it as a work in progress rather than an afterthought once a crime has taken place.
For more information contact Axis Communications, +27 (0)11 548 6780, sasha.bonheim@axis.com, www.axis.com
Credit(s)
Further reading:
Directory of Suppliers
August 2019 , Residential Estate (Industry)
Read more...
---
Milestone partners prove their skills
August 2019, Milestone Systems , News, CCTV, Surveillance & Remote Monitoring, Training & Education
Within the span of one week in mid-May, the Milestone Learning & Performance group celebrated important benchmarks: 200 000 course registrations and tutorial views, and 10 000 certifications.
Read more...
---
ONVIF Hosts 20th Developers' Plugfest
August 2019 , News, CCTV, Surveillance & Remote Monitoring
ONVIF, the global standardisation initiative for IP-based physical security products, hosted its twentieth ONVIF Developers' Plugfest in early June in Tokyo.
Read more...
---
Licence plate recognition camera
August 2019 , Products, CCTV, Surveillance & Remote Monitoring
VIVOTEK has introduced a new licence plate recognition camera featuring built-in licence plate recognition software and edge-computing capability.
Read more...
---
The importance of real security risk assessments
August 2019, Sentinel Risk Management , Editor's Choice, Security Services & Risk Management, Residential Estate (Industry)
Andy Lawler, MD, Sentinel Risk Management, says a security risk assessment is an onerous task, but is not something estates can consider optional or a luxury item anymore.
Read more...
---
Risk assessment or product placement?
August 2019, Technews Publishing, Alwinco, SMC - Security Management Consultants , Editor's Choice, Security Services & Risk Management, Residential Estate (Industry)
Hi-tech security solutions asked a couple of experts to provide estate managers and security managers with some insights into what a 'real' risk assessment includes.
Read more...
---
How far are we really at with artificial intelligence?
August 2019, Axis Communications SA , Editor's Choice, CCTV, Surveillance & Remote Monitoring, IT infrastructure, Residential Estate (Industry)
Justin Ludik unpacks exactly how far AI has come and what it potentially can do for society and more importantly, surveillance.
Read more...
---
More than simply a camera
August 2019, Forbatt SA, Secutel Technologies , CCTV, Surveillance & Remote Monitoring, Residential Estate (Industry)
With the human element being the weakest link in all security solutions, Hi-Tech Security Solutions looks at the pros and cons of using body-worn cameras in estates.
Read more...
---
The importance of effective perimeter security
August 2019, Elf Rentals - Electronic Security Solutions, Stafix , Editor's Choice, CCTV, Surveillance & Remote Monitoring, Residential Estate (Industry)
Protecting the perimeter is critical for any residential estate; how does one go about making sure your perimeter is as secure as possible?
Read more...
---
Multiple methods for motion detection
August 2019, Axis Communications SA , Perimeter Security, Alarms & Intruder Detection
There are strengths and weaknesses with all motion detection solutions, and their effectiveness will be dictated by the environment and the components they are being used with.
Read more...
---