printer friendly version
Wireless estate surveillance
Residential Estate Security Handbook 2016 - Vol 1 Residential Estate (Industry), CCTV, Surveillance & Remote Monitoring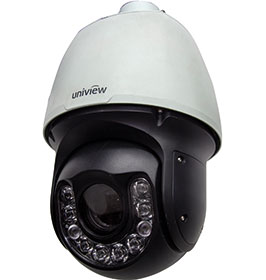 Terra Nova in Trichardt, Mpumalanga, can be described as a private town comprising six residential estates, schools, petrol stations, a hospital, and grocery stores. The concept is centred on green living and energy sufficient solutions, with the safety and security of all residents remaining a top priority.
The developers of Terra Nova – Tronicorp – approached MiRO early in 2015 to discuss a wireless security surveillance system for the private town. The 130 Ha site currently comprises the recently completed Cosmos View, Cosmos Valley and Cosmos Ridge, as well as the three under-development estates of Hibiscus Place, River View and Bushwillow Place. MiRO subsequently discussed a plan of action and outlined suggested solutions with input from preferred MiRO installer, IP Solutions. Tronicorp compiled a security budget and installation commenced in August 2015, with handover achieved in November 2015.
Tronicorp's Tony Petricevic says that the overarching decision with the Terra Nova development was to move away from having a security guard at each entrance and guards patrolling the property, to a more technology-based solution. "We decided to implement a wireless IP surveillance system, linked to an armed reaction team, that can expand with the growth of the town and which eliminates the human guarding element. The initial investment in the cameras and network will be quickly recouped through our savings on manpower."
Security and aesthetics
Noah Mashaba, MD of IP Solutions, explains that due consideration was given to the high levels of security required by the Terra Nova Home Owners Association, combined with the need for an unobtrusive and non-invasive aesthetic element. The resultant package – 23 Uniview speed dome cameras and 10 Uniview bullet cameras, combined with the newly released Ubiquiti airFiber 5X wireless backhaul solution – will provide critical coverage of risk areas.
The speed dome cameras are installed on the perimeter of each new estate and can cover distances of up to 500 m, while the bullet cameras are deployed at the entrance gates to each complex.
Mashaba says that the Uniview cameras, a recent addition to the MiRO product line-up, were selected for a number of reasons. In addition to being a cost-effective solution, Uniview cameras deliver clear live video streaming under challenging conditions due to the many built-in premium features. Uniview offers a speed dome camera with laser infrared ability, providing clear images in pitch-dark condition at distances of almost 500 m.
Uniview deploys patented technology designed to maintain stable video quality even if the full capacity of bandwidth isn't available over the Internet or a wireless link during harsh weather conditions.
Complete solution
Another important consideration in the selection of Uniview, is the built-in surge-protection in all Uniview cameras and NVRs, a big advantage in an area like the Mpumalanga Highveld with its high incidence of electrical storms.
Mashaba adds that Uniview is a complete video surveillance solution allowing all Uniview cameras and NVRs to be integrated into one unified system, with no additional cost when additional channels are required. Uniview Cloud service provides free, instant remote live viewing and alarm notifications to any smart device or PC-based system, providing essential situational awareness to security personnel on the move.
As the cameras are installed around the perimeter of the estates, with limited access to infrastructure, a wireless IP network had to be designed to speed up the installation time and minimise cost and disruption to infrastructure. Ubiquiti airFiber 5X products were selected to deliver a high-speed IP network in the licence-exempt 5 GHz spectrum.
For more information contact MiRO distribution, 086 123 MIRO, riandi@miro.co.za, www.miro.co.za
Credit(s)
Further reading:
AI technology to empower vertical markets
Dahua Technology South Africa Mining (Industry) CCTV, Surveillance & Remote Monitoring Products
Dahua WizMind is a full portfolio of solutions comprising project-oriented products that use deep learning algorithms to provide more business value to its global customers and deliver reliable and comprehensive AI solutions for vertical markets.
Read more...
---
Elvey partners with HALO
Elvey Security Technologies News CCTV, Surveillance & Remote Monitoring
Elvey Group has partnered with HALO Europe to provide Africa's first body-worn solution with zero upfront costs. This includes an IP68-certified body camera and a 4G-connected device.
Read more...
---
Invisible connection and tangible protection via cloud
Dahua Technology South Africa Perimeter Security, Alarms & Intruder Detection CCTV, Surveillance & Remote Monitoring Products
Dahua Technology has launched its AirShield security solution that uses advanced, stable and reliable RF communication technology and cloud services, integrating alarm hubs, various detectors and accessories, with several software apps.
Read more...
---
The importance of the operator's frame of reference
Leaderware Editor's Choice CCTV, Surveillance & Remote Monitoring Security Services & Risk Management Mining (Industry)
The better the operator's frame of reference and situational awareness, and the more informed they are in dealing with CCTV surveillance in the mining industry, the more successful they are likely to be in surveillance.
Read more...
---
Enhancing surveillance on mines
Avigilon Technews Publishing Axis Communications SA Forbatt SA Hikvision South Africa Bosch Building Technologies Editor's Choice CCTV, Surveillance & Remote Monitoring Integrated Solutions Mining (Industry)
Smart Security approached a number of surveillance vendors to find out what the latest in surveillance technology is that can make a difference to security operations in mines, as well as general operations.
Read more...
---
Surveillance to improve worker safety
Axis Communications SA Mining (Industry) CCTV, Surveillance & Remote Monitoring Integrated Solutions
With substantial deposits of mineral resources, mining is critical for South Africa's economic growth and prosperity; however, mining can be dangerous, especially for the people working on the ground and in the shafts.
Read more...
---
Centralised VMS for multiple sites
Mining (Industry) CCTV, Surveillance & Remote Monitoring
Dispersed mining operation relies on AxxonSoft for centralised video management as well as device health monitoring and the reliable distribution of analytics to various camera brands.
Read more...
---
Transition to cloud for video surveillance accelerates
News CCTV, Surveillance & Remote Monitoring
Video surveillance systems are transitioning to greater use of cloud solutions according to a new report from Novaira Insights titled Cloud Trends in Video Surveillance – 2023 edition, which says the trend is accelerating.
Read more...
---
The importance of CCTV for internal perimeter protection
Leaderware Editor's Choice CCTV, Surveillance & Remote Monitoring Perimeter Security, Alarms & Intruder Detection
Constant violations of procedures governing access, unusual handling of goods, empty boxes or containers of product lying around or hidden behind other goods, unauthorised use of exit areas, and movement to unexpected perimeter areas can be a major issue.
Read more...
---
Off-grid power solution for residential estate
Editor's Choice Security Services & Risk Management Residential Estate (Industry) Products
Coral Beach Estate, an upmarket residential estate based in East London, has been struggling with load shedding and power outages due to South Africa's energy crisis, as well as the vandalism of its power infrastructure.
Read more...
---