printer friendly version
Easy home surveillance solutions
Residential Estate Security Handbook 2016 - Vol 1 Residential Estate (Industry), CCTV, Surveillance & Remote Monitoring, Products, Editor's Choice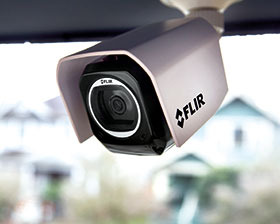 There are numerous surveillance solutions for businesses available on the market, but precious few for the home user who wants a reliable, easy to use solution that also delivers the goods. Two companies have recently released new wireless home surveillance solutions that make use of the cloud for storing and smartphones for managing video feeds.
Hi-Tech Security Solutions was able to use two of these solutions for a while to determine if they really are suitable for home use, or even small office use where budgets are limited. The first one is from Ingram Micro and is called Homeboy (an Australian name that the local office is looking to change). The second is the Flir FX. Neither camera is aimed at constant video surveillance, but rather surveillance triggered by events.
Homeboy

Homeboy has been designed specifically for the technically challenged. It sports a slick design that sees the camera in the shape of a ball, slightly smaller than a tennis ball. The lens delivers adequate resolution for home surveillance, in other words, short distances indoors. It is supported by LED lights that are automatically activated when the lighting levels are low. It also sports a motion detector.
The Homeboy is charged via USB cable that can be attached to your computer's USB port, or to an adaptor plugged into a power point. Part of Homeboy's charm is its voice alerts that tell you when it is awake, going to sleep or connected to the wireless network etc. The wireless connection is vital to the functioning of the product.
Once charged, the user needs to download and install the Ingram app to their Android device or iPhone. Then it's a simple process of connecting the camera to the Internet and registering an account. Ingram Micro provided Hi-Tech Security Solutions with a cloud account to test the Homeboy, but will partner with local service providers to provide cloud storage within South Africa.
Once you have set up an environment via the smartphone app, you can add multiple cameras under that environment. For example, Home could be the environment with different cameras in different locations in your home. The beauty of this setup is that you don't need to install it in one place and leave it; it can be moved to any location, for example a holiday home, as long as it can connect to a local wireless network.
As noted above, the Homeboy is not meant for continuous viewing. From your smartphone, you can set up various parameters that define how the system works. For example, you can set the default length of a video clip it records, from 10 seconds to two minutes. When triggered, the device records a video clip and stores it in the cloud, after which you can view it within the app.
Users can request a video clip as and when required, but the real value of Homeboy is to raise the alarm when the motion detector is triggered. Setting up the camera to cover a room or a door, the user arms the system from the mobile app or via geolocation: this means that whenever you leave home, the system arms itself automatically and disarms itself as soon as you return.
While armed, if the motion detector is triggered, a video clip of the length you specified is recorded. In poor lighting, the LEDs are powerful enough to light up even the darkest room. This clip is stored in the cloud and an alert is sent to your smartphone. Touching the alert takes you into the Ingram app where you can view the video, disarm the alarm and take whatever action is required. Because the video clip is restricted in length, even when using expensive cellular data, it will not break the bank.
A very useful touch is that users can set an audible alarm (which is loud) to activate as well. This is useful when you are in the house and want to know when someone is snooping about and if you want to let them know they have been discovered. You can also disable the audio alarm if you so choose and will only receive an alarm notification on your app when it is triggered.
Homeboy doesn't have a large battery, but the device can easily last for a working day as only the motion detector is at work until it detects movement. Obviously, if you have a busy cat triggering the alarm often, the battery will not last as long.
To install and position Homeboy, Ingram has included a small, magnetically charged circular platform that holds the camera. Ingram says the magnet will last for more than a year and can be replaced quite easily. The platform itself can stand on a shelf, be hung on a hook or nail in the wall, or even be vertically attached to a flat surface by means of double-sided tape – again, the tape has been designed to last and a spare section is provided in case you decide to move the Homeboy.
If keeping tabs on your home or office and receiving alerts when someone moves around when they shouldn't be there is all you require. The Homeboy is a great little device that looks great and performs its tasks with ease. It's small and portable, and easy to use. As long as the camera is connected to a wireless network and your smartphone is connected to the Internet – via cellular data or Wi-Fi – the Homeboy delivers.
Flir FX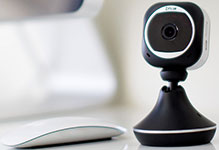 The FX is an awesome piece of engineering. It looks professional and provides home or small business users with an array of options to provide for continuous or targeted, triggered surveillance. Once again, data is stored in the cloud via an account with Flir (detailed later). However, the FX includes an SD card with 8GB of storage available to allow you to also store video on the camera.
The camera comes with a stand in the box. What is great is that the camera itself has a battery and the stand has an extra battery to provide you with up to four hours of operation; both are charged via USB. Flir has done the unthinkable and provided a long USB cable (3 m long) to ensure you can plug it in and charge it more easily. There are even screws and an attachment for mounting the camera on a wall included in the box. Other stands can be purchased separately that will provide an outdoor enclosure, a dashboard mount or a waterproof sports attachment.
Once again, the device is managed by an app that runs on Android smartphones or on the iPhone. Once installed, the user registers a cloud account for online storage and connects to their local Wi-Fi. To register the camera, or multiple cameras on the app, you simply scan the 2D barcode attached to the camera and the app does the rest.
The interface is not as simple as Homeboy's, but it allows the user to do much more. You can view live video if you choose (which may not be a good option when using cellular data plans) and choose between standard definition or high definition feeds. Video is stored on the SD card and/or in the cloud, making it easier to review video offline when required.
For security purposes, you can choose to activate the camera when motion or sound is detected – even in the dark thanks to the built-in infrared lights. Once again, you can set the length of the video to be downloaded when an event is triggered and you also receive a notification on your phone. There is no audio alarm built into the FX, but you do have the option to speak to whoever you're watching via the built-in speaker. Unfortunately the speaker is not very powerful.
An excellent bit of software called RapidRecap has been added to the package and it provides users with the ability to view a significant amount of footage in compressed form. This allows you to view any motion that was recorded over hours compressed – with timestamps – into a couple of minutes. The FX also offers smartzones: when the camera is in place, you can select which areas of a room it has to monitor for motion and which it should ignore.
For more complex video, such as covering a whole room, you can make use of the provided dewarping software (built into the app) to view 160-degree scenes with ease. The system can also record temperature and humidity, which you can set the sensitivity of the system to humidity or temperature to in the app – as well as sound and motion sensitivity. You can also get the app to send you a snapshot of the cameras view whenever you require it. You can even hold the camera and take a manual snapshot yourself.
Should you not have a Wi-Fi connection, you can still view your video as the FX has a built-in Wi-Fi access point. This means you can link your smartphone directly to the FX to view video or set alarms etc. Of course, this means you need to be in range of the FX's Wi-Fi, which reaches to around 100 m depending on obstructions.
When starting to use the system for the first time, new users will receive 30-days of Flir Cloud Plus access, after which they will be downgraded to the Flir Cloud Basic access. To remain on Plus costs $9.99 per month.
Basic access provides users with three RapidRecaps per month and 48 hours of event storage in the cloud. For $9.99 per month, Flir Cloud Plus offers unlimited RapidRecap and seven days of storage. The top level account, Flir Cloud Premium costs $19.99 per month and offers unlimited RapidRecap and 30 days of storage.
The Flir FX is a professional surveillance solution in a home or small business package. It offers quality and functionality way beyond what its size indicates it should be able to.
For more information on the Homeboy, contact MJ Oosthuizen, Ingram Micro Distribution: Africa, mj.oosthuizen@ingrammicro.com
For more information on the Flir FX, contact Philip Smerkovitz, TeleEye (South Africa), +27 (0)11 557 9200, www.teleeye.com
Credit(s)
Further reading:
Olarm launches the Olarm LINK
Olarm Perimeter Security, Alarms & Intruder Detection News Products
Building on the success of smart-enabling, monitoring and controlling alarm panels and electric fences, Olarm has a new solution for customers to integrate gates, garage doors, pumps and other electrical products with the Olarm APP and Olarm PRO communicator.
Read more...
---
Ultimate smart monitoring and reliability
Olarm Perimeter Security, Alarms & Intruder Detection News Products
Olarm is gearing up to unveil its latest product, the Olarm MAX, set to be available in late 2023, which will redefine smart monitoring by offering unparalleled connectivity options and functionality.
Read more...
---
Cloud-based or on-premises access control
Salto Systems Africa Access Control & Identity Management Products
Choosing between cloud-based and on-premises access control solutions can be a difficult decision, however, the best solution for your organisation, property, or building type will depend on a range of factors.
Read more...
---
New distributed acoustic sensors in EMEA
Perimeter Security, Alarms & Intruder Detection Products
OPTEX introduces new EchoPoint Distributed Acoustic Sensors (DAS) for advanced point location intrusion detection, using intelligent detection algorithms to provide point detection of +/- 6 m in a range of up to 100 km.
Read more...
---
AI technology to empower vertical markets
Dahua Technology South Africa Mining (Industry) CCTV, Surveillance & Remote Monitoring Products
Dahua WizMind is a full portfolio of solutions comprising project-oriented products that use deep learning algorithms to provide more business value to its global customers and deliver reliable and comprehensive AI solutions for vertical markets.
Read more...
---
Improved security health check tool
Gallagher Access Control & Identity Management Products
Gallagher Security has streamlined its free Security Health Check tool, making it easier than ever to protect against potential system risks and improve business efficiencies.
Read more...
---
Maximum fire protection for the most dangerous places
Securiton Fire & Safety Mining (Industry) Products
Africa's heavy mining and resource processing industries are some of the continent's leading economic lights. They also present some of its toughest fire safety challenges on the planet.
Read more...
---
Elvey partners with HALO
Elvey Security Technologies News CCTV, Surveillance & Remote Monitoring
Elvey Group has partnered with HALO Europe to provide Africa's first body-worn solution with zero upfront costs. This includes an IP68-certified body camera and a 4G-connected device.
Read more...
---
RDC expands its production capabilities
Radio Data Communications Perimeter Security, Alarms & Intruder Detection Products
Local electronics manufacturer, RDC, recently acquired a new SMT (surface mount technology) machine to boost its manufacturing output and meet the needs of its global customer base.
Read more...
---
Suprema showcases integrated security solutions
Suprema Access Control & Identity Management Products
Apart from being an access terminal that supports multiple credentials such as facial recognition, RFID, mobile and QR codes, the BioStation 3 also supports VoIP Intercom and real-time video monitoring features to make it a truly multi-functional reader.
Read more...
---