printer friendly version
Securing estates from perimeter to home
Residential Estate Security Handbook 2016 - Vol 1 Residential Estate (Industry), Conferences & Events, Editor's Choice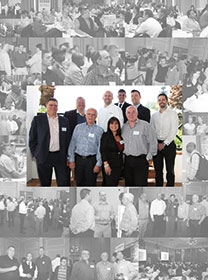 In the fourth quarter of 2015, Hi-Tech Security Solutions and Rob Anderson hosted a conference focused on securing residential estates. The response to the event was overwhelming and the venue, the Indaba in Fourways, Johannesburg, was packed to capacity with estate managers, security managers and system integrators.
In the adjoining room the sponsors of the event had a mini expo to display their residential offerings to attendees. As residential estate security is a growing market, all the sponsorship opportunities were snapped up. The event sponsors were:
• Comb Communications.
• Elf Rentals.
• Elvey Security Technologies.
• Enforce Security Services.
• Morpho South Africa.
• Pentagon Distribution.
• Powell Tronics.
• Reditron.
The attendees were able to listen to a number of presentations throughout the day, designed to cover some of the critical aspects of estate security. Below is a brief summary of the presentations on the day. Unfortunately, in such a short article we can only briefly touch on the vast amount of information the presenters delivered.
Your security plan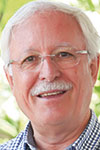 Rob Anderson.
The first presentation was by Rob Anderson, a well-known security consultant who has worked on numerous estates' security plans over the years. Anderson's presentation focused on the first step in estate security, the plan.
Anderson started by stressing the importance of having a security plan. If you don't have a good overview of what you want to achieve, you will never have a reliable security solution. The basis for developing a plan is to measure the risks facing the estate, develop risk mitigation strategies and then only develop a plan to implement technology and manpower. Anderson believes intelligence is a critical, yet often ignored aspect of a security plan. The more relevant data you can collect and analyse, the better your chances of proactively preventing criminal incidents, rather than always reacting to events after the fact.
Under the banner of intelligence, he includes surveillance and monitoring, manpower, electronics and data (these days, data is actually cyber security given the high risk threats evident in the online world).
These systems, among others, provide an estate with large amounts of data which should be analysed for trends and intelligence.
The traditional components of an effective security plan incorporate independent oversight and review of the strategy and rollout, and the effective management by the estate's board or homeowners' association of the whole process.
Anderson advises estates to use the technical components of security solutions to mitigate risks, while integrating different products in a manner that produces intelligent outcomes. In other words, estates need to develop a plan that informs them of what is happening with relevant alerts and reports. When there is an incident, the security devices should automatically and immediately provide the relevant parties with the where, what, when, why and how of the incident to allow for an effective response.
Training your staff will naturally be part of the plan. There is no point having a great plan and solution when your employees don't know how to use it or how to respond.
Anderson ended with some advice on how to measure the efficacy of your physical barriers via the EASI method. EASI stands for Estimate of Adversary Sequence Interruption and measures the deterrent factor of sequential barriers and the response required to protect residents.
Following Anderson's 'big picture', the conference started looking at various focused security challenges, starting with the perimeter.
More than a fence
Dan Edwards, Betafence.
Dan Edwards from Betafence was up next with a presentation designed to show that a perimeter fence has more to it than a few wires. Edwards showed attendees how fences have changed over time and likened a perimeter fence to the rhythm section of a jazz band. "The rhythm section sets the framework for the rest of the band to play the melody, and a fence is the same in a security system."
Edwards highlighted four trends the perimeter fencing market is experiencing at the moment:
• A focus on aesthetics and visually neutral fences and colours. This includes fences that are almost transparent in order to improve visibility.
• An increased focus on mesh fences that are harder to cut and climb. As a demonstration, Edwards played a video in which a team of police officers were timed as they cut through a number of different fences. The more modern fences took them over 10 minutes to get through, while traditional fences were compromised in minutes.
• A move to innovative coatings such as PVC vs paint or powder coating.
• A move towards flat panel systems instead of bent.
Fences are designed to keep people out and Edwards noted that more perimeters are incorporating additional protection features. These include underdigs to prevent anybody digging under the fence, electrified fences and razor wire to protect the top, and a move to using fibre vibration detection systems on the fences and underground around the perimeter.
He also gave interesting figures as to the cost of a perimeter fence, including explaining how and why the cost increases when it is installed on sloped ground – something not always included in budget calculations. Furthermore, he advised the attendees on what guarantees they should be looking for when paying for a fence, such as a corrosion guarantee and a functional guarantee.
Ending his presentation, Edwards offered advice on some other things to consider when looking at purchasing a perimeter fence for your estate. These include:
• Is the factory ISO accredited?
• Is the company SAVA/Green Building Council accredited members?
• Are certificates made available for weld strength and coating conformance?
• Are local installers trained/supported?
• Is local stock and support available?
Getting results from access control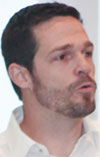 Barry East, Impro Technologies.
Barry East, marketing director for Impro Technologies, discussed the often misunderstood topic of access control.
Access control is a sticking point for all estates. You want to make entry and exit as quick and easy as possible, but you can't lose control.
East remarked that access control seems like a simple job to those who look at it from a distance, it's simply about controlling who gets in and who doesn't. When you get down to ground level however, it's a different kettle of fish. We should always remember that the estate security team has to ensure the security of the entire perimeter all the time, while the criminal only has to find one weak spot. So crossing your fingers and hoping for the best solution from the cheapest tools or contractors is definitely not a viable option.
Many estates still use the old visitor's book as an access control mechanism at the front gate. As East noted, this process has a history of "successfully arresting exactly zero criminals since forever". On the other hand, you can make the estate as secure as a high-security prison, but that won't work for a location where people come and go throughout the day. An estate needs to be somewhere in between these two to be accessible for legitimate user and inaccessible for criminals.
According to East, in order to effectively understand one's requirements, one needs to be able to translate the optimistic ideals of access control into the real world as applicable to each estate. To accomplish this, independent consultants are ideal to guide estates by providing an unbiased solution not based on product sales (and commission).
The access framework for a site starts with defining your needs, your budget and a long-term vision. The estate can then build on this vision over time, because ongoing maintenance and upgrades will be part of the strategy to ensure the longevity and success of the system. The problem with not having a long-term vision is that stakeholders will constantly feel that they are missing something and that their access control solution is inadequate.
Once the strategy is in place, then you can look at the tools you need to accomplish it. These can consist of biometrics or cards, mobile and/or fixed readers, integrated or standalone solutions and so forth.
Enhancing visitor and contractor management

Melissa Jacobs, Powell Tronics.
Powell Tronics was next to present, with Melissa Jacobs taking the access control concept further, focusing on visitor and contractor management. To effectively control the flow of non-residents into and out of the estate, without wasting time with a visitor's book, Jacobs say the first step is to find the estate's strengths and weaknesses by considering the following:
• The security of the estate itself?
• The security of the residents?
• The traffic flow at the perimeter entrances?
• Knowledge (or lack thereof) of who is actually on-site?
The solution to visitor management is to have a well-designed policy regarding access to the estate and properly trained security staff who know what is expected and how to manage visitors, supported by the right technology.
As far as contractors are concerned, she suggests avoiding long queues by enforcing a contractor registration process, which can include criminal checks and so forth. It should also be a given that all contractors are registered, even those arriving on the back of a truck. The list of contractors should be regularly updated and residents encouraged to give feedback to allow for the blacklisting of those who don't follow the estate's rules.
Other employees must also be registered via an official identity document or card. This will allow pre-authorised workers to enter the estate without going through a vetting process each time, preventing a crowd of impatient people gathering at the gates. Estates could also consider a separate entrance for workers, allowing them quick and unencumbered access.
Finally, Jacobs repeated the need to move away from the visitor's book as they inevitably result in inaccurate information being collected and contribute nothing to security. There are many technical solutions available that will allow for more accurate visitor management processes as well as improved data collection. However, she warned that estates should ensure the technology chosen is compliant with PoPI regulations to prevent any significant challenges when the act is implemented.

Vagn Nielsen, Helderberg Village.
Following Jacobs' presentation, Vagn Nielsen, CEO of Helderberg Village, delivered a short case study highlighting how this luxury retirement village in the Western Cape has designed its visitor management processes, highlighting the rules that work to secure the estate's many residents without causing long queues at the gates.
The right camera selection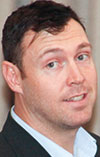 Wayne Louw, Pentagon.
Moving to the surveillance side of estate security, Wayne Louw from Pentagon, focused his presentation on explaining different camera technologies available to residential estates and briefly touching on what the best camera fit in different situations would be.
Louw touched on the major camera selections available to estates, starting with visual cameras. From set bullet cameras, to PTZ cameras that can be used to track individuals and objects as they move around the estate, Louw explained the difference and benefits of using these cameras. He also touched on resolution and what would be best suited to which situations.
Thermal cameras were then under the microscope as Louw discussed the how and where of these 24x7 cameras. One of the primary areas for thermal cameras in estates is as a perimeter defence mechanism that can pick up movement by day or night, although they can't be used for identification.
Backing up his presentation, Louw then ran a number of videos to demonstrate various cameras in action. Clearly demonstrating that selecting the right camera for each situation and environment will deliver the results estates require. Opting for the cheapest camera or simply going with the recommendations of a sales person without the proper planning and design phase, on the other hand, is unlikely to deliver more than disappointment. When your selection is tailored to your needs, the estate receives long-term, reliable operations, and a measurable return on investment from its surveillance investment.
Video analytics de-mystified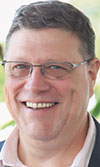 Gus Brecher, Cathexis Africa.
Having selected the right camera, the next presentation moved on to what estates can do with the video images cameras capture and how video analytics can enhance and support the surveillance operations. Gus Brecher, MD of Cathexis Africa, took attendees through an introduction to video analytics and some of the functionality the latest applications offer.
Brecher started by explaining how human attention spans are short and watching a bunch of screens will soon lead to an inability to see anything, even though the operators are trying to do their jobs. He quoted a study which found that after 12 minutes of continuous video monitoring, a person will often miss up to 45% of screen activity. After 22 minutes, up to 95% is overlooked.
Video analytics functions by triggering an action once it notices an event while analysing the content of a video. The event can be anything the software is programmed to detect, such as motion or a left object, or any of the other analytical functions available today.
The trigger can be anything from bringing the camera view up in front of the operator, moving a PTZ to focus on and follow a person, emailing or SMSing the alert to the relevant parties, basically initiating whatever actions the controllers' desire.
Brecher then went on to describe how analytics has moved on from simply detecting motion to multiple additional features. Some of these include perspective, which helps to determine the distance of an object or person. He then showed video examples of various analytical algorithms at work, including object tracking, left objects, speed measurement and licence plate recognition, to name a few. He also mentioned some of the newer analytics which are not yet in mainstream use, such as facial recognition and behavioural analytics.
What is more impressive about analytical applications today is the ability to use them for non-security functions. These functions range from people-counting and customer service operations, queue management and heat maps.
Brecher ended the presentation by discussing additional issues related to analytics, such as the difference between edge and server analytics, the cost of analytics and gave some good advice to estates not to believe everything they are told.
Manpower and efficient control rooms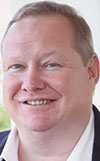 Ian Downie, Xone Integrated Security.
While the technology used to protect estates is important, it is just as important or even more so that the control rooms receiving the security data are able to interpret it and act definitively in the protection of lives and property. Ian Downie, sales and marketing director of Xone Integrated Security, addressed this issue, asking why estates seem happy to save 10% or 20% on their security service provider resulting in the whole estate receiving weaker security.
Downie states that good technology, matched with good people managed by good processes will always deliver better security that has a greater chance of stopping threats. Yet, while many estates are starting to use technology correctly, they still skimp on their control rooms, possible because these areas are not seen as being "in the face" of criminal threats.
If your control room is to deliver the results you require, it must be designed to deliver effective command and control. This means the right technology, including management and reporting tools to support human operators, quality staff that are properly trained and appropriately paid.
He also addressed the issue of onsite and offsite monitoring. There is a tendency among some to assume that remote monitoring is better and cheaper than having an onsite control room, but Downie says this is not always the case. In terms of cost, remote control rooms need to have the same infrastructure and personnel if they are to be effective, but they also need additional infrastructure in the form of redundant communications to the estates they monitor to ensure they are able to maintain constant contact.
Remote operations are ideal for simple environments that operate a black screen approach. Onsite control rooms in an estate environment are usually better as a first-tier control room due to the complexity and volume of information and action required.
Most important of all is that control rooms must be guided and measured by defined processes and outcomes. Part of the performance measurement process is to ensure the control room – and the security of the estate as a whole – undergoes a continual process of measurement, reporting and analysis to facilitate continuous improvement in all areas of operation.
Intelligence in the Information Age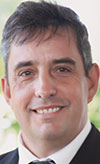 Jan Botha, Online Intelligence.
The final presentation of the day was all about making better use of the information collected by control rooms from the security equipment around the estate, integrated with additional data and information from external sources. Jan Botha, director of business development at Online Intelligence, explained that simply collecting data is only one dimension of security. Analysing that data in order to gather information that can be used to proactively address security issues enhances your security posture significantly.
Botha does not promote information for the sake of having hordes of information; the Internet already collects immeasurable amounts of data, most of it useless. Botha believes in analysing data, slicing and dicing it into real information that will provide foreknowledge to facilitate effective action, support tactical operations and strategic objectives and provide guidance for the intelligent and effective use of resources due to enhanced situational awareness.
The data to be analysed on an estate will come from that collected internally by security technology, as well as other electronic technologies that provide information, and the people involved in operations, requiring constant and in-depth reporting from all aspects of the estate. This must then be combined with external information, such as the data exchanged between estates that are all trying to deliver a safe environment to their residents, police and other crime reports from the surrounding areas, as well as social information from various sources.
The data must be understood and analysed and then formatted in a structure that is understandable and can guide operators through rules-based notifications and alerts. In this way an estate can establish and maintain a clear picture about the ever-evolving risks they face and ensure their security strategy is ready to deal with them.
Hi-Tech Security Solutions would like to thank the speakers who kept the attendees interested throughout the day and provided far more information than we can include in this article. The attendee feedback forms were positive and very complimentary about the quality and content of the presentations. We also thank the attendees for their time and the sponsors for their support and the professionalism of their displays in the exhibition area.
Hi-Tech Security Solutions will be taking the Residential Estate Security conference to Durban in June 2016.
Credit(s)
Further reading:
Robots: a security opportunity or a threat?
Editor's Choice News Conferences & Events
Professor Martin Gill, Director of Perpetuity Research & Consultancy International and the School of Criminal Justice at the University of South Africa (UNISA), will be holding a Global Thought Leadership Security webinar on 22 June 2023 to discuss the contentious issue of robots operating in the security industry.
Read more...
---
UNISA sponsors Securex seminars
Editor's Choice News Conferences & Events
As part of UNISA's 150-year birthday celebrations, UNISA has sponsored the Securex Theatre Seminar Programme, which will include a number of prominent industry specialists, academics and security practitioners focusing on a number of themes.
Read more...
---
The latest security trends at Securex South Africa 2023
Securex South Africa News Conferences & Events Training & Education
Security technology evolves at a blistering pace, so it's important to keep up to date with changing trends in order to ensure maximised safety of human and personal assets. The Securex Seminar Theatre, powered by UNISA, is the place to be.
Read more...
---
From the editor's desk: Get Smart
Technews Publishing News
Welcome to the fourth issue of Hi-Tech Security Solutions for 2023, which is also the first issue of Smart Security Solutions. As noted in previous issues, Hi-Tech Security Solutions has been rebranded to Smart Security Solutions.
Read more...
---
Success in business process best practices
Technews Publishing Kleyn Change Management Editor's Choice Integrated Solutions Security Services & Risk Management
This month we commandeer time with the woman who is spearheading our national conversation on Women in Security, Lesley-Anne Kleyn, to get to know the lady herself a little better.
Read more...
---
Smart Security Solutions
Technews Publishing Products
Stop by the Smart Security Solutions stand at Securex and discover the new rebranded Hi-Tech Security Solutions. Given the realities in the market we face today, effective security is no longer a silo ...
Read more...
---
How international cloud trends impact Africa
Technews Publishing IT infrastructure
Enterprises are realising that hyperscale cloud is better suited to development and not everyday business, while the bills have also grown significantly as their cloud needs have become more complicated and sprawled.
Read more...
---
From the editor's desk: Mining is the easy part
Technews Publishing News
      Welcome to the Smart Mining Handbook 2023. Security and risk management have always been an important component of extracting wealth from the earth, but mines today face an extraordinary onslaught from ...
Read more...
---
The art of drive and focus
Technews Publishing Editor's Choice Mining (Industry)
Riette Smeda did not find security, security found her. In doing so, she found an environment where grit and determination make all the difference in a country where crime pays.
Read more...
---
AI, risk management, and frameworks
Blacklight Group Technews Publishing Editor's Choice Security Services & Risk Management Mining (Industry)
A risk management framework is a basic necessity to meet the always-evolving criminal war against mines, perpetrated by ruthless organised crime gangs that often are better informed and resourced than their targets.
Read more...
---