printer friendly version
Pre-employment testing insights
March 2016 Residential Estate (Industry), Security Services & Risk Management
One of the problems all businesses in South Africa faces is hiring the wrong people. Crime syndicates in South Africa are well-established and organised, and it's not unheard of that members of these gangs can be inserted into an organisation in order to supply information on the security measures the organisation employs, as well as the means to circumvent them.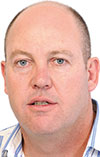 Peter Harvey.
This situation is by no means unique to South Africa and has resulted in an industry for companies offering pre-employment screening. One of the companies in this field is Red Alert Security Services. Hi-Tech Security Solutions spoke to Red Alert's CEO, Peter Harvey, to find out what goes into a screening process and how it would help estates in employing the appropriate guards and other security personnel.
As to what pre-employment testing comprises, Harvey explains the process is designed to cover various background issues and it is also a measure of integrity. The test's questions are designed to produce a risk evaluation of a potential employee/contractor. Moreover, he says, "it is able to measure not only involvement in crime and criminal activities but also provides a measurement of character issues that include workplace ethics, addiction or dependency issues such as drugs or alcohol, and financial commitments."
Naturally, there are laws governing what an estate manager can and can't do when dealing with people's private information. Harvey notes that it is essential to obtain the individual's consent prior to collecting any information, in fact, some information will not be available if consent has not been given. "Once the consent is obtained from an individual, the tests/checks become legal, however the responsible party is still obliged to take precautions in securing personal and private information and may not disclose this information to a third-party without the individuals prior consent."
He adds that you "cannot force an employee to participate, the process must be voluntary. However, in certain cases these checks can be made a prior condition and included in regulations of access and security, which would make them enforceable. In most cases integrity testing should become a culture and it is important to create an environment of trust and integrity.
"There is an expectation that a homeowner/tenant has of service providers of large estates and it is not an unreasonable expectation that individuals who are contracted and have access to the estate should be of certain moral character. Background checks are a legal, ethical and internationally-accepted standard of measurement of this character."
What tests are available?
There are many tests one can run when screening potential employees. Which are chosen for each individual will depend on the position being applied for and the requirements of the estate. These can range from criminal background, credit profile, tenant history to polygraph tests, as well as a host of others. Red Alert suggests that for the position of a security officer in an estate, a minimum standard should be criminal background check and periodic random integrity testing.
When it's a homeowner renting out their premises to a potential tenant who would then have access to the estate, a credit profile and tenant history report, as well as criminal check would be a fair assessment to make an informed decision on overall risk. "Crime trends in South Africa in estate and residential developments indicates an increase in internal criminal behaviour conducted by tenants who target secure residential estates, and this has led to a need for additional screening of tenants who gain access to these estates," he explains.
While the security office of the estate can run its own tests, Harvey recommends using a third party. In this way the estate can set up a service level agreement to define what they require, ensure that the assessment process is impartial, objective and fair, and measure the service provider on their performance.
When approached for screening tasks, Harvey says Red Alert is able to conduct all commercially available checks and tests, these include:
• Credit profile.
• Criminal background.
• Vehicle and ID verification.
• Polygraph tests (pre-employment/periodic screening/specific issue investigative).
• Tenant profile (assessment of an individual's past rental habits).
• Qualification checks.
• Bank account verification.
• Property and director information.
• Judgements/defaults/birth, marriage and death records.
For more information contact Red Alert Security Services, +27 (0)11 443 3306, redalert@redalert.co.za, www.redalert.co.za
Further reading:
Directory of Suppliers
August 2019 , Residential Estate (Industry)
Read more...
---
Why rehearsals and drills for crises and evacuation are so important
August 2019, Leaderware , CCTV, Surveillance & Remote Monitoring, Security Services & Risk Management
The rehearsal of concept (ROC) drill has been used extensively in the military, but is just as important when facing risks in organisations and institutions to protect people on the ground.
Read more...
---
24-hour emergency response for staff
August 2019 , News, Security Services & Risk Management
The FirstRand Group has partnered with PanicGuard to create a 24-hour emergency response programme for staff.
Read more...
---
Keeping our changing environment secure
August 2019 , Editor's Choice, Security Services & Risk Management
For a crime to take place there needs to be a victim and a criminal who sees an opportunity. For a cybercrime to take place we need the same set of circumstances.
Read more...
---
The importance of real security risk assessments
August 2019, Sentinel Risk Management , Editor's Choice, Security Services & Risk Management, Residential Estate (Industry)
Andy Lawler, MD, Sentinel Risk Management, says a security risk assessment is an onerous task, but is not something estates can consider optional or a luxury item anymore.
Read more...
---
Risk assessment or product placement?
August 2019, Technews Publishing, Alwinco, SMC - Security Management Consultants , Editor's Choice, Security Services & Risk Management, Residential Estate (Industry)
Hi-tech security solutions asked a couple of experts to provide estate managers and security managers with some insights into what a 'real' risk assessment includes.
Read more...
---
How far are we really at with artificial intelligence?
August 2019, Axis Communications SA , Editor's Choice, CCTV, Surveillance & Remote Monitoring, IT infrastructure, Residential Estate (Industry)
Justin Ludik unpacks exactly how far AI has come and what it potentially can do for society and more importantly, surveillance.
Read more...
---
More than simply a camera
August 2019, Forbatt SA, Secutel Technologies , CCTV, Surveillance & Remote Monitoring, Residential Estate (Industry)
With the human element being the weakest link in all security solutions, Hi-Tech Security Solutions looks at the pros and cons of using body-worn cameras in estates.
Read more...
---
Residential security – caveat emptor
August 2019, Stafix , Integrated Solutions, Security Services & Risk Management
When it comes to improving your property's security, make sure you take all the options into account as you build a layered approach to keeping people safe and assets secured.
Read more...
---
The importance of effective perimeter security
August 2019, Elf Rentals - Electronic Security Solutions, Stafix , Editor's Choice, CCTV, Surveillance & Remote Monitoring, Residential Estate (Industry)
Protecting the perimeter is critical for any residential estate; how does one go about making sure your perimeter is as secure as possible?
Read more...
---