printer friendly version
Compliance reduces risk
March 2016 Residential Estate (Industry), Security Services & Risk Management, Editor's Choice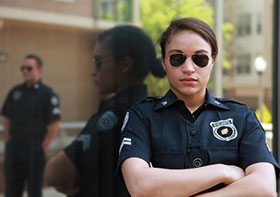 The security industry in South Africa is enormous, arguably employing more permanent staff than any other industry in the country bar government. Yet, in general the industry suffers from a poor image in the public eye and we don't find it unusual to see images of guards sleeping or to hear stories of guards helping the criminal element.
In an industry where guards are supposed to protect life and property, it should not be surprising that government wants to regulate the industry. In addition, with the history of South Africa in mind and the exploitation of people desperate for a job, it would be surprising if government did nothing to regulate the industry. Sadly, this regulation falls far short of where it should be in terms of enforcement and the industry is generally left to manage itself.
The companies that do adhere to the standards set in terms of employing and remunerating their guarding staff not only meet the ethical standards one expects of a professional organisation, they also deliver a better service because their employees are less likely to feel exploited. Unfortunately, because of the lack of enforcement, there are still many guarding companies who offer cheaper services at the expense of their employees. These companies are often very profitable and are hired because of the low cost service they offer.
What the customers fail to realise is that while they get a good deal financially, they are doing little to decrease their risk. Moreover, they can be prosecuted for hiring unregistered companies.
As noted, however, there is little enforcement so retaining these companies is often acceptable to some customers. Rob Anderson spoke to the Security Association of South Africa (SASA) about the problem of unregistered security operators to find out what these companies actually do to be able to offer a cheaper solution.
SASA says the private security industry is currently under serious threat from the scourge of non-compliance by fly-by-night security companies, which use various means of avoiding statutory costs and, in general, exploit the labour force who are supposed to protect civil society in South Africa.
A few methods used by these non-compliant service providers are:
• Making use of unregistered, untrained and unscreened individuals, many undocumented foreigners, as security officers;
• Finding ways to undercut statutory minimum levels of remuneration and conditions of employment, such as:
• the use of labour brokers to provide contract labour,
• the use of so-called "self-employed security officers" and independent contractors, who are often tricked into signing contracts which do not entitle them to premiums for overtime, public holidays and work on Sundays, all types of leave (annual, family responsibility, sick, maternity, study, etc.),
• not paying over unemployment insurance contributions,
• not paying over COID contributions,
• not paying over provident fund retirement, death, funeral or disability contributions,
• not paying statutory premiums, allowances and bonuses,
• not affording the employee the right of fair labour practices, such as the CCMA, and many more.
These companies can also engage in a wilful act of theft by actually deducting provident fund contributions from employees and illegally pocketing this money, instead of matching it equally and paying it over to the fund. This is blatant theft, leaving employees blissfully unaware that they, in effect, do not enjoy the benefits they believe they are paying for.
All of these exploitation factors will undoubtedly lead to serious employee dissatisfaction, which can only reduce the level of security awareness and dedication, to the customer's ultimate detriment.
SASA stresses that there is adequate legislation controlling the private security sector, but that unscrupulous operators are continuously finding means to circumvent minimum standards in order to gain an unfair advantage over professional and compliant security service providers.
And for those who believe they can knowingly hire unregistered and non-compliant security companies with no fallout, clause 38(3) (g) of the PSIRA Act stipulates: "Any person who ... knowingly or without exercise of reasonable care contracts for the rendering of security services contrary to a provision of this Act or the Levies Act; ... is guilty of an offence and ... on a conviction of a contravention ... is liable to a fine or to imprisonment for a period not exceeding 24 months, or to both a fine and such imprisonment."
There is no doubt that in the current economic situation, all of us wish to cut costs and push pricing down for services we need. But the customer needs to think about what this means to the quality of service received and, where security is concerned, what service they will have to settle for.
SASA explains that it may assist customers in making a contracting decision by uncovering such activities by looking into the service provider's pricing structures (if you have more than one or where you are able to compare quotes) as these non-compliant companies are able to provide prices that cannot be met by upstanding, professional and compliant companies. Often the practice is to engage security officers in these illegal contracts in the rural areas for fear of being detected in the more populated and informed urban areas.
When hiring a security company, the customer needs to make an ethical choice as to whether they will support exploitation. If that situation seems acceptable, they need to understand that there are consequences to the decision which they or the people they are supposed to be protecting will have to bear. Security is first and foremost about protecting lives; it's not a case of hiring a cheap plumber and then having to hire a professional to fix the mess the first one made, some messes can't be fixed.
In SASA's own words: "We appeal to you to carry out a thorough due diligence on your security partner upon appointment and on an ongoing basis thereafter, to ensure that you are not unwittingly being party to illegal and unethical practices and employee exploitation."
For more information contact the Security Association of South Africa (SASA), 0861 100 680, info@sasecurity.co.za, www.sasecurity.co.za
Credit(s)
Further reading:
Directory of Suppliers
August 2019 , Residential Estate (Industry)
Read more...
---
Why rehearsals and drills for crises and evacuation are so important
August 2019, Leaderware , CCTV, Surveillance & Remote Monitoring, Security Services & Risk Management
The rehearsal of concept (ROC) drill has been used extensively in the military, but is just as important when facing risks in organisations and institutions to protect people on the ground.
Read more...
---
24-hour emergency response for staff
August 2019 , News, Security Services & Risk Management
The FirstRand Group has partnered with PanicGuard to create a 24-hour emergency response programme for staff.
Read more...
---
Keeping our changing environment secure
August 2019 , Editor's Choice, Security Services & Risk Management
For a crime to take place there needs to be a victim and a criminal who sees an opportunity. For a cybercrime to take place we need the same set of circumstances.
Read more...
---
The importance of real security risk assessments
August 2019, Sentinel Risk Management , Editor's Choice, Security Services & Risk Management, Residential Estate (Industry)
Andy Lawler, MD, Sentinel Risk Management, says a security risk assessment is an onerous task, but is not something estates can consider optional or a luxury item anymore.
Read more...
---
Risk assessment or product placement?
August 2019, Technews Publishing, Alwinco, SMC - Security Management Consultants , Editor's Choice, Security Services & Risk Management, Residential Estate (Industry)
Hi-tech security solutions asked a couple of experts to provide estate managers and security managers with some insights into what a 'real' risk assessment includes.
Read more...
---
How far are we really at with artificial intelligence?
August 2019, Axis Communications SA , Editor's Choice, CCTV, Surveillance & Remote Monitoring, IT infrastructure, Residential Estate (Industry)
Justin Ludik unpacks exactly how far AI has come and what it potentially can do for society and more importantly, surveillance.
Read more...
---
More than simply a camera
August 2019, Forbatt SA, Secutel Technologies , CCTV, Surveillance & Remote Monitoring, Residential Estate (Industry)
With the human element being the weakest link in all security solutions, Hi-Tech Security Solutions looks at the pros and cons of using body-worn cameras in estates.
Read more...
---
Residential security – caveat emptor
August 2019, Stafix , Integrated Solutions, Security Services & Risk Management
When it comes to improving your property's security, make sure you take all the options into account as you build a layered approach to keeping people safe and assets secured.
Read more...
---
The importance of effective perimeter security
August 2019, Elf Rentals - Electronic Security Solutions, Stafix , Editor's Choice, CCTV, Surveillance & Remote Monitoring, Residential Estate (Industry)
Protecting the perimeter is critical for any residential estate; how does one go about making sure your perimeter is as secure as possible?
Read more...
---