printer friendly version
Estate security is a complex ­process
Residential Estate Security Handbook 2016 - Vol 1 Residential Estate (Industry), Integrated Solutions, Editor's Choice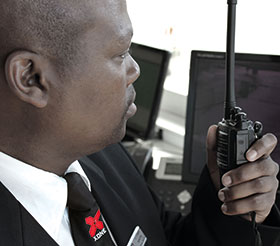 Committees often engage in a tender process, choosing what they believe is the cheapest security provider amongst a selection of competent companies. However, all too frequently this results in a dissatisfied customer where the service provider does not live up to the initial hype.
The greatest driver for purchasing into an estate is becoming security. It is many peoples' ultimate dream to be in an environment where you can leave your doors and windows open, your children can be left alone all day to roam freely on the estate and where crime is not a factor. Consumers are willing to pay significantly above the market norm when they perceive an estate to be truly secure.
How realistic is this Utopian ideal? Many developers take shortcuts which are often not evident to would-be residents initially. This leaves homeowner associations with a legacy of poor security for many years. Often these associations do not have a seasoned security advisor, and make poor decisions which perpetuate poor security. It is not only the developers, but often well-meaning committees that allow ineffective security to hold sway. Well-meaning cost savers are amongst the worst culprits.
Lastly, the residents themselves play a role. Many residents believe that because they live on an estate they need to take no accountability for their security. There is also often a sentiment that security rules apply to everybody 'except for me because I am a special case'.
This begs the question 'what is a secure estate and how does one go about ensuring your purchase is correct or if you are a resident already, that your environment is truly secure and safe?'
Security requires planning
It is important to understand there is no quick-fix. Security is not a neat parcel you drop on site that functions automatically. It is a complex process with a variety of continuous methodologies that need to be applied. Many estates put in expensive but inappropriate technology because it is shiny and impressive and easier to understand. Any such environment needs to have clearly defined processes, which are carefully considered and thoroughly cover the broad spectrum of risks prevalent on an estate.
This should be in the form of a roadmap which caters for a journey from the current scenario to the ideal of a fully secure environment. This understanding of the actual state of the estate's security is probably the single most important step for an estate. You cannot score a try if you do not know where the try line is.
Once this has been understood it becomes far simpler to decide how to drive the relevant measures. The type of technology; quantity, seniority and calibre of security staffing, as well as the reality of what is affordable for that estate at that time all become clearer.
Most estates are at different stages of this journey. Some of our estates have large numbers of security staffing because they only have limited technology. Others have significant investments in technology and, as such, need significantly less manpower.
What are some of the key facets to take into consideration when aiming to improve on an estates security or understand how effective it is?
Key facets of security
The greatest concern for residents is, of course, violent crime. The staggering rise of violent crime on estates is one that has left the estate community reeling. So what measures should be taken? Firstly, violent crime (other than domestic violence) is almost always external. This means that criminals need to enter the estate, either through the gates, or through the perimeter.
Many estates ignore their gates and look to the perimeter first. Securing the perimeter correctly is inevitably far more costly than the gates and should typically be dealt with after effective gate control.
Savvy criminals will always scope the estate first, and this is normally done through a variety of means, such as infiltrating staff, posing as visitors, bribing contractors and spending time on site. However, in almost every instance this means that at some stage they gain access through one of the gates. This naturally implies that tight gate control is the first and most important step to a secure environment. It is not just the actual security, but also the vital principle of deterrence.
Key principles are to have effective separately identified controls for contractors, staff, visitors and residents. Nowadays this typically includes handheld scanners for licence discs and driver's licences, biometrics, turnstiles, rigorous screening and pre-enrolment of contractors, and automated visitor pre-clearance systems.
The largest spend on electronics is typically the perimeter. An electric fence is no longer an acceptable form of security on its own. They have become easy to breach and criminals have many ways round them. Other than accessing a weak point, they continuously trigger various parts of the fence. Because the security staff have no visual form of verification they become tired of responding and ignore the activations.
As such, a secure environment demands a camera installation. There are other forms of triggering alerts when there are intruders, such as beams, microwave, buried fibre, acoustic triggers, but they do not provide the all-important visual verification. By far the most ideal situation is one where there is an automated trigger alerting a security officer both audibly and visually. This means he can see if the threat is real and can provide information on the nature of the threat, such as whether it is more than one person, with or without weapons.
Cameras on the perimeter
A camera installation on any perimeter is complex as there are many factors to take into account. These include the ability to see in any lighting and weather conditions, optimal camera distance for viewing efficiency, redundancy in the network, storage and cameras, integration into other detection mechanisms, such as an electric fence and control room and head-end flexibility and setup.
By far the most effective measure is the application of thermal cameras utilising video analytics. On estates under siege by criminals we have not had a single successful breach on any of the estates secured by ourselves since we began applying this technology.
Most of the major estates have now either installed this technology or are looking to do so in the near future. The most important advice in this regard is to use a seasoned integrator who has significant experience with thermals, networks, perimeters and control room environments. There are more examples of poor installations than good ones, and this is a costly exercise. Examples of successful implementations include Helderberg Village, Pearl Valley, Copper Leaf and La Montagne. De Zalze is now underway with a significant perimeter upgrade.
Once the perimeter is upgraded in this fashion, the manpower complement can reduce significantly – instead of large numbers of patrolling security staff, one now merely needs to have response teams that go directly to the identified trigger and can deal with the situation effectively because the operator will have informed them as to the number of intruders, weaponry and location. In addition, the perpetrators are typically detected on the outside of the perimeter, allowing significant pre-warning and time to respond.
Control rooms

Other trends we are seeing and applying include the need for complex command and control room environments, highly trained and efficient security personnel, open access networks to homes, intruder alarms linked back to the on-site control room for response, and the utilisation of off-site remote control rooms.
Internal problems, such as managing of contractor movement, syndicates living on estates, insurance fraud and internal disturbances and conflict all need to be managed by a seasoned and disciplined team with good processes and links to the broader community. This is a task that is often beyond traditional guarding companies and other non-specialised companies.
The recent Hi-Tech Security Solutions Residential Estates Breakfast hosted consultants who really understand and can implement such detailed planning and deployment on estates, and recommend relevant security providers who understand this space. I cannot stress strongly enough the need to contract the best companies in the estate environment that deal with security and safety. Inexperienced companies in almost every instance underestimate the nature of the challenge and provide cheaper solutions which seem workable, but don't meet the required standard of life safety. This applies particularly to network criteria, spacing of thermals for analytics, and grade and calibre of security manpower.
The maturity of the security solution on estates is significant, and it is possible to live in a truly secure environment – if a duly considered, carefully planned manpower, process and technology rollout is implemented. The individual still needs to take accountability for his own safety, but he can do so in an estate that is significantly safer than a typical private home.
For further information contact Ian Downie, Xone Integrated Security, +27 (0)82 906 7600, [email protected], www.xone.co.za
Credit(s)
Further reading:
Cyber resilience is more than cybersecurity
Technews Publishing Cyber Security Integrated Solutions IT infrastructure
Hi-Tech Security Solutions held a round-table discussion focusing on cyber resilience and found that while the resilience discipline includes cybersecurity, it also goes much further.
Read more...
---
A key to urban transport challenges
Axis Communications SA Transport (Industry) CCTV, Surveillance & Remote Monitoring Integrated Solutions Logistics (Industry)
There are many enabling technologies that can impact transportation in South Africa, but a good place to start is by considering the applications for smart physical technology with the ability to collect and respond to data.
Read more...
---
Hikvision aims for solutions
Technews Publishing Hikvision South Africa Editor's Choice CCTV, Surveillance & Remote Monitoring News Integrated Solutions Conferences & Events
Hikvision recently held a roadshow titled Industry X, where the company highlighted its latest products and solutions, supported by partners and distributors.
Read more...
---
Technology and the future of security installation in South Africa
Editor's Choice Integrated Solutions Security Services & Risk Management
What are the technologies and trends shaping installation, service and maintenance teams globally, and how will they shape South African businesses today and in the future?
Read more...
---
Upgraded security and AI monitoring at upmarket estate
Watcher Surveillance Solutions Editor's Choice CCTV, Surveillance & Remote Monitoring Integrated Solutions Residential Estate (Industry)
Estate upgrades and enhances its security through a partnership between surveillance specialist Watcher and the incumbent guarding company.
Read more...
---
Streamlining processes, integrating operations
Security Services & Risk Management Integrated Solutions Transport (Industry) Logistics (Industry)
With Trackforce Valiant, Airbus now has one single platform that connects its security guards, supervisors and management across its organisation.
Read more...
---
Nomad launches early adopter programme
Editor's Choice News Integrated Solutions Smart Home Automation
Participants in Nomad's Early Adopter Programme will receive 10% of their volume order to facilitate testing before the commercial launch later this year.
Read more...
---
Improve data connectivity in fleet management
Flickswitch Transport (Industry) Integrated Solutions Products
While the market is still dominated by tracking systems, more advanced fleet management solutions are gaining traction on the market.
Read more...
---
Automation made easy
Vox Products IT infrastructure Residential Estate (Industry)
Vox Sixth Sense IoT features battery-operated sensors that are easy to install and connect automatically to an IoT-specific network, allowing you to view the information gathered from any connected device via an app.
Read more...
---
Protection from curb to core
Gallagher Access Control & Identity Management Integrated Solutions Residential Estate (Industry)
With the use of Gallagher Command Centre's advanced site plans and integrations, Gallagher can provide all your security sub-systems on one user-friendly, interactive and informative platform.
Read more...
---