printer friendly version
Good perimeter defence
Residential Estate Security Handbook 2016 - Vol 1 Residential Estate (Industry), Perimeter Security, Alarms & Intruder Detection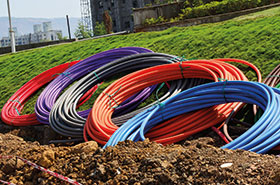 A physical barrier or fences of a specific type are usually selected based on the perceived level of risk and geography/environmental requirements of an estate. Security measures consist of the integration of several complementary technologies and operational security procedures to form a layered security system with redundancies.
These layers start at the security fence/barrier and address the following:
• The system should serve as a deterrent:
o The fence/barrier must offer adequate resistance to entry
o Well lit
o Known to be monitored
o Warning signs
o Visible security personnel
• The fence/barrier should delay an intrusion:
o Physically demanding to breach the fence/barrier
o Access control measures implemented
o Gates should be locked
o Patrols by security personnel
• System should detect intrusions/security breaches:
o CCTV
o Seismic and perimeter intrusion detection systems (SPIDS)
• Documentation of incidents/breaches:
o Security management software
o ODET systems software and alarm reporting
• Assessment of security breaches:
o Control room software integrating various security monitoring platforms like ODET and CCTV cameras, including access control
o Threat evaluation in real time
o Statistics and analysis of security events by management system to establish trends
• Adequate response:
o By well trained and PSiRA registered security personnel
o In accordance with the current security plan and procedures
As can be seen from the above, careful thought should be given to the fence type. There are various types on the market and it is best to have a properly qualified and PSiRA registered security consultant advise the responsible parties as to the nature of the security threat (which is usually location specific), and have him/her advise as to the correct fence/barrier to install.
A fence or barrier of some type can thus never be replaced by technological measures such as CCTV and SPIDS alone, as fences serve to physically demarcate an area and offer resistance by deterring and delaying unauthorised entry.
Monitoring a fence, typically consisting of various zones, was and still is done by security personnel actively patrolling and monitoring these zones. This situation has become untenable as there are more incidences where security guards are intimidated and harmed by criminals in order to get access to homes inside estates. What is needed is a system that has high reliability and low nuisance alarm rate in order to be trusted by security personnel. This system does not suffer from the same shortcomings such as humans as it cannot be intimidated and is always available. A fibre optical (F/O) based sensing mechanism such as ODET, is an example of such a system.
Fibre fencing
The combination of a fence and SPIDS system, integrated with other security systems such as CCTV, access control, etc., into a security management system is a major design consideration and is best accomplished as part of an overall estate security plan and not simply as a stand-alone system.
Below are the main design criteria of an intrusion detection system:
• Choose a suitable intrusion detection sensing system to be installed on the fence or buried in the ground. Reliability and high probability of detection with a low nuisance alarm rate is an important consideration.
• Physical placement in a secure environment of the processor (computer) that manages all sensor data.
• Correct choice of security management software that integrates and analyses sensor data, providing security personnel with an accurate real-time assessment of an incident that might compromise the security of an estate. This system must be able to provide objective, legally documented audits of any event at anytime in the past.
• Consideration should be given to a suitable communications infrastructure to connect the above elements together and the system to a control room/s in order to facilitate effective response from security staff.
• The establishment of a clearly documented and practised security policy based on the estate and practised regularly by competent staff.
Processes crucial
The last point above is of crucial value. Any security plan always has to include appropriately trained security staff and an alarm response mechanism or procedure. Without the right staff to operate, monitor and maintain the system, or a professional response team with an established response mechanism in place, the end result will almost always be unsuccessful regardless of the type of intrusion detection technology installed. Criminals usually do not defeat the detection mechanisms; instead, they rely on the poor alarm response procedures and mechanisms to avoid getting caught.
In view of the above, the ideal scenario would be to plan and install a perimeter detection system when an estate is being developed. If this is not possible, a perimeter detection system can be installed afterwards, depending on the perimeter type. This is usually viewed as a more expensive option, as it might be necessary to make changes and install additional hardware.
This perceived additional expense can be overcome by making use of SPIDS like ODET's "pay-per-use" option, whereby qualifying body corporates can spread the monthly cost between households as part of the monthly levy. This cost might be offset by a reduction in insurance premiums, if an approved SPIDS is installed.
SPIDS like ODET need to be installed by professionally qualified persons that are registered with PSiRA. As these systems are high-end security sensors, suitable to protect people and other high value assets, proper care must be taken during the SPIDS installation. ODET's system can detect tampering, climbing over and digging under fences.
There is a steady uptake of perimeter detection systems that use fibre optical cable as a sensing medium. This is due to the inherent high resistivity to nuisance alarms and high probability of detection. A further advantage is that it is highly resistive to environmental influences like lightning induced EMC, further enhancing the reliability and serviceability of the system. Governments, militaries and security operators have deployed these systems worldwide for a number of years and as such, proved their worth.
ODET's range of intruder detection systems is manufactured in South Africa under licence and is distributed exclusively by ODET Systems Africa.
For more information contact ODET Systems Africa, +27 (0)10 4920897.
Further reading:
Matt De Araujo joins Ajax Systems
Ajax Systems News Perimeter Security, Alarms & Intruder Detection
Matt De Araujo has joined Ajax Systems as Head of Sales in sub-Saharan Africa with a goal to strengthen the local team and exceed expectations.
Read more...
---
Gallagher achieves SOC2 Type 2 certification
Gallagher Access Control & Identity Management Perimeter Security, Alarms & Intruder Detection Products
Gallagher announced it has achieved System and Organization Controls (SOC2 Type 2) certification for the cloud-hosted services of its flagship security solution, Command Centre.
Read more...
---
New Partner Manager covering Gauteng for Olarm
Olarm News Perimeter Security, Alarms & Intruder Detection
Phillip Pretorius recently joined Olarm as an additional Partner Manager covering Gauteng and the surrounding areas with the goal of enhancing Olarm's ability to deliver services to its partners and clients in the region.
Read more...
---
The importance of CCTV for internal perimeter protection
Leaderware Editor's Choice CCTV, Surveillance & Remote Monitoring Perimeter Security, Alarms & Intruder Detection
Constant violations of procedures governing access, unusual handling of goods, empty boxes or containers of product lying around or hidden behind other goods, unauthorised use of exit areas, and movement to unexpected perimeter areas can be a major issue.
Read more...
---
One solution for swift, satisfactory response
Cathexis Technologies CCTV, Surveillance & Remote Monitoring Perimeter Security, Alarms & Intruder Detection
CathexisVision's continually evolving analytics suite offers a range of customable detection and alarm offerings to cover all security events, no matter the market.
Read more...
---
Off-grid power solution for residential estate
Editor's Choice Security Services & Risk Management Residential Estate (Industry) Products
Coral Beach Estate, an upmarket residential estate based in East London, has been struggling with load shedding and power outages due to South Africa's energy crisis, as well as the vandalism of its power infrastructure.
Read more...
---
Smart surveillance can make our homes safer
Axis Communications SA CCTV, Surveillance & Remote Monitoring Residential Estate (Industry)
Over the last decade, South Africa's private security industry has gradually been adopting more advanced security technologies to safeguard private properties and neighbourhoods, making it easier and more effective to detect and respond to threats.
Read more...
---
Smart home security
Olarm Smart Home Automation Perimeter Security, Alarms & Intruder Detection Products
The applied use of smart technology within the Olarm ecosystem, through smart features coupled with existing systems, extends the benefits of technology into different spheres.
Read more...
---
Fire-fighting force at Vergelegen
Editor's Choice Fire & Safety Residential Estate (Industry)
Vergelegen wine estate in Somerset West, and its neighbours, are set to enjoy greater peace of mind this summer, thanks to the delivery of a brand new fire truck .
Read more...
---
Be cautious when receiving deliveries at home
News Perimeter Security, Alarms & Intruder Detection Security Services & Risk Management
Community reports of residents being held up at their gate when collecting fast food deliveries at home are once again surfacing.
Read more...
---