printer friendly version
All is revealed
January 2016
News
I've always been puzzled by the decisions people make when buying security, specifically surveillance solutions. From talking to various people, it seems certain that customers almost always ignore good advice and opt for the cheapest solutions.
I'm sure the cheap option is always tempting and many people would go for it no matter what, but more recent experience tells me it's not always the cheapskate's fault – especially in smaller installations where a consultant is not used.
Smaller installations, let's say up to 25 cameras, rely on someone on-site to manage the surveillance purchase. More often than not, this person doesn't have a clue, or spoke to someone who has a clue and got a few pointers before approaching an installer.
This scenario happened in the complex I live in. It's not a secure estate, so the Body Corporate didn't have millions to spend. However, they thought it wise to install a few cameras in certain areas, and decided to start with a measly eight cameras with the ability to scale to 16 in a few months. Not exactly a goldmine for an installer, but profitable nonetheless.
The person tasked with the job found some installers in the area and asked for quotes. Only two came to see the property, the others sent a quote based on what they heard over the phone. The cheapest quote was R35 000, the most expensive R145 000. The quotes themselves were horrendous.
Only one of the installers actually put any information about the products they proposed in the quote – like a brand name, resolution and so on. The rest simply said something like: "4 x bullet cameras", and a price. When asked for more information, the most expensive company decided to vanish into thin air; another one waffled and sent lists of acronyms, while only one sent what was required – quoting Dahua HDCVI systems and saying why they were suited to the task at hand.
Who would you give the job to? The one who bothered to explain what they would do, what technology they were delivering, and why. Definitely not the one who tried to impress by throwing acronyms around and not the one who assumed the customers were dumb. (We may very well be dumb, but you don't have to make it so obvious how impossibly clever you are.)
Is the security industry making so much money that small installations are ignored or left to the much maligned bakkie brigade?
So the next time someone complains about customers going for the cheapest option, I will have to wonder what actually happened in the selling process. Did they go for the cheapest, because they were cheapskates or was it a case of being totally confused by the information dumped on them that they opted for the cheapest to limit the losses and comebacks if it transpired that the solution didn't deliver what they wanted?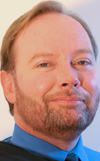 When one buys a new laptop, a laptop is a laptop and you can generally do what you need to do – except if you're a power user. One may be slower or have a smaller screen, but it gets the job done. Surveillance technology is not in the same category. A camera is not a camera and a picture is not a picture. If you can't explain the reasons for your proposal and what value it will deliver to normal people, it's not surprising that they would simply opt for the cheapest and hope for the best.
Andrew Seldon
Editor
Credit(s)
Further reading:
Leaders in risk and security: As long as there are people, there will be risk
Issue 5 2020, iFacts, Technews Publishing , Editor's Choice
Jenny Reid is a self-made success, focusing on people, the risks they create and the potential they have.
Read more...
---
Mitigating the human risk
Issue 5 2020, Managed Integrity Evaluation, Technews Publishing, iFacts , CCTV, Surveillance & Remote Monitoring
Hi-Tech Security Solutions asked Jennifer Barkhuizen and Jenny Reid for some information around background screening and vetting of potential new hires.
Read more...
---
SABRIC annual crime stats 2019
Issue 5 2020 , News
SABRIC, the South African Banking Risk Information Centre, has released its annual crime stats for 2019
Read more...
---
XProtect available on AWS
Issue 5 2020, Milestone Systems, Technews Publishing , Editor's Choice
Milestone recently announced the availability of XProtect on Amazon Web Services. Hi-Tech Security Solutions asked Keven Marier for more information.
Read more...
---
Adjusting to a new reality
Issue 5 2020, Technews Publishing , Integrated Solutions
COVID-19 to accelerate adoption of technology-enabled smart city resilience approaches: robotics, digital twins, and autonomous freight.
Read more...
---
From the editor's desk: We're back!
Issue 5 2020, Technews Publishing , News
Welcome to the fifth issue of 2020. If years were people, 2020 would have been hung, drawn and quartered...
Read more...
---
XtraVision moves to new premises
Issue 5 2020, XtraVision , News
Hot on the heels of the company changing hands, XtraVision, a distributor of electronic security and fire solutions in Africa and South America, has relocated.
Read more...
---
20 years of innovation in security and biometrics
Issue 5 2020, Suprema , News
Founded in 2000, Suprema has built a sales network in over 140 countries and has over 1 billion users.
Read more...
---
Fidelity ADT and Vumacam join forces
Issue 5 2020, Fidelity ADT , News
Fidelity-ADT recently partnered with Vumacam to roll out a surveillance network of cameras across a number of southern suburbs in Johannesburg.
Read more...
---
Dahua launches ECO Partner Programme
Issue 5 2020, Dahua Technology South Africa , News
Dahua Technology has launched its new technology partner programme, the Dahua ECO Partner Programme.
Read more...
---