printer friendly version
Time to finally break away from the Wiegand format?
August 2015 IT infrastructure, News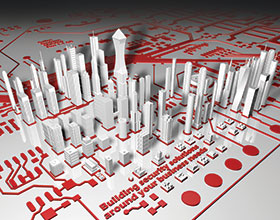 The Wiegand interface, which rose to popularity in the 1980s, has long been accepted by the access control industry as the de facto wiring standard for interfacing between access controllers and various card or biometric readers.
As usual, the longer a technology is around, the more methods of exploiting its flaws will be found. Wiegand devices by their very nature tend to be unsupervised devices which can mean that they are the perfect attack targets for entry into secure areas – be it parliamentary buildings, airports, schools or other highly sensitive points.
The devices that are used for identifying the person attempting to attain access vary from extremely advanced (and expensive) retina, fingerprint or facial scanners through to proximity cards wielding the latest in secure storage and encrypted communication protocols. This information is then sent across insecure wires to a controller that also communicates using the latest in security.
Micro sensors that are put in place to ensure that the devices are not tampered with are ironically often disabled to make for easier servicing, do not have any method of feeding the alarm state back to a security centre, or only disable the device itself when active.
A Google search for the term 'Hacking Wiegand Protocol' will reveal many attacks that can be used against access control systems that employ this wiring system, including man-in-the-middle attacks whereby the CEO's access control identification can be captured and replayed at a later point – this using a bottom-of-the-line and cheapest microcontroller with some fairly simple firmware.
There are various other issues that present themselves; including wiring length, number of wiring cores required to service the full interface, lack of encryption, overlap of card numbers and mostly unidirectional capabilities.
The access controllers or devices that use this wiring standard are not to blame for the on-going use and proliferation of this protocol as it has been used in the industry for so long that it has become 'part of the furniture' and accepted as the most common method for interconnectivity.
Tackling all of these challenges and allowing different devices and systems to communicate with each other seamlessly is a fairly complex task which has been taken on by the Security Industry Association (SIA). The protocol that has emerged is called OSDP (Open Supervised Device Protocol).
OSDP has been developed to communicate over two data lines and one earth line which makes it the perfect fit for RS-485 multi-drop communications, however it can also be extended to communicate over TCP/IP. Encryption has been built into the protocol, along with checksums for ensuring data integrity and monitoring capabilities to be able to tell when a device is damaged, offline or being tampered with.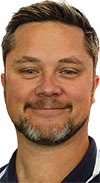 Barend Keyser, Saflec.
As the access control industry starts to implement this protocol and the standard becomes more accepted there will be more and more devices that support OSDP and less that will implement Wiegand.
As a company, Saflec Systems has decided to start the migration process and has partnered with a number of companies, including Virdi (a popular biometrics provider) and HID to ensure that its solution is on the forefront of this OSDP revolution.
The new SDC-6xx controller range will support the OSDP protocol, and the new display reader soon to be released will also incorporate the protocol.
As the popular idiom goes – "a chain is only as strong as its weakest link". It's time to stop relying on this particular link.
For more information contact Saflec Systems, +27 (0)11 477 4760, [email protected], www.safsys.co.za
Credit(s)
Further reading:
KPMG 2022 CEO Outlook, South African edition
Editor's Choice News
Mid-November saw the release of the latest KPMG 2022 CEO Outlook, South African edition, aptly sub-titled 'Potential Growth in Uncertain Times'.
Read more...
---
The benefits of Managed File Transfer
IT infrastructure Products
Blue Turtle Technologies looks into how a Managed File Transfer platform benefits businesses, as opposed to the usual FTP or SFTP suspects.
Read more...
---
Accelerating your Zero Trust journey in manufacturing
IT infrastructure Cyber Security Industrial (Industry)
Francois van Hirtum, CTO of Obscure Technologies, advises manufacturers on a strategic approach to safeguarding their businesses against cyber breaches.
Read more...
---
Cyber resilience is more than cybersecurity
Technews Publishing Editor's Choice Cyber Security Integrated Solutions IT infrastructure
Hi-Tech Security Solutions held a round-table discussion focusing on cyber resilience and found that while the resilience discipline includes cybersecurity, it also goes much further.
Read more...
---
Keeping devices in check
Cyber Security Asset Management, EAS, RFID IT infrastructure
Kaspersky patents new technology for analysing relationships between electronic devices to counter cyberattacks launched through connected IoT devices.
Read more...
---
IQ WiFi 6 supporting users and security installers
IT infrastructure Products
The IQ WiFi 6 is a new purpose-built mesh router solution for homes and businesses with security, automation and Wi-Fi devices.
Read more...
---
Crossing the chasm
Editor's Choice News Security Services & Risk Management Training & Education
Industry reports suggest that in the next ten years, millions of jobs could go unfilled because there simply are not enough people to fill them.
Read more...
---
Considering cloud downtime insurance?
Arcserve Southern Africa Cyber Security IT infrastructure Security Services & Risk Management
Byron Horn-Botha, business unit head, Arcserve Southern Africa, reveals three vital steps that you must consider to ensure business continuity before you buy insurance.
Read more...
---
A robust OT cybersecurity strategy
Editor's Choice Cyber Security IT infrastructure Industrial (Industry)
Cyber experts are still struggling to convince senior management to spend money to protect their control system assets, resulting in a lack of even basic measures to protect control systems.
Read more...
---
IT security at the core of smart cities
Cyber Security IT infrastructure Government and Parastatal (Industry)
The success of service delivery and public access to universal Wi-Fi, home automation and smart sensors is based on increased IT security.
Read more...
---