printer friendly version
Marketing vs. reality
August 2015
News
The security industry has really got its work cut out for it. In South Africa, most of us are more focused on the physical security side of things due to the country's extreme levels of crime and the perception among syndicates that it is a safe haven – not necessarily an incorrect perception.
It's therefore not surprising that some of our local security manufacturers are thriving, not only on South African soil, but also internationally. It's a given that if a product makes the grade here, it will easily meet the needs of other countries, in terms of reliability, usability and durability. (Read more about our local manufacturers in the September issue.)
However, while local and international physical security companies are putting their best foot forward and promising the world, there seems to be a bit of a disconnect with the real world. We often hear how some big brands just don't perform as expected, or more often don't integrate as expected, creating havoc as an integrator tries to resolve basic problems in a multi-million rand deal.
Maybe the cause is a lack of testing and poor pilot projects that should put products through their paces. I saw an example of this at a recent thermal camera shootout, which Hi-Tech Security Solutions will report on in the September issue. Perhaps we assume that because company A has a product that performs in a certain way, that when company B launches the same product it will deliver the same performance. Therefore, we buy the cheaper product from B only to realise too late that B's product is the poor cousin of A's product.
This is why it is so important to select the right partners for the job and to do your own homework. It's worth running pilot projects and well designed shootouts to determine exactly what you are getting. If you're paying for performance, proving that performance is a small investment in the success of the whole project.
Sadly, the cyber security market is in a similar space. South Africans are more focused on who's at the door than who's in the network. This leads to rash buying decisions influenced by marketing hype and biased advice from sales people.
An example of this is the hype around BYOD (bring your own device). There are many companies offering solutions to help corporations stay safe from attacks and malware from mobile devices that employees use and are connected to the corporate network. This is an area any company should be aware of and should secure.
However, in the Verizon 2015 Data Breach Investigations Report (DBiR), a report that collates data of breaches over the past year from 70 different companies and organisations across 61 countries (including South Africa), analysing over 79 790 security incidents, the mobile threat is seen as minimal. Only 0.03% of the mobiles carried what the report terms 'higher-grade malicious code'. The rest was malware aimed at collecting user data and blasting adverts at the poor user, not breaching corporate data stores. (Sadly, well over 90% of mobile malware is targeted at Android, 96% according to FireEye.)
Another interesting snippet from the DBiR is that between 70% and 90% of malware samples are unique to a single organisation. This is due to the more organised nature of cyber crime, which sees the crooks slightly altering the code of a common piece of malware so that its signature is not picked up by your traditional antivirus scans. The malware does the same function, but it's harder to detect by traditional means. All this makes one wonder how effective your antivirus product really is if all it does is look for known signatures*.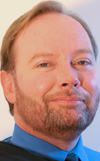 So when a disaster happens, the MD ends up wondering what he spent so much money on; similar to the physical security trauma of finding out your awesome million rand surveillance installation captures high resolution shots of ladies' hairdos and men's bald spots and not much else.
* Do not uninstall your antivirus product; they still do an important job. And if you don't use an antivirus solution, now's a good time to start. And yes, I know how wonderfully, fantastically and spectacularly brilliant and virus free Apple's desktop OS supposedly is, but get one anyway.
Andrew Seldon
Editor
Credit(s)
Further reading:
Online fleet management system
Issue 1 2020 , News
Fleet Domain's online Fleet Management Information System is reducing operating costs and improving safety for South African logistics firms.
Read more...
---
Digital insurance bundle for assets and devices
Issue 1 2020 , News
My CyberCare is a specialist provider of personal, and SMME online cyber insurance, cyber detection and cyber monitoring solutions for both local and global consumption.
Read more...
---
IDEMIA to supply Morocco's national electronic ID cards
Issue 1 2020, IDEMIA , News
IDEMIA will supply Morocco with national electronic ID cards and introduce a secured digital identity online services platform.
Read more...
---
Rockwell Automation to acquire Avnet
Issue 1 2020, Rockwell Automation , News
Rockwell Automation announced it has signed an agreement to acquire privately held Avnet Data Security, an Israeli-based cybersecurity provider with over 20 years' experience providing cybersecurity services.
Read more...
---
The instruments for investigation
Issue 1 2020, Technews Publishing , Security Services & Risk Management
Regardless of the reason for investigation, the investigation is only as good as the investigators.
Read more...
---
Do we really want simplicity?
Issue 1 2020, Technews Publishing , News
Everything today has to be simple, easy and fast. Even access to your bank account has to fit these adjectives and banks spend significant time and money trying to ensure their web and mobile interfaces ...
Read more...
---
Longse Distribution to become LD Africa
Issue 1 2020, LD Africa , News
Brendon Whelan, sales manager for Longse Distribution, announced that the company officially changed its name to LD Africa as of 20 January 2020.
Read more...
---
Three expos in one
Issue 1 2020 , News
Looking ahead to 2020 Vision: combined Securex South Africa, A-OSH EXPO and Facilities Management Expo 2020 promises to be even bigger and better.
Read more...
---
Security events you can't miss in 2020
Issue 1 2020, Technews Publishing , News
Hi-Tech Security Solutions will host a number of focused events in 2020 to highlight the latest in security technology and the operational benefits they deliver.
Read more...
---
David Shapiro to chair ESDA
Issue 1 2020, ESDA (Electronic Security Distributors Association , News
The Electronic Security Distributors' Association (ESDA), established in 1989, has elected David Shapiro as its chairperson for 2020.
Read more...
---