printer friendly version
Solutions are us
July 2015
News
Hi-Tech Security Solutions took some time out to visit IFSEC UK once again this year to keep an eye on what's happening internationally in the security market. As always, IFSEC did not disappoint. It's impossible to compare the size of IFSEC to any local event, it is simply huge.
All the major brands were there with impressive displays and the latest technology on show. One thing we quickly realised as we moved through the various stands was that the days of selling cool technology are over. The fact is that there are few companies with systems that are completely unique, especially when it comes to hardware. You can come out with a new product today and find that a couple of weeks later others are doing the same, so it's about how your product integrates and offers value to the customer.
Every company we spoke to now focuses on selling solutions. The solutions may be an integrated combination of in-house hardware and software, or an open system that allows third parties to build additional functionality into your base systems, or both.
As an example, and there are many more companies that we could highlight, Pelco has a bunch of new systems on the market, including a new management platform. Now users can build a solution from only Pelco products, but the company has realised it needs to offer customers the option to use products from competitors as well. Pelco even has a new facility in its software that functions like an app store where users can buy additional applications and functionality right from within the management platform.
Among other interesting finds, DVTEL is pushing its 4K cameras, but has also adopted a vertical solution focus and has released a cyber defence solution – about time. DVTEL has stolen the lead in this area and it won't be long before others start offering similar solutions. Hikvision is also branching out into access control, and wants to offer a full solution. The list goes on.
Nice has a suspect identification application which it has patented. The system allows you to look for suspects in real time or through historic video footage. The suspect can be entered into the system from existing video footage or a photograph, or an avatar can be created for the system to search for (the avatar is a description of the suspect when no images are available). That made for an impressive demonstration.
There is much more to report regarding IFSEC and Hi-Tech Security Solutions will be providing more information on the event in the August 2015 issue. If you thought the security industry was getting boring, well, think again.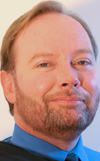 SIA awards
Has a staff member within your company committed an act of bravery or encountered danger while on duty, assisting others in the prevention of crime? Are you aware of an individual who has made a major contribution to the protection of people and/or their property? If the answer is yes, nominate them for the SIA Awards. Deadline for nominations is 31 August 2015. Send your entries to [email protected] or surf over to www.securityalliance.co.za.
Andrew Seldon
Credit(s)
Further reading:
The future of AIoT
Hikvision South Africa News CCTV, Surveillance & Remote Monitoring
Hikvision hosted its 2022 Shaping Intelligence Summit in Bali, Indonesia, on 29-30 November, where the company, its customers, and technology and solution partners, looked into the future of AIoT and explored paths to shared success.
Read more...
---
Top fraud trends to watch in 2023
News Security Services & Risk Management
Even though financial concerns remain a significant obstacle for companies in implementing new anti-fraud technologies, 60% of businesses expect an increase in their anti-fraud technology budgets in the next two years.
Read more...
---
Healthcare and the edge
Technews Publishing Healthcare (Industry)
With the proliferation of IoT devices in healthcare, more data is generated which drives the need to distribute it efficiently and keep it closer to the user.
Read more...
---
Be cautious when receiving deliveries at home
News Perimeter Security, Alarms & Intruder Detection Security Services & Risk Management
Community reports of residents being held up at their gate when collecting fast food deliveries at home are once again surfacing.
Read more...
---
Securiton and Dallmeier announce partnership
Dallmeier Electronic Southern Africa News
Securiton AG Switzerland is now integrating the Panomera and Domera camera systems from Dallmeier to ensure its customers benefit from the highest standards of privacy and security.
Read more...
---
Sasol ensures Zero Trust for SAP financials with bioLock
Technews Publishing Editor's Choice Cyber Security Security Services & Risk Management
Multi-factor authentication, including biometrics, for SAP Financials from realtime North America prevents financial compliance avoidance for Sasol.
Read more...
---
KPMG 2022 CEO Outlook, South African edition
Editor's Choice News
Mid-November saw the release of the latest KPMG 2022 CEO Outlook, South African edition, aptly sub-titled 'Potential Growth in Uncertain Times'.
Read more...
---
Mending Africa's digital infrastructure gaps
News
inq. Fabric is the first African-developed cloud connectivity, network-as-a-service software for automated provisioning and routing.
Read more...
---
Suprema renews international privacy and security standard certifications
Suprema News Access Control & Identity Management
Suprema has simultaneously renewed two important international standard certifications regarding information security management (ISO/IEC 27001) and privacy information management (ISO/IEC 27701).
Read more...
---
Technoswitch partners with Ciqurix for video fire detection
Technoswitch Fire Detection & Suppression News Fire & Safety
Technoswitch is pleased to announce the signing of an exclusive distribution agreement with Ciqurix (UK), a leading supplier of video fire detection products.
Read more...
---