printer friendly version
MiRO makes its mark at Medupi
CCTV Handbook 2015 CCTV, Surveillance & Remote Monitoring, CCTV, Surveillance & Remote Monitoring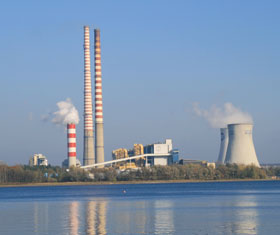 Large sites present a number of challenges for security system installations. Due to the sheer size of the Medupi Power Station project, the Medupi Project Team required a solution that would operate effectively over large distances and concurrently produce high-resolution video feedback.
In 2012, Stallion supplied the initial basic construction site surveillance systems for the site and was later engaged by Eskom to design, specify and conduct proof of concept on site for a significant security surveillance system upgrade to the site. The project was then approved and went out to tender, with Stallion again being successful by winning the bid for the upgrade. The Medupi Project Team's technical specialists reviewed the entire design and wrote an extremely prescriptive specification.
Non-negotiables
Four non-negotiable requirements were outlined in the initial design and specification stages of the project. These included the deployment of an ultra-high-resolution imaging system which would survey the entire site as well as concurrently have the ability to zoom in on people or vehicles situated hundreds of metres away. A Dallmeier Panomera imaging solution was proposed. It was also stipulated that the systems would need to be able to store data and video for at least two years, for later referral and analysis.
Secondly, a radar intrusion detection system, with a 3 km radius, was required to monitor the entire perimeter. This would be combined with high-resolution thermal imaging cameras that would track the radar detection, together providing a virtual barrier around the site.
A total of 200 general-purpose standalone high-megapixel IP cameras from MiRO's Vivotek range were required to monitor other areas around the power plant including the smoke stacks, conveyors and canteen. Approximately 131 Vivotek 5-megapixel cameras, equipped with fisheye lenses for 360° surround view without blind spots, were installed to provide coverage of wide, open areas. These compact, slimline dome cameras are unobtrusive and vandal-resistant.
As with all cameras on site, these cameras are managed and recorded on a 250 channel multi-server enterprise Milestone open network platform video management system sourced from MiRO. This combination allows the control room personnel to divide up images emanating from the 5-megapixel cameras and view each image as if it was produced by a separate camera. A number of Vivotek PTZ 2-megapixel IP cameras also sourced from MiRO were deployed.
According to Stallion group director - technical, Alvin Flaum, the biggest challenge faced by the company in the implementation of the upgraded security system was the lack of a suitable network infrastructure. After discussions with MiRO, the company decided to deploy a Radwin wireless 250 Mbs industrial network with five base-stations and 36 subscriber stations.
Flaum reports that the client is extremely happy with the quality of images produced by the Vivotek cameras. All systems will be maintained by an Eskom maintenance team.
For more information contact MiRO Distribution, 086 123 MIRO, riandi@miro.co.za, www.miro.co.za
Credit(s)
Further reading:
Drones and cybersecurity?
October 2019 , CCTV, Surveillance & Remote Monitoring
Hacker drones can eavesdrop electronically on conversations, can perform network attacks, or can create fake wireless access points.
Read more...
---
Body-worn cameras transforming security
October 2019 , CCTV, Surveillance & Remote Monitoring, Security Services & Risk Management
Police Service Northern Ireland now has over 7 000 officers using 2 500 cameras covering approximately 173 000 incidents each year.
Read more...
---
Camera Selection Guide 2019
CCTV Handbook 2019 , CCTV, Surveillance & Remote Monitoring
The Camera Selection Guide 2019 includes a range of IP, analogue, thermal and speciality cameras aimed at a broad range of surveillance functions.
Read more...
---
Intelligent analytics and the brains to match
September 2019, Bosch Building Technologies , CCTV, Surveillance & Remote Monitoring, Integrated Solutions
What if the brains behind our security cameras could be trained to improve their cognitive ability to pay attention, learn, and problem-solve according to specific rules and situations?
Read more...
---
AI-powered autonomous Drone-in-a-Box
September 2019 , CCTV, Surveillance & Remote Monitoring, Integrated Solutions
Organisations in the mining, energy and industrial, oil and gas, ports and terminals sectors can optimise security and business operations, whilst reducing risks and operational costs
Read more...
---
Cybersecurity for video surveillance systems
September 2019, Mobotix , Cyber Security, CCTV, Surveillance & Remote Monitoring
Video surveillance systems are increasingly accessible over any IP network, which has led to the rise of potential cyberattack.
Read more...
---
What are the cybersecurity issues in video surveillance?
November 2019, Axis Communications SA , Editor's Choice, CCTV, Surveillance & Remote Monitoring, Cyber Security
he importance of the data captured by surveillance cameras – and what can be done with it – has led to a new breed of cybercriminals, looking for insights to steal and sell.
Read more...
---
The safe city and its need for interoperability
November 2019 , Integrated Solutions, CCTV, Surveillance & Remote Monitoring
Interoperability continues to present one of the greatest challenges, particularly with video management systems, video recording devices and cameras.
Read more...
---
A platform approach to safer and smarter cities
November 2019, Milestone Systems , CCTV, Surveillance & Remote Monitoring
Selecting the right platform to manage the vast data collected from smart and safe cities is critical to the ultimate success of the project.
Read more...
---
Creating safe cities with smart technology
November 2019, Secutel Technologies , CCTV, Surveillance & Remote Monitoring
In a digital age, where resilience and responsiveness are paramount to fighting crime and creating a safer world, CCTV systems are becoming part of every city's infrastructure.
Read more...
---