printer friendly version
MiRO makes its mark at Medupi
CCTV Handbook 2015 CCTV, Surveillance & Remote Monitoring, CCTV, Surveillance & Remote Monitoring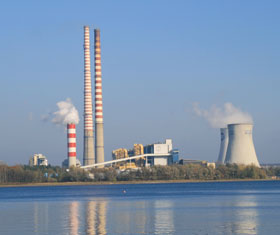 Large sites present a number of challenges for security system installations. Due to the sheer size of the Medupi Power Station project, the Medupi Project Team required a solution that would operate effectively over large distances and concurrently produce high-resolution video feedback.
In 2012, Stallion supplied the initial basic construction site surveillance systems for the site and was later engaged by Eskom to design, specify and conduct proof of concept on site for a significant security surveillance system upgrade to the site. The project was then approved and went out to tender, with Stallion again being successful by winning the bid for the upgrade. The Medupi Project Team's technical specialists reviewed the entire design and wrote an extremely prescriptive specification.
Non-negotiables
Four non-negotiable requirements were outlined in the initial design and specification stages of the project. These included the deployment of an ultra-high-resolution imaging system which would survey the entire site as well as concurrently have the ability to zoom in on people or vehicles situated hundreds of metres away. A Dallmeier Panomera imaging solution was proposed. It was also stipulated that the systems would need to be able to store data and video for at least two years, for later referral and analysis.
Secondly, a radar intrusion detection system, with a 3 km radius, was required to monitor the entire perimeter. This would be combined with high-resolution thermal imaging cameras that would track the radar detection, together providing a virtual barrier around the site.
A total of 200 general-purpose standalone high-megapixel IP cameras from MiRO's Vivotek range were required to monitor other areas around the power plant including the smoke stacks, conveyors and canteen. Approximately 131 Vivotek 5-megapixel cameras, equipped with fisheye lenses for 360° surround view without blind spots, were installed to provide coverage of wide, open areas. These compact, slimline dome cameras are unobtrusive and vandal-resistant.
As with all cameras on site, these cameras are managed and recorded on a 250 channel multi-server enterprise Milestone open network platform video management system sourced from MiRO. This combination allows the control room personnel to divide up images emanating from the 5-megapixel cameras and view each image as if it was produced by a separate camera. A number of Vivotek PTZ 2-megapixel IP cameras also sourced from MiRO were deployed.
According to Stallion group director - technical, Alvin Flaum, the biggest challenge faced by the company in the implementation of the upgraded security system was the lack of a suitable network infrastructure. After discussions with MiRO, the company decided to deploy a Radwin wireless 250 Mbs industrial network with five base-stations and 36 subscriber stations.
Flaum reports that the client is extremely happy with the quality of images produced by the Vivotek cameras. All systems will be maintained by an Eskom maintenance team.
For more information contact MiRO Distribution, 086 123 MIRO, [email protected], www.miro.co.za
Credit(s)
Further reading:
Mount Nelson opts for cloud surveillance
CCTV, Surveillance & Remote Monitoring Entertainment and Hospitality (Industry)
IOT Revolution Technologies, in partnership with MeyCom, will be implementing over 250 cloud driven Verkada cameras at the Belmond Mount Nelson Hotel.
Read more...
---
Avoiding human error at ports
LD Africa Transport (Industry) CCTV, Surveillance & Remote Monitoring Products Logistics (Industry)
LD Africa introduced a local port to the AxxonSoft Port Security System ,a solution that helps overcome the element of human error and eliminate paperwork.
Read more...
---
Compact, lightweight bullet cameras with support for analytics
Axis Communications SA Products CCTV, Surveillance & Remote Monitoring
Axis Communications announced two new outdoor-ready bullet-style cameras featuring deep-learning processing units for analytics based on deep learning on the edge.
Read more...
---
Numerous challenges for transport and logistics
Transport (Industry) CCTV, Surveillance & Remote Monitoring Security Services & Risk Management Logistics (Industry)
Operators are making significant investments in automation and digitalisation in order to address security concerns, improve loss prevention as well as efficiency, and reduce unit order costs.
Read more...
---
A key to urban transport challenges
Axis Communications SA Transport (Industry) CCTV, Surveillance & Remote Monitoring Integrated Solutions Logistics (Industry)
There are many enabling technologies that can impact transportation in South Africa, but a good place to start is by considering the applications for smart physical technology with the ability to collect and respond to data.
Read more...
---
Hikvision aims for solutions
Technews Publishing Hikvision South Africa Editor's Choice CCTV, Surveillance & Remote Monitoring News Integrated Solutions Conferences & Events
Hikvision recently held a roadshow titled Industry X, where the company highlighted its latest products and solutions, supported by partners and distributors.
Read more...
---
Reliable, low-maintenance video appliances
Technews Publishing Editor's Choice CCTV, Surveillance & Remote Monitoring News IT infrastructure Products
Symetrix, part of the Agera Group, has added the AES range of video recording servers, storage appliances and workstations to its portfolio.
Read more...
---
A new full-colour era
Dahua Technology South Africa CCTV, Surveillance & Remote Monitoring
Traditionally, there have been two options for using surveillance cameras in the dark: flooding the scene with visible light, or alternatively using infrared (IR) illumination.
Read more...
---
AIoT delivers dynamic digital platforms
Hikvision South Africa CCTV, Surveillance & Remote Monitoring
Many stadiums or venues are seeking new, smart solutions that can help venue operators to stay on top of real-time situations dynamically on digitally driven platforms, and to achieve more efficient and sustainable venue management.
Read more...
---
Upgraded security and AI monitoring at upmarket estate
Watcher Surveillance Solutions Editor's Choice CCTV, Surveillance & Remote Monitoring Integrated Solutions Residential Estate (Industry)
Estate upgrades and enhances its security through a partnership between surveillance specialist Watcher and the incumbent guarding company.
Read more...
---