printer friendly version
Surveillance cameras for mine ­rescue
April 2015 CCTV, Surveillance & Remote Monitoring, CCTV, Surveillance & Remote Monitoring
Mines Rescue Services is a private sector, non-profit organisation that, through the training of volunteer brigadesmen, provides the resources and expertise for an effective emergency service primarily to the mining industry.
"The Mine Health and Safety Act, 1996, Regulation 16.5 (Emergency Preparedness and Response) requires that the employer of every underground mine shall, inter alia, be part of a mines rescue scheme. To comply with these regulations, Mines Rescue Services (MRS) administers a rescue scheme whose membership is open to mines and affiliated mining companies," Christo de Klerk, CEO of Mines Rescue Services explains.
MRS South Africa is one of the founding members of the International Mines Rescue Body (IMRB) and hosted the first International Mines Rescue conference in South Africa in 2003. De Klerk says that due to the fact that South Africa has some of the deepest mine shafts in the world, there are a number of incidences of miners falling down the shafts. In order to provide a rescue service, it is necessary to lower the brigadesmen into the shaft to assess situations and rescue the fallen miners.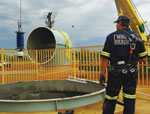 Shaft camera being lowered down a raised bore hole to check if it is safe to raise trapped mine workers.
"However, this was a very risky procedure since brigadesmen were in essence going into the shaft without prior knowledge of the environmental conditions and possible dangers. Previous deaths of brigadesmen during rescue operations prompted us to consider a solution to our existing rescue plan. In order to expedite rapid and safe rescue missions, we decided to deploy cameras to first assess the situation and then to guide our rescue teams during the rescue process," says De Klerk.
MRS discussed their idea with wireless IP convergence company MiRO and a shaft inspection solution using a Vivotek surveillance camera was born. The first prototype, developed in 2011, was capable of being lowered to depths of 1200 m and has been extensively used in shaft inspections throughout the country.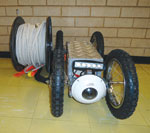 The Rover Ore pass camera.
De Klerk highlights the incident where 22 illegal miners were trapped in a shaft at Welkom in May 2012. Using the Vivotek shaft camera, all 22 illegal miners were located and safely lifted to the surface. "Apart from its excellent image resolution, the Vivotek camera is extremely robust, making it the ideal choice for the harsh and demanding environment encountered in the mining industry. Reliability plays a big role in the choice of camera, since we simply cannot afford to lose the image at any stage during the assessment and rescue process," adds De Klerk.
MRS subsequently developed the Rover Ore Pass Camera, which is a Vivotek fisheye camera mounted on wheels and attached to a 100 metre-long umbilical cord. The Rover Ore Pass Camera is ideal for use in tunnels with a steep inclination. Previously, if a miner fell down an inclined shaft, it was necessary to send a brigadesman down the shaft to locate them and plan a rescue operation.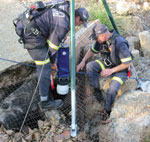 The shaft camera being lowered down an abandoned mine to check the water level in the shaft.
The Rover Ore Pass Camera eliminates the need to send the brigadesman into the ore pass prior to the rescue by providing feedback to a team at the top of the ore pass with images of the location of the miner and an indication of whether he is alive or deceased. MRS currently operates 25 of these cameras, which have been instrumental in saving many lives.
Another application that has been implemented using a Vivotek camera is on mobile rescue winders. MRS developed the most advanced mobile rescue winders in the world and then designed a surveillance system which is the only one of its kind worldwide. De Klerk explains that when miners are trapped underground in collieries, the colliery's mobile rescue winder will be deployed which will then lower a rescue capsule equipped with three cameras, down a 600 mm rescue hole drilled to expedite the safe removal of trapped miners. One camera is placed to point upwards, another is mounted inside the rescue capsule and the third camera points downwards.
A mock drill operation using the colliery mobile rescue winder.
The metalliferous mobile rescue winder, specially developed for deployment in gold and platinum mine shafts, can reach depths of 3100 m and is currently undergoing extensive testing. The cage, which can accommodate five people, is also equipped with three Vivotek cameras.
"We are very dependent on the performance of the Vivotek cameras and believe that their high levels of quality and reliability have made an extremely positive contribution to MRS' ability to protect the lives of the brigadesmen and the miners they are deployed to rescue," De Klerk concludes.
For more information contact MiRO Distribution, 086 123 MIRO, riandi@miro.co.za, www.miro.co.za
Credit(s)
Further reading:
Shorten your checkout lines to enhance customer experience
September 2019, Hikvision South Africa , Retail (Industry), CCTV, Surveillance & Remote Monitoring
Hikvision's queue detection technology is purpose-built to offer cutting-edge flow analysis to retail outlets and any situation where waiting to pay is required.
Read more...
---
Constructive CCTV contributions to research
September 2019, Leaderware , Editor's Choice, CCTV, Surveillance & Remote Monitoring
Study leads to understanding that we need more recognition and reward for constructive participation in society.
Read more...
---
New Africa sales manager for Axis Communications
September 2019, Axis Communications SA , News, CCTV, Surveillance & Remote Monitoring
Axis Communications has appointed Brendon Hall, previously the founder and MD of Pentagon, as its new sales manager, Africa.
Read more...
---
Hikvision helps secure African Union Summit
September 2019, Hikvision South Africa , News, CCTV, Surveillance & Remote Monitoring
Hikvision established a complete intelligent video solution to ensure the security of the thirty-third African Union (AU) Summit held on 7 July in Niamey, the capital of Niger.
Read more...
---
Genetec to integrate CylancePROTECT
September 2019, Genetec , Editor's Choice, CCTV, Surveillance & Remote Monitoring, News
Genetec has announced it is partnering with Cylance, a business unit of Blackberry, to bring AI-based antivirus protection to its appliance customers.
Read more...
---
Dashcams useful for more than social media
September 2019, Graphic Image Technologies , CCTV, Surveillance & Remote Monitoring, Transport (Industry)
Logistics companies need to make sure that they have a complete solution that allows real-time driver monitoring and event notifications as they happen.
Read more...
---
Best in class at sea and ashore
September 2019, Axis Communications SA , Transport (Industry), CCTV, Surveillance & Remote Monitoring
Thermal network cameras support the guard tour function that can be used for continuous monitoring of a particular area according to the pre-set guard tour.
Read more...
---
Improving operational efficiency through surveillance
September 2019 , CCTV, Surveillance & Remote Monitoring, Products
Today?s surveillance systems are no longer just about monitoring, but more so the intelligence that sits on the camera and what businesses can do with that information proactively.
Read more...
---
New thermal/visual drone
September 2019 , CCTV, Surveillance & Remote Monitoring, Products
New drone equips security professionals and first responders with a reliable everyday tool for dynamic operations in challenging environments.
Read more...
---
Securing ATMs 24/7
September 2019, Hikvision South Africa , CCTV, Surveillance & Remote Monitoring, Financial (Industry)
To be effective, most ATMs need to be in public areas and open all hours, and they hold cash, making them an attractive target.
Read more...
---