printer friendly version
Automated event reaction
CCTV Handbook 2015 CCTV, Surveillance & Remote Monitoring, CCTV, Surveillance & Remote Monitoring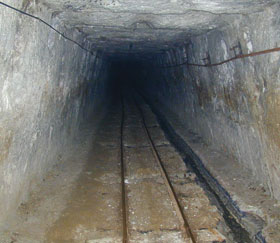 A population of legacy analogue systems meant that superior security footage was limited for a major mining house. The organisation decided to adopt an IP-based system that would allow for advanced perimeter protection using video analytics.
A further stipulation was that the upgraded system needed to be able to integrate with other third-party systems, including the weighing scales and the access control system. A final addition to the system would be the inclusion of a command centre environment to enable the organisation to adopt a black screen management approach and monitor multiple sites from one centralised location.
According to Gus Brecher, MD of video surveillance solutions company, Cathexis, mine management needed the system to provide enough intelligence to guide them in their choice of approach. By programming in automatic actions that would ensue from an event triggering an alert in the control room, it would eliminate the operator having to actively decide on a course of action. The system would therefore provide intelligent decision making.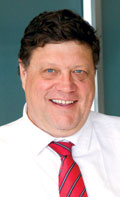 Gus Brecher.
Intelligence improves operations
The existing system deployed by the mining house provided inadequate footage resolution and the organisation was limited by the architecture whereby recordings were stored on individual servers instead of in a centralised repository. The organisation needed a system that would improve operational efficiency and therefore provide an enhanced return on investment, with the system being used for business purposes as well as for the traditional security functions required.
Based on an existing relationship between the two companies, an in-house consultant worked closely with Cathexis to devise an appropriate solution. Brecher explains that Cathexis' selection was a result of its ability to benefit the risk management profile and to provide value to the operational and health and safety divisions.
Cathexis adopted a phased approach to the project, beginning with establishing that the existing infrastructure could handle the new IP cameras. This is particularly important due to the fact that IP cameras are bandwidth hungry. A network video solution was devised in collaboration with the mine's IT division and all infrastructure upgrading was done by the client.
Not only did the infrastructure need to cater for the new IP cameras, but the system needed to be able to communicate with the existing analogue cameras which are being retained for the interim. A full system analysis was performed to allow as much of the existing capital equipment to be used as feasibly possible.
Centralised management and control
The analytics were determined and programmed, based on each micro environment across a number of locations. Aggravating factors included the sheer size of the perimeter in each instance, foliage, ambient noise from passing vehicles and the absence of adequate lighting.
Brecher says that Cathexis worked closely with both the installer and the mining house, with regular meetings and continuous feedback ensuring that any issues were identified and resolved in the early stages. Work started on the project in early 2014 and the final phase is due for handover in late 2016. Feedback to date has been very encouraging and the client reports that the majority of the final goals have already been met, with improved operational efficiency as well as enhanced footage and analytics topping the bill, together with an increase in system control and storage.
A large positive factor for the client is that they have been enabled to upgrade to the latest technology, while concurrently saving a substantial amount of money by retaining specific elements of the existing analogue system and infrastructure. In addition, the new control room environment has produced significant increases in efficiency.
For more information contact Cathexis Africa, +27(0)31 240 0800, [email protected], www.cathexisvideo.com
Credit(s)
Further reading:
Minimising fire risks in automotive logistics
Hikvision South Africa CCTV, Surveillance & Remote Monitoring Products Logistics (Industry)
Automotive logistics company uses thermal imaging solution from Hikvision to ensure its stores of lithium batteries for electric vehicles never overheat and cause a fire.
Read more...
---
Axis launches P3265-LVE dome camera
Axis Communications SA Products CCTV, Surveillance & Remote Monitoring
Based on ARTPEC-8 — the latest Axis system-on-chip (SoC) — Axis' latest dome high-performance camera includes a deep learning processing unit (DLPU), and cybersecurity features.
Read more...
---
Smart car parking solution eases traffic flow
Dahua Technology South Africa CCTV, Surveillance & Remote Monitoring Integrated Solutions Products
Ethiopia's first smart parking lot, designed to improve traffic flow and management efficiency, has been built and installed using Dahua Technology's smart parking solutions.
Read more...
---
VMS 7.2 supports the investigation process and adds cloud capabilities
CCTV, Surveillance & Remote Monitoring Integrated Solutions Products
Qognify has launched the second release of its VMS, including extended support for body-worn video, additional functionalities to support investigations, and a new web client architecture. VMS 7.2 addresses the increasing use of body-worn video (BWV) across many sectors.
Read more...
---
The future of AIoT
Hikvision South Africa News CCTV, Surveillance & Remote Monitoring
Hikvision hosted its 2022 Shaping Intelligence Summit in Bali, Indonesia, on 29-30 November, where the company, its customers, and technology and solution partners, looked into the future of AIoT and explored paths to shared success.
Read more...
---
A comprehensive video solution for retail
LD Africa Retail (Industry) CCTV, Surveillance & Remote Monitoring Products
Retail Intellect is a comprehensive, flexible solution for retailers that matches technologies to ensure point-of-sale safety and security with video analytics.
Read more...
---
Understanding customers better using AI
Secutel Technologies Retail (Industry) CCTV, Surveillance & Remote Monitoring Products
With in-store analytics of consumer behaviour, retailers can improve store performance and boost the productivity of their business.
Read more...
---
Benefits beyond just security
CCTV, Surveillance & Remote Monitoring
Store cameras are boosting customer experience and sales, as well as preventing losses, finds market research e-book from IDIS.
Read more...
---
Hikvision unveils first 'True 8K' NVRs
Hikvision South Africa CCTV, Surveillance & Remote Monitoring Products
The new M-Series NVRs can be used with a host of Hikvision cameras, and are ideal for environments where a wide field of view and extremely high image resolution are needed.
Read more...
---
AI in video analytics
CCTV, Surveillance & Remote Monitoring Integrated Solutions
AI (artificial intelligence), has been developed and debated ever since the first computers were invented, and while the most revolutionary incarnations are not yet here, AI-based technologies are widely used today.
Read more...
---