printer friendly version
Automated event reaction
CCTV Handbook 2015 CCTV, Surveillance & Remote Monitoring, CCTV, Surveillance & Remote Monitoring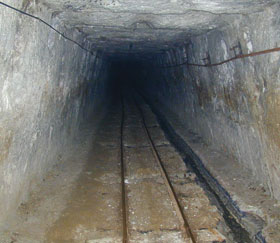 A population of legacy analogue systems meant that superior security footage was limited for a major mining house. The organisation decided to adopt an IP-based system that would allow for advanced perimeter protection using video analytics.
A further stipulation was that the upgraded system needed to be able to integrate with other third-party systems, including the weighing scales and the access control system. A final addition to the system would be the inclusion of a command centre environment to enable the organisation to adopt a black screen management approach and monitor multiple sites from one centralised location.
According to Gus Brecher, MD of video surveillance solutions company, Cathexis, mine management needed the system to provide enough intelligence to guide them in their choice of approach. By programming in automatic actions that would ensue from an event triggering an alert in the control room, it would eliminate the operator having to actively decide on a course of action. The system would therefore provide intelligent decision making.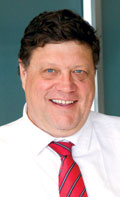 Gus Brecher.
Intelligence improves operations
The existing system deployed by the mining house provided inadequate footage resolution and the organisation was limited by the architecture whereby recordings were stored on individual servers instead of in a centralised repository. The organisation needed a system that would improve operational efficiency and therefore provide an enhanced return on investment, with the system being used for business purposes as well as for the traditional security functions required.
Based on an existing relationship between the two companies, an in-house consultant worked closely with Cathexis to devise an appropriate solution. Brecher explains that Cathexis' selection was a result of its ability to benefit the risk management profile and to provide value to the operational and health and safety divisions.
Cathexis adopted a phased approach to the project, beginning with establishing that the existing infrastructure could handle the new IP cameras. This is particularly important due to the fact that IP cameras are bandwidth hungry. A network video solution was devised in collaboration with the mine's IT division and all infrastructure upgrading was done by the client.
Not only did the infrastructure need to cater for the new IP cameras, but the system needed to be able to communicate with the existing analogue cameras which are being retained for the interim. A full system analysis was performed to allow as much of the existing capital equipment to be used as feasibly possible.
Centralised management and control
The analytics were determined and programmed, based on each micro environment across a number of locations. Aggravating factors included the sheer size of the perimeter in each instance, foliage, ambient noise from passing vehicles and the absence of adequate lighting.
Brecher says that Cathexis worked closely with both the installer and the mining house, with regular meetings and continuous feedback ensuring that any issues were identified and resolved in the early stages. Work started on the project in early 2014 and the final phase is due for handover in late 2016. Feedback to date has been very encouraging and the client reports that the majority of the final goals have already been met, with improved operational efficiency as well as enhanced footage and analytics topping the bill, together with an increase in system control and storage.
A large positive factor for the client is that they have been enabled to upgrade to the latest technology, while concurrently saving a substantial amount of money by retaining specific elements of the existing analogue system and infrastructure. In addition, the new control room environment has produced significant increases in efficiency.
For more information contact Cathexis Africa, +27(0)31 240 0800, [email protected], www.cathexisvideo.com
Credit(s)
Further reading:
Mount Nelson opts for cloud surveillance
CCTV, Surveillance & Remote Monitoring Entertainment and Hospitality (Industry)
IOT Revolution Technologies, in partnership with MeyCom, will be implementing over 250 cloud driven Verkada cameras at the Belmond Mount Nelson Hotel.
Read more...
---
Avoiding human error at ports
LD Africa Transport (Industry) CCTV, Surveillance & Remote Monitoring Products Logistics (Industry)
LD Africa introduced a local port to the AxxonSoft Port Security System ,a solution that helps overcome the element of human error and eliminate paperwork.
Read more...
---
Compact, lightweight bullet cameras with support for analytics
Axis Communications SA Products CCTV, Surveillance & Remote Monitoring
Axis Communications announced two new outdoor-ready bullet-style cameras featuring deep-learning processing units for analytics based on deep learning on the edge.
Read more...
---
Numerous challenges for transport and logistics
Transport (Industry) CCTV, Surveillance & Remote Monitoring Security Services & Risk Management Logistics (Industry)
Operators are making significant investments in automation and digitalisation in order to address security concerns, improve loss prevention as well as efficiency, and reduce unit order costs.
Read more...
---
A key to urban transport challenges
Axis Communications SA Transport (Industry) CCTV, Surveillance & Remote Monitoring Integrated Solutions Logistics (Industry)
There are many enabling technologies that can impact transportation in South Africa, but a good place to start is by considering the applications for smart physical technology with the ability to collect and respond to data.
Read more...
---
Hikvision aims for solutions
Technews Publishing Hikvision South Africa Editor's Choice CCTV, Surveillance & Remote Monitoring News Integrated Solutions Conferences & Events
Hikvision recently held a roadshow titled Industry X, where the company highlighted its latest products and solutions, supported by partners and distributors.
Read more...
---
Reliable, low-maintenance video appliances
Technews Publishing Editor's Choice CCTV, Surveillance & Remote Monitoring News IT infrastructure Products
Symetrix, part of the Agera Group, has added the AES range of video recording servers, storage appliances and workstations to its portfolio.
Read more...
---
A new full-colour era
Dahua Technology South Africa CCTV, Surveillance & Remote Monitoring
Traditionally, there have been two options for using surveillance cameras in the dark: flooding the scene with visible light, or alternatively using infrared (IR) illumination.
Read more...
---
AIoT delivers dynamic digital platforms
Hikvision South Africa CCTV, Surveillance & Remote Monitoring
Many stadiums or venues are seeking new, smart solutions that can help venue operators to stay on top of real-time situations dynamically on digitally driven platforms, and to achieve more efficient and sustainable venue management.
Read more...
---
Upgraded security and AI monitoring at upmarket estate
Watcher Surveillance Solutions Editor's Choice CCTV, Surveillance & Remote Monitoring Integrated Solutions Residential Estate (Industry)
Estate upgrades and enhances its security through a partnership between surveillance specialist Watcher and the incumbent guarding company.
Read more...
---