printer friendly version
Securing a hydroelectricity plant
CCTV Handbook 2015 CCTV, Surveillance & Remote Monitoring, CCTV, Surveillance & Remote Monitoring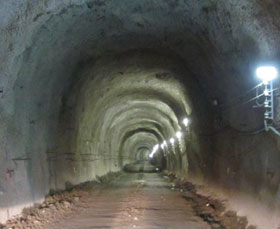 ICE stands for Instituto Costarricense de Electricidad. It is the Costa Rican government-owned electricity and telecommunications services provider and generates annual revenues of around $1844 million. One of its biggest projects in Central America is undoubtedly the Proyecto Hidroeléctrico Reventazón, or the Reventazón Hydroelectric Project.
This project aims to construct a 305,5 MW hydropower plant in the Limon Province in Costa Rica, using waters from the Reventazóón River to generate an average of 1407 gigawatt-hour (GWh) of electricity per year. Once completed, the plant will represent approximately 10 per cent of Costa Rica's total installed electricity generation capacity.
Approximately 3000 workers work over a wide area are involved in this project and demand for security is huge in order to provide a safe and secure ground for workers and for management to monitor project progress. For unparalleled flexibility and NVR features, the system integrator chose NUUO Mainconsole solutions for this particular site. "NUUO products are very easy to install and we have great success with the solutions they offer from NUUO," said Steve Herra Villalobos, coordinator of the Department of Electronic Security.
NUUO Mainconsole is among one of NUUO's best VMS solutions for enterprises. Stable, flexible, with easy integration options. NUUO Mainconsole is very easy to use and features special Tri-brid solution that incorporates both analogue and digital camera inputs along with a capture card for maximum compatibility benefits.
For a project as large as the hydroelectric endeavour it is paramount to have local and remote viewing functions available along with efficient management of cameras spread through a large surrounding area. NUUO Mainconsole, outfitted with multi-stream capability that efficiently adjusts streaming quality depending on viewing environments and connections speed, can ensure the best viewing experience under any environment.
NUUO Mainconsole also provides additional features that were crucial for the project requirements. Individual recording channel data retention function allowed the project managers to keep video data for up to 45 days, and is available by individual channels, thus allowing considerable hard disk savings.
Mainconsole also came with advanced video analytics with licence plate recognition for additional security benefits. Flexible, intelligent, powerful, these are the main benefits of NUUO Mainconsole. NUUO Mainconsole is the best choice when you have existing older analogue systems but want to upgrade to IP cameras. It provides seamless integration between older and newer types of cameras.
For more information contact NUUO Inc., +27 (0)72 178 3200, graham@nuuo.com, www.nuuo.com
Further reading:
Drones and cybersecurity?
October 2019 , CCTV, Surveillance & Remote Monitoring
Hacker drones can eavesdrop electronically on conversations, can perform network attacks, or can create fake wireless access points.
Read more...
---
Body-worn cameras transforming security
October 2019 , CCTV, Surveillance & Remote Monitoring, Security Services & Risk Management
Police Service Northern Ireland now has over 7 000 officers using 2 500 cameras covering approximately 173 000 incidents each year.
Read more...
---
Camera Selection Guide 2019
CCTV Handbook 2019 , CCTV, Surveillance & Remote Monitoring
The Camera Selection Guide 2019 includes a range of IP, analogue, thermal and speciality cameras aimed at a broad range of surveillance functions.
Read more...
---
Intelligent analytics and the brains to match
September 2019, Bosch Building Technologies , CCTV, Surveillance & Remote Monitoring, Integrated Solutions
What if the brains behind our security cameras could be trained to improve their cognitive ability to pay attention, learn, and problem-solve according to specific rules and situations?
Read more...
---
AI-powered autonomous Drone-in-a-Box
September 2019 , CCTV, Surveillance & Remote Monitoring, Integrated Solutions
Organisations in the mining, energy and industrial, oil and gas, ports and terminals sectors can optimise security and business operations, whilst reducing risks and operational costs
Read more...
---
Cybersecurity for video surveillance systems
September 2019, Mobotix , Cyber Security, CCTV, Surveillance & Remote Monitoring
Video surveillance systems are increasingly accessible over any IP network, which has led to the rise of potential cyberattack.
Read more...
---
What are the cybersecurity issues in video surveillance?
November 2019, Axis Communications SA , Editor's Choice, CCTV, Surveillance & Remote Monitoring, Cyber Security
he importance of the data captured by surveillance cameras – and what can be done with it – has led to a new breed of cybercriminals, looking for insights to steal and sell.
Read more...
---
The safe city and its need for interoperability
November 2019 , Integrated Solutions, CCTV, Surveillance & Remote Monitoring
Interoperability continues to present one of the greatest challenges, particularly with video management systems, video recording devices and cameras.
Read more...
---
A platform approach to safer and smarter cities
November 2019, Milestone Systems , CCTV, Surveillance & Remote Monitoring
Selecting the right platform to manage the vast data collected from smart and safe cities is critical to the ultimate success of the project.
Read more...
---
Creating safe cities with smart technology
November 2019, Secutel Technologies , CCTV, Surveillance & Remote Monitoring
In a digital age, where resilience and responsiveness are paramount to fighting crime and creating a safer world, CCTV systems are becoming part of every city's infrastructure.
Read more...
---