printer friendly version
Specialised storage for security systems
April 2015
IT infrastructure
When it comes to surveillance systems today, the digital video recorder (DVR) is the heart of any solution. However, while many people understand the importance of the DVR, they fail to give thought to what goes inside it – specifically, the hard drive that is absolutely essential for the recording, playback and storage of surveillance footage.

Kalvin Subbadu.
Using just any hard drive in a DVR can cause catastrophic consequences, and is often the single point of failure in security systems, bringing the entire system crashing down. Should hard drive data become corrupted, or the drive should fail, everything recorded on that drive will be lost, negating the very purpose of surveillance. Dedicated, purpose-built surveillance drives have been designed with the specific demands of this environment in mind, ensuring they are more reliable and longer-lasting than other hard drive technologies.
When it comes to DVR hard drives, cheapest is certainly not best, especially when given the critical nature of security solutions. However, purpose-built surveillance drives do not carry a significantly higher price tag than desktop drives, so risk of premature failure carried by desktop drives far outweighs any additional cost involved.
In addition, increasingly popular 720p high definition (HD) cameras impose a massive extra workload on hard drives, requiring three to four times the amount of storage and processing power of standard VGA cameras. With regular desktop hard drives in place under this type of strain, the drives will inevitably fail even sooner, creating serious issues for surveillance systems. The next evolution to 1080p cameras will only exacerbate this challenge, further doubling network traffic and placing hard drives under strain.
When a hard drive is designed and engineered, specific attention is paid to the role the drive is made to play. For example, a laptop drive uses a 2,5 inch form factor and is typically designed with shock resistance in mind, as well as lower power consumption to extend the battery life of a notebook. This in return limits capacity and performance.
Enterprise and server-class drives are optimised for 24/7 operation and high performance, but utilise higher power draw and are noisier and run hotter than other drives. Conventional desktop drives are designed for a typical eight-to-five office environment, with a 3,5 inch form factor and capacity of up to 6 TB. None of these drives are optimised to the demand of a DVR environment, which requires high capacity, high performance, the ability to operate 24/7 as well as cool, quiet operation that minimises vibration.
Engineered for surveillance
Purpose-built security and surveillance drives can deal with up to 32 simultaneous HD camera streams and can effectively deal with the unpredictable workloads of surveillance environments, which are dependent on activity in the area being monitored. Using the entire cache and proprietary drive firmware such as AllFrame, found in WD Purple surveillance-class hard drives, the workload is monitored to identify the number of incoming streams and the amount of bandwidth required by each. AllFrame works to reduce frame loss, improve playback and increase the number of drive bays supported, reducing video interruptions that commonly occur when desktop hard drives are incorrectly used as storage in security systems.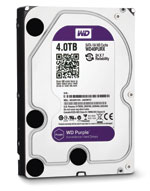 WD Purple.
Since the ability to deal with a variable workload typically means the drive heads have to jump around, which can increase noise and vibration, WD Purple drives feature exclusive IntelliSeek technology. IntelliSeek ensures the WD Purple is able to calculate optimum seek speeds, reducing power consumption, noise and vibration that can damage hard drives and cause them to wear out more quickly.
Surveillance drives are also designed to handle multiple data streams where they will be writing more than reading, and feature low power draw, resulting in less radiated heat, which prolongs the life of hardware. In addition, WD Purple drives are built for compatibility with industry-leading chassis and chip set manufacturers for seamless integration into new or existing video surveillance system.
The technology behind surveillance drives is engineered and optimised to function effectively in the demanding, high temperature, always-on, surveillance security systems. This ensures reliability and quality video playback, extended operation, and essential support for critical security applications.
For more information contact WD, +27 (0)83 277 7634, kalvin.subbadu@wdc.com
Credit(s)
Further reading:
Double dose of storage security
August 2019 , Products, IT infrastructure
The integration of InfiniBox and SafeNet KeySecure platforms brings data-at-rest encryption together with centralised logging, auditing capability.
Read more...
---
How far are we really at with artificial intelligence?
August 2019, Axis Communications SA , Editor's Choice, CCTV, Surveillance & Remote Monitoring, IT infrastructure, Residential Estate (Industry)
Justin Ludik unpacks exactly how far AI has come and what it potentially can do for society and more importantly, surveillance.
Read more...
---
Collaboration and tech key to safer, connected communities
August 2019 , Residential Estate (Industry), IT infrastructure
The advent of fibre-to-the-home has not only changed the way we work and play but has also heralded the launch of a number of advances for the security industry.
Read more...
---
Cyber tools and solutions
August 2019, Technews Publishing , Editor's Choice, Cyber Security, IT infrastructure, Residential Estate (Industry)
Hi-Tech Security Solutions looks at the various options we have when it comes to protecting yourself from the ever-growing scourge of cybercrime?
Read more...
---
Security solution for SD WAN
August 2019 , IT infrastructure
As thousands of African companies start to investigate and/or deploy SD WAN solutions, one consistent question arises: what are the security implications?
Read more...
---
Cloud advantage or cost?
August 2019 , Cyber Security, IT infrastructure
No matter how you look at it, security in the cloud is as important as security in traditional data centres.
Read more...
---
Integrated risk management essential
August 2019, AVeS Cyber Security , IT infrastructure, Security Services & Risk Management, Industrial (Industry)
With manufacturing focused intensively on innovation, combined with a reliance on connected networks and products, it is highly vulnerable to cyberattacks.
Read more...
---
Data protection more challenging
July 2019 , Editor's Choice, IT infrastructure
The number of businesses unable to recover data after an incident nearly doubled from 2016, according to the Global Data Protection Index surveying 2 200 IT decision makers from 18 countries.
Read more...
---
Four essential cloud security concepts
July 2019 , Cyber Security, IT infrastructure
Security is a critical a component of any cloud environment, but to be effective, it needs to be as agile and dynamic as the cloud infrastructure being protected.
Read more...
---
The world's tiniest TPM
July 2019 , IT infrastructure, Industrial (Industry)
The Trusted Computing Group (TCG) launched a new project to create the 'world's tiniest Trusted Platform Module (TPM)'.
Read more...
---