printer friendly version
Specialised storage for security systems
CCTV Handbook 2015
IT infrastructure
When it comes to surveillance systems today, the digital video recorder (DVR) is the heart of any solution. However, while many people understand the importance of the DVR, they fail to give thought to what goes inside it – specifically, the hard drive that is absolutely essential for the recording, playback and storage of surveillance footage.

Kalvin Subbadu.
Using just any hard drive in a DVR can cause catastrophic consequences, and is often the single point of failure in security systems, bringing the entire system crashing down. Should hard drive data become corrupted, or the drive should fail, everything recorded on that drive will be lost, negating the very purpose of surveillance. Dedicated, purpose-built surveillance drives have been designed with the specific demands of this environment in mind, ensuring they are more reliable and longer-lasting than other hard drive technologies.
When it comes to DVR hard drives, cheapest is certainly not best, especially when given the critical nature of security solutions. However, purpose-built surveillance drives do not carry a significantly higher price tag than desktop drives, so risk of premature failure carried by desktop drives far outweighs any additional cost involved.
In addition, increasingly popular 720p high definition (HD) cameras impose a massive extra workload on hard drives, requiring three to four times the amount of storage and processing power of standard VGA cameras. With regular desktop hard drives in place under this type of strain, the drives will inevitably fail even sooner, creating serious issues for surveillance systems. The next evolution to 1080p cameras will only exacerbate this challenge, further doubling network traffic and placing hard drives under strain.
When a hard drive is designed and engineered, specific attention is paid to the role the drive is made to play. For example, a laptop drive uses a 2,5 inch form factor and is typically designed with shock resistance in mind, as well as lower power consumption to extend the battery life of a notebook. This in return limits capacity and performance.
Enterprise and server-class drives are optimised for 24/7 operation and high performance, but utilise higher power draw and are noisier and run hotter than other drives. Conventional desktop drives are designed for a typical eight-to-five office environment, with a 3,5 inch form factor and capacity of up to 6 TB. None of these drives are optimised to the demand of a DVR environment, which requires high capacity, high performance, the ability to operate 24/7 as well as cool, quiet operation that minimises vibration.
Engineered for surveillance
Purpose-built security and surveillance drives can deal with up to 32 simultaneous HD camera streams and can effectively deal with the unpredictable workloads of surveillance environments, which are dependent on activity in the area being monitored. Using the entire cache and proprietary drive firmware such as AllFrame, found in WD Purple surveillance-class hard drives, the workload is monitored to identify the number of incoming streams and the amount of bandwidth required by each. AllFrame works to reduce frame loss, improve playback and increase the number of drive bays supported, reducing video interruptions that commonly occur when desktop hard drives are incorrectly used as storage in security systems.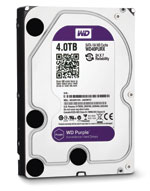 WD Purple.
Since the ability to deal with a variable workload typically means the drive heads have to jump around, which can increase noise and vibration, WD Purple drives feature exclusive IntelliSeek technology. IntelliSeek ensures the WD Purple is able to calculate optimum seek speeds, reducing power consumption, noise and vibration that can damage hard drives and cause them to wear out more quickly.
Surveillance drives are also designed to handle multiple data streams where they will be writing more than reading, and feature low power draw, resulting in less radiated heat, which prolongs the life of hardware. In addition, WD Purple drives are built for compatibility with industry-leading chassis and chip set manufacturers for seamless integration into new or existing video surveillance system.
The technology behind surveillance drives is engineered and optimised to function effectively in the demanding, high temperature, always-on, surveillance security systems. This ensures reliability and quality video playback, extended operation, and essential support for critical security applications.
For more information contact WD, +27 (0)83 277 7634, [email protected]
Further reading:
Cyber resilience is more than cybersecurity
Technews Publishing Cyber Security Integrated Solutions IT infrastructure
Hi-Tech Security Solutions held a round-table discussion focusing on cyber resilience and found that while the resilience discipline includes cybersecurity, it also goes much further.
Read more...
---
Reliable, low-maintenance video appliances
Technews Publishing Editor's Choice CCTV, Surveillance & Remote Monitoring News IT infrastructure Products
Symetrix, part of the Agera Group, has added the AES range of video recording servers, storage appliances and workstations to its portfolio.
Read more...
---
Infinidat a leader in ransomware protection
IT infrastructure Products
InfiniSafe brings together the key foundational requirements essential for delivering comprehensive cyber-recovery capabilities with immutable snapshots, logical air-gapped protection, a fenced forensic network, and near-instantaneous recovery of backups of any repository size.
Read more...
---
What's the difference between SASE, SD-WAN and SSE?
IT infrastructure
When it comes to the wide area network (WAN), the letter 'S' plays a pivotal role – from SASE to SD-WAN to SSE – but there can be some confusion with so many WAN 'S' acronyms.
Read more...
---
Cold chain integrity in real time
Technews Publishing Editor's Choice Asset Management, EAS, RFID IT infrastructure Transport (Industry) Logistics (Industry)
DeltaTrak offers real-time farm-to-fork IoT monitoring of the cold chain to ensure every step of the journey is recorded and verifiable via the cloud.
Read more...
---
BCX and Alibaba Cloud confirm partnership
News IT infrastructure
BCX and Alibaba Cloud have formed a partnership to bring cloud technologies to businesses in South Africa to drive local digitalisation.
Read more...
---
IoV – the cutting edge of vehicle automation
Integrated Solutions IT infrastructure Transport (Industry) Logistics (Industry)
Today's cars have become bona fide connected machines and not merely an extension of our mobile devices such as smartphones.
Read more...
---
Advanced technologies to curb corruption
News Cyber Security IT infrastructure
The use of advanced technology to curb fraud, corruption and cyber-related crimes received a massive boost as the Council for Scientific and Industrial Research (CSIR) and Special Investigation Unit (SIU) agreed to work together.
Read more...
---
DMaaS is the solution to hybrid cloud complexity woes
IT infrastructure
After an initial scramble to move everything to the cloud, companies are increasingly moving to a hybrid cloud environment, with a mix of private and public cloud infrastructure and services, coupled with on-premises storage.
Read more...
---
The current and future state of smart OT security
Technews Publishing Industrial (Industry) Cyber Security IT infrastructure
Nearly 60% of survey respondents also revealed that their organisation suffered at least one OT breach during the past 12 months, with 10% experiencing four or more.
Read more...
---