printer friendly version
Storage solutions for surveillance
CCTV Handbook 2015 IT infrastructure, CCTV, Surveillance & Remote Monitoring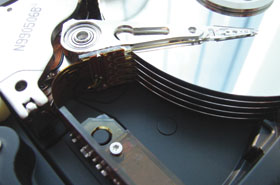 One thing we can all be sure of is that surveillance installations need to store large amounts of video footage. And as the resolutions of cameras improve, the size of the storage required also increases. Hi-Tech Security Solutions asked two storage specialists for their take on the surveillance storage market.
We approached NetApp, a company not usually associated with security storage in South Africa but a global player in the market, and WD, a regular contributor to Hi-Tech Security Solutions on the topic of storage solutions aimed at the surveillance market. We asked them to provide us with insight into the storage realities in the surveillance world, and to tell us about their solutions.
Hi-Tech Security Solutions: In your opinion, what is the most important part of a storage solution, and why?
Ted Hayduk, global solution architect, video surveillance, NetApp: We find that the surveillance buyer is very concerned about data integrity and life cycle support. Video surveillance systems tend to operate on 24 x 7 x 365 duty cycles so there is little downtime for backups or maintenance. This places a high value on the video data.
Storage systems have to protect the data even when components fail or while being repaired, while still capturing data without interruption. This level of reliability and serviceability is standard in true enterprise class systems, but not easily found in appliances and small to medium scale systems normally used for video surveillance.
Customers are always looking for systems that provide good performance, are reliable and inexpensive (cheap). Pick any two of those metrics, all three together is very difficult. It all comes down to the value of the data. If there is little to no cost to the organisation for failure (data loss or unavailability) then costs tend to be the major factor in purchasing.
When failure does have a cost that can be identified and is factored into the life cycle of the buying decision, then the reliability and serviceability of enterprise class systems come into the decision process and can be very affordable when sized appropriately for the video surveillance mission. This is very apparent in mission critical situations like life safety or law enforcement.
Kalvin Subbadu, sales manager for WD components in South Africa: The hard drive is a central piece in surveillance solutions as it records and stores the video footage, and is instrumental in presenting evidence. Without this, it can mean the difference between successfully prosecuting a perpetrator of a crime or the person walking free.
Hi-Tech Security Solutions: Do end-users usually pay enough attention to their surveillance storage requirements?
Ted Hayduk: Storage sizing and costs are difficult issues for end-users and surveillance integrators. As cameras improve their useable resolution available at better price points, storage requirements increase as well. The trend for longer retention periods also places stress on the storage requirements and budgets. Camera features and capabilities are also growing rapidly which places a premium on choosing the right combination of features/functions matched to the images to be captured.
Compromises tend to be made in the amount of cameras needed and the image quality needed to support the mission. Buying less capable storage systems in terms of ­reliability and serviceability in favour of increased capacity and lower initial cost are common. We also see greater compression values being used to squeeze the video data being sent from the cameras to storage, resulting in smaller data sizes, which in turn reduces the useable quality of the video images.
It can be a vicious circle. When storage can't keep up with the servers (and cameras), the result can be dropped frames (lost images), slowed system responsiveness (live viewing) or crashed systems. A balanced system design is necessary if you want a dependable and functional system.
Kalvin Subbadu: Often, resellers and end-users regard a hard drive as a universal 'one size fits all' component within a surveillance solution. As such, a common mistake is to purchase a less costly desktop hard drive to store digital footage. However, these hard drives are not purpose built to work in a 24 x 7 x 365 environment nor are they designed to record multiple simultaneous video streams from multiple cameras.
Surveillance hard drives are engineered to work in an industrial environment and include specific features that gear them for surveillance needs. They are optimised to deliver high-resolution image quality, can stream from multiple high-definition cameras, enable ultra-fast access to recorded footage, are energy efficient, compatible with multiple surveillance solutions and feature a cooler operation. Furthermore, they reduce noise and vibration that can damage hard drives.
Hi-Tech Security Solutions:How do you suggest end-users calculate the amount of storage they need for their surveillance solution? Is there a formula they can use?
Ted Hayduk: The best approach is to look at your current system and see what amount of data (bandwidth in Mbits/sec.) each camera is generating on an average basis. If you are installing new greenfield cameras, your integrator should test each camera location or camera type to model how much data the camera will be generating. This approach can eliminate surprises later on.
We find that most users do not know what they are generating or don't do the modelling for new cameras, so many storage requirements are best guesses. Camera storage sizing can be complicated since there are several variables that will significantly affect data sizing; image resolution (ie, 1080p), frame rate, video codex (ie, H.264 or MJPEG), video compression settings, scene complexity, lighting conditions (night time operations can easily generate three or four times the bandwidth of daytime, full light operations), motion sensing retention period(s) and contingency factors.
Most camera vendors have storage calculators that help determine storage requirements. The primary factors users need to understand about their data is the number of cameras being recorded, what is the constant data bandwidth each camera is sending (on average) in Mbits/second and how long in days does each camera's archive need to be stored for retention. We also recommend a contingency (safety) factor be used if any of the above metrics are not known exactly.
Kalvin Subbadu: Four HD cameras require at least 16.5 Terabytes (TB) of capacity in order to save footage for approximately 30 days. This is more than six times greater than the requirements of four standard-definition cameras.
Hi-Tech Security Solutions: Please describe the solution(s) you offer to the market and tell us why it is something users should take note of.
Ted Hayduk: NetApp has a storage family called the E-Series that has a rich 32+ year development history of continuous engineering improvement. These systems were initially developed for a variety of military applications and have evolved into the dominant systems used for mission critical and embedded applications with over 850 000 systems deployed.
E-series is noted for its reliability, serviceability, scalability and outstanding performance in an affordable, modular design. Our systems are fully redundant and designed to be concurrently and non-disruptively serviced or expanded without affecting the application. We can start small (6 disk drives in a 2U shelf) and grow almost unlimited (3.2 Petabytes in a single standard EIA 40U rack).
We have the best lifecycle support capabilities and ease-of-use for any systems in this class. Once the system is installed (usually in less than 30 minutes) with clean power, it will run with hardly any operator effort for the rest of the lifecycle (5+ years) due to our patented data protection capabilities and phone-home auto support functions for maintenance. These are some of the reasons why we are such a good fit for video surveillance applications.
Kalvin Subbadu: WD's Purple hard drives (designed for surveillance storage) include a number of features, but most notable is AllFrame and Intelliseek technologies.
AllFrame, which works with ATA streaming to reduce frame loss, improve playback and increase the number of supported drive bays to eight. AllFrame reduces video interruptions that commonly occur when desktop hard drives are incorrectly used as storage in security systems. The drives are optimised for up to 32 high-definition cameras, providing the flexibility for users to expand and upgrade.
IntelliSeek technology ensures the WD Purple is able to calculate optimum seek speeds, reducing power consumption, noise and vibration that can damage hard drives and cause them to wear out more quickly. In addition, WD Purple drives are built for compatibility with industry-leading chassis and chip-set manufacturers for seamless integration into your new or existing video surveillance system.
The demand for more storage is also met by WD. As high definition cameras increase in choice and popularity, WD's Purple capacities of up to 6TB of storage mean that in an eight-bay enclosure, users can store up to 48 TB of video surveillance footage.
Hi-Tech Security Solutions: How are your solutions made available to the local and African markets?
Ted Hayduk: NetApp uses partners to deliver our technology and services to customers. For a list of local partners, please go to www.netapp.com and choose Partners. For video surveillance, NetApp has a global specialty partnership with BCD Video (www.bcdvideo.com) which provides engineered infrastructures exclusively for video surveillance and physical security applications.
Kalvin Subbadu: WD OEMs its drive to a number of tier-1 vendors, but also sells through the channel, ie, distributors and resellers in South Africa.
WD's three official distributors in South Africa are: Pinnacle Africa, +27 (0)11 265 3000; Sahara Johannesburg, +27 (0)11 542 1000; Drive Control Corporation, +27 (0)11 201 8927.
For more information contact WD, +27 (0)83 277 7634, [email protected]; NetApp, +27 (0)11 691 1016, [email protected]
Further reading:
Cyber resilience is more than cybersecurity
Technews Publishing Cyber Security Integrated Solutions IT infrastructure
Hi-Tech Security Solutions held a round-table discussion focusing on cyber resilience and found that while the resilience discipline includes cybersecurity, it also goes much further.
Read more...
---
Avoiding human error at ports
LD Africa Transport (Industry) CCTV, Surveillance & Remote Monitoring Products Logistics (Industry)
LD Africa introduced a local port to the AxxonSoft Port Security System ,a solution that helps overcome the element of human error and eliminate paperwork.
Read more...
---
Compact, lightweight bullet cameras with support for analytics
Axis Communications SA Products CCTV, Surveillance & Remote Monitoring
Axis Communications announced two new outdoor-ready bullet-style cameras featuring deep-learning processing units for analytics based on deep learning on the edge.
Read more...
---
Numerous challenges for transport and logistics
Transport (Industry) CCTV, Surveillance & Remote Monitoring Security Services & Risk Management Logistics (Industry)
Operators are making significant investments in automation and digitalisation in order to address security concerns, improve loss prevention as well as efficiency, and reduce unit order costs.
Read more...
---
A key to urban transport challenges
Axis Communications SA Transport (Industry) CCTV, Surveillance & Remote Monitoring Integrated Solutions Logistics (Industry)
There are many enabling technologies that can impact transportation in South Africa, but a good place to start is by considering the applications for smart physical technology with the ability to collect and respond to data.
Read more...
---
Hikvision aims for solutions
Technews Publishing Hikvision South Africa Editor's Choice CCTV, Surveillance & Remote Monitoring News Integrated Solutions Conferences & Events
Hikvision recently held a roadshow titled Industry X, where the company highlighted its latest products and solutions, supported by partners and distributors.
Read more...
---
Reliable, low-maintenance video appliances
Technews Publishing Editor's Choice CCTV, Surveillance & Remote Monitoring News IT infrastructure Products
Symetrix, part of the Agera Group, has added the AES range of video recording servers, storage appliances and workstations to its portfolio.
Read more...
---
Upgraded security and AI monitoring at upmarket estate
Watcher Surveillance Solutions Editor's Choice CCTV, Surveillance & Remote Monitoring Integrated Solutions Residential Estate (Industry)
Estate upgrades and enhances its security through a partnership between surveillance specialist Watcher and the incumbent guarding company.
Read more...
---
Infinidat a leader in ransomware protection
IT infrastructure Products
InfiniSafe brings together the key foundational requirements essential for delivering comprehensive cyber-recovery capabilities with immutable snapshots, logical air-gapped protection, a fenced forensic network, and near-instantaneous recovery of backups of any repository size.
Read more...
---
What's the difference between SASE, SD-WAN and SSE?
IT infrastructure
When it comes to the wide area network (WAN), the letter 'S' plays a pivotal role – from SASE to SD-WAN to SSE – but there can be some confusion with so many WAN 'S' acronyms.
Read more...
---