printer friendly version
Spoiled for choice
CCTV Handbook 2015
CCTV, Surveillance & Remote Monitoring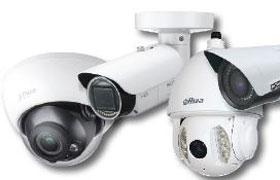 Hi-Tech Security Solutions delivers its Camera Selection Guide and DVR/NVR Round-Up to give you some insight into the products available today.
Despite the variety of issues one has to consider when implementing a surveillance solution – simply look at the range of articles in this year's CCTV Handbook to see a few – at the end of the day you need to decide on a camera, and unless you have serious storage requirements, a digital video recorder (DVR) or network video recorder (NVR).
Hi-Tech Security Solutions therefore runs its Camera Selection Guide and DVR/NVR Round-Up in every CCTV Handbook to make the choice of what cameras you should be looking at a bit easier. Of course, we can't list all the specifications and benefits of each camera or recording solution, there is simply not enough space. Nevertheless, in the following sections you will see a brief guide to what is available and the basic specifications of each product. We naturally include the contact details with each to allow potential buyers to contact the relevant suppliers if they want to find out more.
As can be expected, many suppliers sent us far more than we could fit in for each product so we had to trim most of the entries. We have tried to keep the most important information that will help in buying decisions in each entry, in an easy-to-read format.
If you have suggestions for a better format or layout for the next camera guide or DVR/NVR Round-Up, please let us know. Is there a particular feature or technical specification you think we're missing? Should we keep it short and simply list the specifications of each product? It's only with feedback from our readers that we can be sure we're providing the right subset of information in the right format.
In the meantime, if you're a surveillance user or manager, you will find a broad selection of products at your fingertips in the two guides. The guides will also be put online, allowing you to search by product, supplier or category (IP, analogue etc.) whenever your next buying decision has to be made.
Credit(s)
Further reading:
Mount Nelson opts for cloud surveillance
CCTV, Surveillance & Remote Monitoring Entertainment and Hospitality (Industry)
IOT Revolution Technologies, in partnership with MeyCom, will be implementing over 250 cloud driven Verkada cameras at the Belmond Mount Nelson Hotel.
Read more...
---
Cyber resilience is more than cybersecurity
Technews Publishing Cyber Security Integrated Solutions IT infrastructure
Hi-Tech Security Solutions held a round-table discussion focusing on cyber resilience and found that while the resilience discipline includes cybersecurity, it also goes much further.
Read more...
---
Avoiding human error at ports
LD Africa Transport (Industry) CCTV, Surveillance & Remote Monitoring Products Logistics (Industry)
LD Africa introduced a local port to the AxxonSoft Port Security System ,a solution that helps overcome the element of human error and eliminate paperwork.
Read more...
---
Compact, lightweight bullet cameras with support for analytics
Axis Communications SA Products CCTV, Surveillance & Remote Monitoring
Axis Communications announced two new outdoor-ready bullet-style cameras featuring deep-learning processing units for analytics based on deep learning on the edge.
Read more...
---
Numerous challenges for transport and logistics
Transport (Industry) CCTV, Surveillance & Remote Monitoring Security Services & Risk Management Logistics (Industry)
Operators are making significant investments in automation and digitalisation in order to address security concerns, improve loss prevention as well as efficiency, and reduce unit order costs.
Read more...
---
A key to urban transport challenges
Axis Communications SA Transport (Industry) CCTV, Surveillance & Remote Monitoring Integrated Solutions Logistics (Industry)
There are many enabling technologies that can impact transportation in South Africa, but a good place to start is by considering the applications for smart physical technology with the ability to collect and respond to data.
Read more...
---
From the editor's desk: Security and resilience
Technews Publishing News
It's often said that South Africans are a resilient bunch, and history has proven this correct. When it comes to security, both cyber and physical, resilience is key to an effective defensive plan. ...
Read more...
---
Hikvision aims for solutions
Technews Publishing Hikvision South Africa Editor's Choice CCTV, Surveillance & Remote Monitoring News Integrated Solutions Conferences & Events
Hikvision recently held a roadshow titled Industry X, where the company highlighted its latest products and solutions, supported by partners and distributors.
Read more...
---
ADI Expo returns to South Africa
Technews Publishing ADI Global Distribution News
September saw the return of the ADI Expo to South Africa. The Johannesburg event was held at the Focus Rooms and the Durban event, two days later, at the Southern Sun Elangeni & Maharani.
Read more...
---
Technoswitch Awards dinner for 2022
Technews Publishing News Fire & Safety
Technoswitch hosted its fifth awards dinner at Montecasino in September, where customers and suppliers celebrated a year of success.
Read more...
---