printer friendly version
Observing body worn cameras
CCTV Handbook 2015
CCTV, Surveillance & Remote Monitoring
Body worn cameras (BWC) are becoming a common site in some European cities and even in a limited number of American instances. These cameras promise to improve policing, or guarding, as well as keep an accurate record of interactions with the public and criminals.
Looking at many of the marketing materials from BWC vendors, it is clear that they promote efficiency and accountability, but what happens in the real world? Looking at BWC in a South African context, what will happen when cameras are subject to the realities of life on patrol and potentially guards who see BWC as an intrusion? Moreover, how will this technology perform in a country where crime is common and adhering to the law the exception?
Local technology company BetaTrac has developed its own range of body worn technology for use in the guarding (and potentially the police) services in South Africa – see www.securitysa.com/8182a.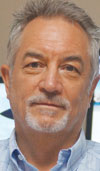 Keith Lawrence, CEO of BetaTrac.
Lawrence says BWC are used to monitor and record movement and interactions where there is a high density of people, such as at gatherings, sport arenas, international conferences etc. The systems serve to record and store the guard's or police's work as they go about it for future reference. However, its use can be extended further with the addition of telematics that work with BWC. For example, a guard's movements can be tracked via a management application, gathering data to help with a variety of non-threatening issues, such as training, optimal patrol routes etc.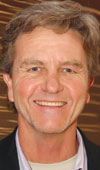 Howard Griffiths, MD of Security Service Consultants.
At the iLegal 2014 conference, Howard Griffiths, MD of Security Service Consultants delivered a presentation on BWC. Some of the benefits of these solutions he mentioned included acting as a silent witness in real time on the scene, as well as a way to regulate behaviour as when people know they are being filmed they act differently.
What to look for?
For those interested in BWC, we asked Lawrence what features and functionality he advises potential users to look for in a BWC solution. Of course the solution chosen must include a reliable and robust camera, capable of recording clear images in almost any situation. However, Lawrence says that to make the most of body-worn technology, it should also incorporate additional control or monitoring mechanisms, such as GPS. Using the GPS for tracking automatically results in cost cutting on the one hand, while giving the asset owner a visual history.
Audio is essential on the recording device as it assists in a thorough performance assessments of guards 'in the line of duty'. Of course, an easy to reach panic button is also needed for emergencies and protection.
Another crucial element of BWC is training. While the wearer may initially see it as an intrusion, the correct training will ensure it is seen as a necessary and even life-saving accessory. The correct use of the systems will also allow for evidence collection in real time at the scene of the crime, something not previously available in court.
At iLegal 2014, Griffiths explained that being the first on the scene allows guards or police to capture crucial crime scene evidence which would normally rely on eye-witness testimony – and recent events in the South African judicial system have shown how easily witnesses can be badgered and confused by a good defence lawyer. It also allows for on-the-scene confessions and interrogations, which can be recorded before the suspect has a chance to 'make up a story'.
And with additional telematics as part of the solution, should the guard switch the device off or try to damage it, the control room will immediately be notified as the system will see it as an emergency that needs to be addressed.
Griffiths also noted that the cameras used in BWC solutions must adhere to all the standards that apply to traditional surveillance cameras. For example, it must record the time and date accurately, it must be recorded in a manner that the courts will accept and it must be managed so that no deletions or changes can be made.
BetaTrac imports the hardware for its BWC solutions, but assembles them locally and has developed its own software management platform complete with geographic mapping and DVR – depending on the options chosen by the customer.
While BWC are still reasonably new in South Africa, the benefits of these systems is obvious and if the guarding companies don't want to adopt the technology, their customers may insist on it as another layer to ensure their safety and security.
For more information contact Betatrac Telematic Solutions, +27 (0)11 782 5335, keith.lawrence@betatrac.com, www.betatrac.com or Security Service Consultants, +27 (0)11 786 8556, howard@griffithsonline.co.za, www.sscinfo.co.za
Credit(s)
Further reading:
Smart water management
Axis Communications SA CCTV, Surveillance & Remote Monitoring Integrated Solutions
South Africa is currently facing a water crisis, with scarcity and inefficient water management posing significant challenges to sustainable, consistent access to water. Smart technology and powerful partnerships may offer a proactive solution to SA's water crisis.
Read more...
---
Helping retailers optimise monitoring and security
Guardian Eye Retail (Industry) CCTV, Surveillance & Remote Monitoring
From a smart retail perspective, it is crucial to understand that monitoring stock and other assets through camera surveillance and a variety of Internet of Things (IoT) sensors stretches further than the stores themselves.
Read more...
---
Empowering Istanbul's public transportation
Dahua Technology South Africa CCTV, Surveillance & Remote Monitoring Integrated Solutions
Dahua's intelligent transportation solution, using technologies like DSM and AI-based passenger flow counting, has facilitated an intelligent system upgrade for nearly 6 400 minibuses and electric buses in Istanbul.
Read more...
---
Smart manufacturing redefined
Hikvision South Africa CCTV, Surveillance & Remote Monitoring Industrial (Industry)
AI and intuitive visualisation technology allows managers to monitor manufacturing sites, production, and operational processes, and to respond in real time in the event of an issue – helping to drive efficiency and productivity.
Read more...
---
AI is getting smarter, and critical infrastructure is set to benefit
Axis Communications SA CCTV, Surveillance & Remote Monitoring
With technology advancing at an astonishing pace, AI has emerged as a defining trend in today's business arena. Enterprises across all sectors are prioritising this technology, embracing its transformative potential to drive change and growth.
Read more...
---
Collaboration delivers integrated and holistic security
Guardian Eye CCTV, Surveillance & Remote Monitoring News Integrated Solutions
Guardian Eye and Lytehouse have partnered to integrate their speciality solutions and provide a holistic security offering that overcomes the fragmentation of security systems and services.
Read more...
---
Manage security systems remotely
Hikvision South Africa CCTV, Surveillance & Remote Monitoring IT infrastructure Products
Hikvision launched a new generation of smart managed switches that, in conjunction with the Hik-Partner Pro mobile app, enable installers to remotely deploy and configure security systems with comprehensive operation and maintenance capabilities.
Read more...
---
Synology enhances functions for advanced surveillance integration
Technews Publishing CCTV, Surveillance & Remote Monitoring IT infrastructure Products
With the capability to function as both an API client and server, Surveillance Station offers a versatile platform for integration, whether it's embedding video streams into other platforms or overlaying external data onto recorded video.
Read more...
---
SMART Surveillance Conference 2023
Technews Publishing Editor's Choice CCTV, Surveillance & Remote Monitoring Conferences & Events
Some people think the future is all about cloud technologies, but the SMART Surveillance conference demonstrated that AI is making edge surveillance much more attractive, over distributed sites, than ever before.
Read more...
---
Supporting CCTV intelligence with small and big data
Leaderware Editor's Choice CCTV, Surveillance & Remote Monitoring
The increasing development of AI and its role in enhancing investigation-led surveillance, and the increasing capacity of control rooms and local analysts to deliver data in return, can increase the synergy between intelligence and surveillance.
Read more...
---