printer friendly version
Observing body worn cameras
April 2015
CCTV, Surveillance & Remote Monitoring
Body worn cameras (BWC) are becoming a common site in some European cities and even in a limited number of American instances. These cameras promise to improve policing, or guarding, as well as keep an accurate record of interactions with the public and criminals.
Looking at many of the marketing materials from BWC vendors, it is clear that they promote efficiency and accountability, but what happens in the real world? Looking at BWC in a South African context, what will happen when cameras are subject to the realities of life on patrol and potentially guards who see BWC as an intrusion? Moreover, how will this technology perform in a country where crime is common and adhering to the law the exception?
Local technology company BetaTrac has developed its own range of body worn technology for use in the guarding (and potentially the police) services in South Africa – see www.securitysa.com/8182a.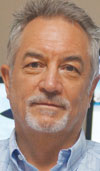 Keith Lawrence, CEO of BetaTrac.
Lawrence says BWC are used to monitor and record movement and interactions where there is a high density of people, such as at gatherings, sport arenas, international conferences etc. The systems serve to record and store the guard's or police's work as they go about it for future reference. However, its use can be extended further with the addition of telematics that work with BWC. For example, a guard's movements can be tracked via a management application, gathering data to help with a variety of non-threatening issues, such as training, optimal patrol routes etc.
Howard Griffiths, MD of Security Service Consultants.
At the iLegal 2014 conference, Howard Griffiths, MD of Security Service Consultants delivered a presentation on BWC. Some of the benefits of these solutions he mentioned included acting as a silent witness in real time on the scene, as well as a way to regulate behaviour as when people know they are being filmed they act differently.
What to look for?
For those interested in BWC, we asked Lawrence what features and functionality he advises potential users to look for in a BWC solution. Of course the solution chosen must include a reliable and robust camera, capable of recording clear images in almost any situation. However, Lawrence says that to make the most of body-worn technology, it should also incorporate additional control or monitoring mechanisms, such as GPS. Using the GPS for tracking automatically results in cost cutting on the one hand, while giving the asset owner a visual history.
Audio is essential on the recording device as it assists in a thorough performance assessments of guards 'in the line of duty'. Of course, an easy to reach panic button is also needed for emergencies and protection.
Another crucial element of BWC is training. While the wearer may initially see it as an intrusion, the correct training will ensure it is seen as a necessary and even life-saving accessory. The correct use of the systems will also allow for evidence collection in real time at the scene of the crime, something not previously available in court.
At iLegal 2014, Griffiths explained that being the first on the scene allows guards or police to capture crucial crime scene evidence which would normally rely on eye-witness testimony – and recent events in the South African judicial system have shown how easily witnesses can be badgered and confused by a good defence lawyer. It also allows for on-the-scene confessions and interrogations, which can be recorded before the suspect has a chance to 'make up a story'.
And with additional telematics as part of the solution, should the guard switch the device off or try to damage it, the control room will immediately be notified as the system will see it as an emergency that needs to be addressed.
Griffiths also noted that the cameras used in BWC solutions must adhere to all the standards that apply to traditional surveillance cameras. For example, it must record the time and date accurately, it must be recorded in a manner that the courts will accept and it must be managed so that no deletions or changes can be made.
BetaTrac imports the hardware for its BWC solutions, but assembles them locally and has developed its own software management platform complete with geographic mapping and DVR – depending on the options chosen by the customer.
While BWC are still reasonably new in South Africa, the benefits of these systems is obvious and if the guarding companies don't want to adopt the technology, their customers may insist on it as another layer to ensure their safety and security.
For more information contact Betatrac Telematic Solutions, +27 (0)11 782 5335, keith.lawrence@betatrac.com, www.betatrac.com or Security Service Consultants, +27 (0)11 786 8556, howard@griffithsonline.co.za, www.sscinfo.co.za
Credit(s)
Further reading:
Why rehearsals and drills for crises and evacuation are so important
August 2019, Leaderware , CCTV, Surveillance & Remote Monitoring, Security Services & Risk Management
The rehearsal of concept (ROC) drill has been used extensively in the military, but is just as important when facing risks in organisations and institutions to protect people on the ground.
Read more...
---
Milestone partners prove their skills
August 2019, Milestone Systems , News, CCTV, Surveillance & Remote Monitoring, Training & Education
Within the span of one week in mid-May, the Milestone Learning & Performance group celebrated important benchmarks: 200 000 course registrations and tutorial views, and 10 000 certifications.
Read more...
---
ONVIF Hosts 20th Developers' Plugfest
August 2019 , News, CCTV, Surveillance & Remote Monitoring
ONVIF, the global standardisation initiative for IP-based physical security products, hosted its twentieth ONVIF Developers' Plugfest in early June in Tokyo.
Read more...
---
Licence plate recognition camera
August 2019 , Products, CCTV, Surveillance & Remote Monitoring
VIVOTEK has introduced a new licence plate recognition camera featuring built-in licence plate recognition software and edge-computing capability.
Read more...
---
Securing Savannah Hills Estate
August 2019, Rhyco Risk Projects , CCTV, Surveillance & Remote Monitoring, Perimeter Security, Alarms & Intruder Detection
Savannah Hills Estate in Midrand planned a security upgrade which was awarded to Rhyco Risk Projects. The project started in March 2019 and was completed in May 2019.
Read more...
---
10 things to consider when shopping for a VMS
August 2019, Genetec , CCTV, Surveillance & Remote Monitoring, Integrated Solutions
Today's video management systems (VMS) provide a wide range of tools and capabilities that help make security personnel more efficient by allowing them to focus on what really matters.
Read more...
---
How far are we really at with artificial intelligence?
August 2019, Axis Communications SA , Editor's Choice, CCTV, Surveillance & Remote Monitoring, IT infrastructure, Residential Estate (Industry)
Justin Ludik unpacks exactly how far AI has come and what it potentially can do for society and more importantly, surveillance.
Read more...
---
Enhancing security with AI
August 2019, Hikvision South Africa , CCTV, Surveillance & Remote Monitoring
Hikvision explains how residential estates can revolutionise their security strategies and outcomes with artificial intelligence.
Read more...
---
More than simply a camera
August 2019, Forbatt SA, Secutel Technologies , CCTV, Surveillance & Remote Monitoring, Residential Estate (Industry)
With the human element being the weakest link in all security solutions, Hi-Tech Security Solutions looks at the pros and cons of using body-worn cameras in estates.
Read more...
---
The importance of effective perimeter security
August 2019, Elf Rentals - Electronic Security Solutions, Stafix , Editor's Choice, CCTV, Surveillance & Remote Monitoring, Residential Estate (Industry)
Protecting the perimeter is critical for any residential estate; how does one go about making sure your perimeter is as secure as possible?
Read more...
---