printer friendly version
Remote monitoring means ­business
CCTV Handbook 2015
CCTV, Surveillance & Remote Monitoring
Video surveillance and CCTV solutions have become essential components of business security, providing visual evidence of misdeeds and their perpetrators, which acts as an effective deterrent for most petty crimes. However, CCTV on its own is a reactive tool at best, and organisations can only go back after an event has taken place to see what exactly happened and who was to blame.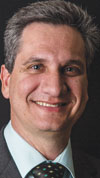 Laurence Smith, executive at Graphic Image Technologies.
Monitoring this surveillance requires someone to physically watch a monitor at the business's premises, a process that is prone to human error. Unlocking the true business value of video surveillance requires the addition of remote monitoring that enables footage to be viewed from anywhere, and intelligence to provide alerts as to when events happen. This can then be used to prevent unwanted events and behaviour, or at least stop them before they can progress too far, and can provide a number of additional benefits.
Utilising video surveillance and CCTV monitoring, businesses of all sizes can boost security by providing better perimeter protection, detecting intruders and using footage to lay criminal charges against perpetrators. CCTV also acts as a deterrent in many instances, helping to reduce the amount of crime a business is subjected to. This benefit is well known and documented.
For example, according to a paper released by the policesecretariat.gov.za titled 'An assessment around closed circuit television surveillance with reference to the Benoni project', "CCTV appeared to have a reducing effect on property crime (mainly burglary of business premises and vehicle-related crime), but only in the areas covered by the camera." This clearly illustrates the crime prevention effect of video surveillance.
However, the applications of traditional CCTV solutions are limited, as the true benefits can only be derived by monitoring the surveillance. Without remote capabilities, this requires personnel to be present on the premises and watching footage 24/7 to spot unusual activity. The trouble with this is, of course, the human element. People get bored and it has been proven that after staring at a video screen for more than 20 minutes, guards will miss activity that should be followed up. Remote monitoring solutions that incorporate intelligent alerting features are the ideal solution to this challenge, in addition to providing further benefits to business beyond improved security.
Benefits beyond surveillance
Remote monitoring solutions with intelligent functionality that automates alerts when abnormal events occur can offer many advantages. Firstly, with remote capabilities sites can be monitored 24 hours a day, seven days a week, 365 days a year without the need to physically be on site. Remote monitoring is now also possible on a range of smart devices using sophisticated compression algorithms that enable transmission of small, high quality video feeds. This means that security companies can do their job effectively, while the business owner or manager keep an eye on the situation him or herself with a connected smartphone, tablet or PC, offering additional peace of mind.
Automated alerts let the correct people know immediately when events occur, such as a person appearing in a restricted area or someone crossing a perimeter where they should not. These parameters can be customised according to the security needs of the individual organisation. This removes the manual, error-prone human element of monitoring, ensuring that in the event of an incident the correct parties are notified immediately so that appropriate action can be taken. This also increases cost effectiveness, as it is no longer necessary to have a guard manning a security desk on the premises, or to have someone constantly monitoring the video feeds.
For response purposes, video provides visual confirmation of events so that security personnel can see immediately what the situation is and respond accordingly. This not only ensures the right action is taken, it also enhances the security of these personnel in what is often a dangerous job. Furthermore, with remote monitoring it is possible to tightly control access on all levels, in all areas, preventing unauthorised persons from entering areas where they are not permitted to be – whether these are criminals or employees accessing the wrong areas. For businesses with multiple locations, remote locations or unmanned locations, remote monitoring also provides many benefits.
Aside from improving security however, remote monitoring and video surveillance can also be used to improve operational processes and deliver enhanced performance management, particularly in remote sites where having a supervisor on duty onsite at all times may not be viable. A visual oversight of businesses, in remote locations or in areas like warehouses, shop fronts and so on, helps managers to obtain an accurate view of performance and adherence to processes and safety guidelines, for example. This in turn can then be used to modify dangerous or undesirable practices to improve operational performance. CCTV solutions can also be linked into time and attendance solutions as well as access control, to verify time sheets and ensure that staff are not accessing restricted areas that they do not have permission to enter.
Security is a top of mind concern for the majority of South African businesses, and video surveillance is an essential addition to a complete security solution. However, leveraging the full potential of surveillance requires remote monitoring to deliver improved reaction times, enhanced deterrent effect and other benefits such as operational performance improvements. The ability to monitor live video feeds and be alerted when events occur is critical in leveraging full value from CCTV investment.
Credit(s)
Further reading:
Mount Nelson opts for cloud surveillance
CCTV, Surveillance & Remote Monitoring Entertainment and Hospitality (Industry)
IOT Revolution Technologies, in partnership with MeyCom, will be implementing over 250 cloud driven Verkada cameras at the Belmond Mount Nelson Hotel.
Read more...
---
Avoiding human error at ports
LD Africa Transport (Industry) CCTV, Surveillance & Remote Monitoring Products Logistics (Industry)
LD Africa introduced a local port to the AxxonSoft Port Security System ,a solution that helps overcome the element of human error and eliminate paperwork.
Read more...
---
Compact, lightweight bullet cameras with support for analytics
Axis Communications SA Products CCTV, Surveillance & Remote Monitoring
Axis Communications announced two new outdoor-ready bullet-style cameras featuring deep-learning processing units for analytics based on deep learning on the edge.
Read more...
---
Numerous challenges for transport and logistics
Transport (Industry) CCTV, Surveillance & Remote Monitoring Security Services & Risk Management Logistics (Industry)
Operators are making significant investments in automation and digitalisation in order to address security concerns, improve loss prevention as well as efficiency, and reduce unit order costs.
Read more...
---
A key to urban transport challenges
Axis Communications SA Transport (Industry) CCTV, Surveillance & Remote Monitoring Integrated Solutions Logistics (Industry)
There are many enabling technologies that can impact transportation in South Africa, but a good place to start is by considering the applications for smart physical technology with the ability to collect and respond to data.
Read more...
---
Hikvision aims for solutions
Technews Publishing Hikvision South Africa Editor's Choice CCTV, Surveillance & Remote Monitoring News Integrated Solutions Conferences & Events
Hikvision recently held a roadshow titled Industry X, where the company highlighted its latest products and solutions, supported by partners and distributors.
Read more...
---
Reliable, low-maintenance video appliances
Technews Publishing Editor's Choice CCTV, Surveillance & Remote Monitoring News IT infrastructure Products
Symetrix, part of the Agera Group, has added the AES range of video recording servers, storage appliances and workstations to its portfolio.
Read more...
---
A new full-colour era
Dahua Technology South Africa CCTV, Surveillance & Remote Monitoring
Traditionally, there have been two options for using surveillance cameras in the dark: flooding the scene with visible light, or alternatively using infrared (IR) illumination.
Read more...
---
AIoT delivers dynamic digital platforms
Hikvision South Africa CCTV, Surveillance & Remote Monitoring
Many stadiums or venues are seeking new, smart solutions that can help venue operators to stay on top of real-time situations dynamically on digitally driven platforms, and to achieve more efficient and sustainable venue management.
Read more...
---
Upgraded security and AI monitoring at upmarket estate
Watcher Surveillance Solutions Editor's Choice CCTV, Surveillance & Remote Monitoring Integrated Solutions Residential Estate (Industry)
Estate upgrades and enhances its security through a partnership between surveillance specialist Watcher and the incumbent guarding company.
Read more...
---