printer friendly version
Analogue is very undead
April 2015
CCTV, Surveillance & Remote Monitoring
As much as the IP vendors would have you believe that analogue surveillance is dead and gone, this technology refuses to go quietly. It's true that we're seeing an increasing amount of IP technology sold every year and a decrease in the number of analogue sales, but dead is an exaggeration.
To show just how alive it is, the analogue vendors have developed an HD version of the technology that offers high-resolution images over your old analogue infrastructure. Actually, and unfortunately for the industry, there are a number of HD analogue (or HDCCTV) technologies (or standards) available at the moment, offering different solutions for analogue HD needs. This is an unfortunate state of affairs because there is at present no consolidated offering to analogue users that will get them upgraded to HD – but that may change.
We asked three companies significantly invested in HDCCTV to tell us about the latest happenings in this field, and about what technology is available.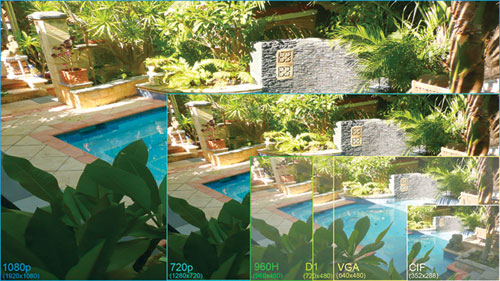 Image courtesy of HiTek Security.
Analogue HD standards
Tomer Clyde Elhadad of HiTek Security explains that there are three major HD standards available: HDCVI, HDTVI and AHD, all of which provide similar solutions quality wise. The main difference is price. "CVI is the more expensive of the three options. TVI and AHD will lead the market and at the moment we can see the 720p solution already available. In the near future we will see the 1080p solution on the market."
HDCVI, driven by Dahua, already provides 720p as well as 1080p resolution to its users, but to date the three standards are not interoperable.
One of the first questions one has to ask after a couple of years of different companies promoting different analogue HD formats, is how has the market responded? Have existing analogue clients made the move to HD and is it as smooth and hassle-free as traditional analogue video?
John Li, CVI product manager at Dahua Technology, is positive about the new technology, saying it is making ground in the market. "HDCCTV stands out due to its non-latency HD transmission," she says. For example, for applications such as casinos, where there are very strict rules about what and how surveillance must perform, HDCCTV is gaining traction.
Elvey's Ingo Mutinelli agrees, noting HDCCTV has made a positive impact on the market especially in those areas where HD quality is requested, but IP costs or network limitations are prohibitive. "Because analogue is also easier to set up, it is attractive to many installers that aren't quite up to speed on IP as yet."
Elhadad also sees more interest, but he mentions one of the newer HDCCTV formats, AHD is becoming popular because the price is almost similar to analogue, it makes it an easy decision for the installer.
Simpler upgrading
One of the selling points of HD analogue is that it uses your old infrastructure, making it easier to just get new cameras and DVRs and plug them in – hopefully. Of course, different formats have different requirements, as discussed in another article in this section of the CCTV Handbook 2015.
Li says Dahua's HDCVI technology does in fact provide for an easy upgrade as it simply requires changing the camera and DVRs, the coaxial cable can be preserved for further using. Elhadad says the same of AHD: "Once you have an existing analogue system, you will have to change your DVR recorder with an AHD recorder, and your cameras with a AHD cameras in order to upgrade, the rest of the infrastructure stays the same (cable, PSU, etc)."
Elhadad says an important advantage AHD has is the fact that the DVR can support AHD and analogue on the same unit, meaning you can connect analogue cameras together with AHD cameras. Moreover, the Provision ISR AHD cameras can be AHD or analogue, simply by pressing a button on the cameras.
"It's as simple as plug-and-play," adds Mutinelli. "If you are using the same make HDVR and HDCCTV cameras, it's as simple as setting up a conventional analogue system. If you have an existing site, you need to change the old DVR to the HDVR, but can use the existing cameras that don't need to be of HD quality and replace only those that you do need higher quality from with HDCCTV cameras."
Elvey provides the Dahua HDCVI, now in its second generation of cameras that offer varifocal and motorised lenses. Li adds that in addition to HDCVI, for which the company offers cameras, tribrid DVRs (compatible with IP, analogue, HDCVI signals) to transmitters and other accessories, Dahua also provides traditional analogue solutions, such as its HDIS portfolio with more than 700TVL.
Provision ISR has decided to go with AHD technology, according to Elhadad, and will provide two options for clients, the ECO AHD and PRO AHD 2 1.3 MP cameras series aimed at the budget client. For the more professional installer, it provides the PRO Series cameras (with Sony chipset), with a full range of cameras, including a DVR range of up to 16 channels.
It is therefore clear that analogue users have a choice and analogue installers will still be in business for some time. Eventually the benefits of IP will erode the usefulness of analogue, but that is not something to lose sleep about just yet.
For more information contact: Elvey Security Technologies, +27 (0) 11 401 6700, info@elvey.co.za, www.elvey.co.za; Dahua, +86 571 8768 8883, overseas@dahuatech.com; HiTek Security Distributors, +27 (0)21 946 3344, sales@hiteksecurity.net, www.hiteksecurity.net
Credit(s)
Further reading:
Shorten your checkout lines to enhance customer experience
September 2019, Hikvision South Africa , Retail (Industry), CCTV, Surveillance & Remote Monitoring
Hikvision's queue detection technology is purpose-built to offer cutting-edge flow analysis to retail outlets and any situation where waiting to pay is required.
Read more...
---
Constructive CCTV contributions to research
September 2019, Leaderware , Editor's Choice, CCTV, Surveillance & Remote Monitoring
Study leads to understanding that we need more recognition and reward for constructive participation in society.
Read more...
---
New Africa sales manager for Axis Communications
September 2019, Axis Communications SA , News, CCTV, Surveillance & Remote Monitoring
Axis Communications has appointed Brendon Hall, previously the founder and MD of Pentagon, as its new sales manager, Africa.
Read more...
---
Hikvision helps secure African Union Summit
September 2019, Hikvision South Africa , News, CCTV, Surveillance & Remote Monitoring
Hikvision established a complete intelligent video solution to ensure the security of the thirty-third African Union (AU) Summit held on 7 July in Niamey, the capital of Niger.
Read more...
---
Genetec to integrate CylancePROTECT
September 2019, Genetec , Editor's Choice, CCTV, Surveillance & Remote Monitoring, News
Genetec has announced it is partnering with Cylance, a business unit of Blackberry, to bring AI-based antivirus protection to its appliance customers.
Read more...
---
Dashcams useful for more than social media
September 2019, Graphic Image Technologies , CCTV, Surveillance & Remote Monitoring, Transport (Industry)
Logistics companies need to make sure that they have a complete solution that allows real-time driver monitoring and event notifications as they happen.
Read more...
---
Best in class at sea and ashore
September 2019, Axis Communications SA , Transport (Industry), CCTV, Surveillance & Remote Monitoring
Thermal network cameras support the guard tour function that can be used for continuous monitoring of a particular area according to the pre-set guard tour.
Read more...
---
Visitor access control at Ruimsig Country Club
September 2019, Elvey Security Technologies , Access Control & Identity Management, Products
Cost-effective access control solution that would control the ingress and egress of people, without hindering the traffic throughput of members.
Read more...
---
Improving operational efficiency through surveillance
September 2019 , CCTV, Surveillance & Remote Monitoring, Products
Today?s surveillance systems are no longer just about monitoring, but more so the intelligence that sits on the camera and what businesses can do with that information proactively.
Read more...
---
New thermal/visual drone
September 2019 , CCTV, Surveillance & Remote Monitoring, Products
New drone equips security professionals and first responders with a reliable everyday tool for dynamic operations in challenging environments.
Read more...
---