printer friendly version
Big market potential in small systems
CCTV Handbook 2015
CCTV, Surveillance & Remote Monitoring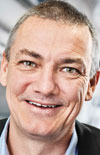 Johan Paulsson, Axis Communications.
Even though most businesses are now well aware of the benefits of IP video surveillance and network-based security solutions are expected to reach a tipping point to overtake the legacy analogue technology in 2015, most small- to medium-sized organisations are still stuck with old analogue systems.
Many of these analogue cameras are with no support and have not worked well for some time. They are mainly used for live viewing while the recording function has either been abandoned (as it is no longer efficient for storage with physical tapes) or has stopped working altogether. There is a big opportunity for installers who can provide these small and medium sized businesses (SMBs) with a good service package, which offers them the option of either buying the hardware with the service, or leasing the cameras that come with a service agreement.
For instance, according to the Annual Centre for Retail Research survey looking into the use of CCTV in retail, over 60 per cent of UK retailers are planning to adopt IP video surveillance in the next three years.
Omid Ghannad, owner of security installer GH Data in Sweden, pointed out that price is often the determining factor for SMBs. There is also the challenge of the lack of knowledge about what's on offer from network cameras. "It really helps answer a lot of questions when we demonstrate even the basic features of the IP-based solutions", added Ghannad.
There is also an increasing need from customers to demand more from video surveillance solutions – other than straightforward security. For example, a caretaker who oversees the garbage rooms within a region used to have to drive from place to place to review each room, which he gets to check on once a week as it's time consuming to drive around every single one of them on a daily basis. But with the help of network cameras, he can see the status of each room remotely and in real-time. It saves him time and the expenses to travel, not to mention that it's much better for the environment.
Improved security
For medium-sized organisations, being able to see different offices or shops anywhere and anytime has become an appealing reason for installing IP-based cameras.
GH Data has been working with hairdresser SKULT to improve the security of the retail chain. The owner of SKULT had been looking into getting a security system for each shop but the cost of installing one analogue system per shop was simply inefficient. The idea of having one video surveillance system hooked onto one network and across all sites was a simple and cost-effective solution to the problem.
Since installing the IP-based security system, the management of SKULT can now view every section of all sites including the shop floors, back offices, etc. from anywhere and anytime. The retail chain no longer needs to hire security guards to go around each shop before closing to check if the premises are empty. All this can be done remotely via the network cameras.
According to GH Data, a majority of its customers have had an old analogue system, and are looking into upgrading to IP video surveillance. A well-received recommendation is to start with a video encoder solution, in which users can integrate their existing analogue cameras with products that bring their system up to speed with the latest IP technology.
Video encoders give users the immediate network video benefits, as well as a platform to expand and update their infrastructure with IP-based cameras, software and networking/storage devices. Ghannad commented: "Once the customers have noticed the significant difference from analogue to digital, they would gradually upgrade to IP solutions. Many are very impressed with the huge difference in image quality."
Professional vendor support makes a big difference
Ghannad thinks that vendor support is key in helping installers materialise the huge market opportunity with SMBs. While having a wide camera range covering different needs is important, listening to market feedback is key to a successful partnership.
"We work with multiple camera vendors and often share with them our initial feedback as we tend to be the first group to try out new products. I was particularly impressed with one incident when tweaks were made within 24 hours after our feedback was sent back to the Axis product team. They really listen and act on our input," he said.
The SMB IP video surveillance market is expected to continue growing from 2015 and onwards. GH Data has already seen more than a double of the installations from last year.
One of the keys for installers to be successful with SMBs is to provide good service packages. While enterprises and other big organisations have their IT department to handle the initial installations, SMBs are relying on the installers to start with the technical process. However, the real competitive advantage lies with the installers who offer the best ongoing services that would add value to customers' businesses beyond security.
For more information contact Axis Communications, +27 (0)11 548 6780, sasha.bonheim@axis.com, www.axis.com
Credit(s)
Further reading:
Converged security plus operational benefits
Issue 2 2020, Technews Publishing, Hikvision South Africa, Axis Communications SA, Bosch Building Technologies , Healthcare (Industry)
Hi-Tech Security Solutions looks at how security can defend open and accessible healthcare organisations while assisting in daily operations?
Read more...
---
The importance of correct specifications
Issue 2 2020, Sensor Security Systems , CCTV, Surveillance & Remote Monitoring
To prevent the incorrect specification of CCTV equipment, Sensor Security has a comprehensive checklist to complete.
Read more...
---
Dahua unveils core products for 2020
Issue 2 2020, Dahua Technology South Africa , CCTV, Surveillance & Remote Monitoring
Dahua Technology unveiled its 2020 core products in Intersec Dubai, enabling and accelerating its AIoT transformation.
Read more...
---
Wireless HD CCTV network
Issue 2 2020 , CCTV, Surveillance & Remote Monitoring
Infinet Wireless' wireless solutions have been deployed in Ipswich town centre to improve safety and ensure hassle free HD surveillance.
Read more...
---
Hikvision launches LED display product line
Issue 2 2020, Hikvision South Africa , CCTV, Surveillance & Remote Monitoring
Hikvision has launched a full range of internally manufactured LED displays, providing high-definition colour imaging.
Read more...
---
Reinventing network camera security
Issue 1 2020, Axis Communications SA , CCTV, Surveillance & Remote Monitoring
Now in its seventh generation and celebrating its 20th anniversary, the Axis ARTPEC chip was launched in 1999 designed to optimise network video.
Read more...
---
Cloud-based fleet and driver management
Issue 1 2020, Graphic Image Technologies , CCTV, Surveillance & Remote Monitoring
Graphic Image Technologies (GIT) has announced the availability of a cloud-based dashcam designed to improve on-the-road behaviour and assist in improving fleet management.
Read more...
---
Axis gives a brighter future to children
Issue 1 2020, Axis Communications SA , Editor's Choice
Fully networked camera solution provides visibility and accountability, letting orphanage focus on what's important – its children.
Read more...
---
Cathexis specialises in integration
Issue 1 2020, Cathexis Technologies , CCTV, Surveillance & Remote Monitoring
The integration of multiple systems is intrinsic and essential to the goal of creating an effective and efficient operational environment.
Read more...
---
Do wireless networks meet modern surveillance demands?
Issue 1 2020, Duxbury Networking, RADWIN , CCTV, Surveillance & Remote Monitoring
It is predicted that video will account for 15,1 zettabytes (1 zettabyte = 1 trillion gigabytes) of data annually, which is more than any other IoT application.
Read more...
---