printer friendly version
Big market potential in small systems
CCTV Handbook 2015
CCTV, Surveillance & Remote Monitoring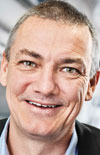 Johan Paulsson, Axis Communications.
Even though most businesses are now well aware of the benefits of IP video surveillance and network-based security solutions are expected to reach a tipping point to overtake the legacy analogue technology in 2015, most small- to medium-sized organisations are still stuck with old analogue systems.
Many of these analogue cameras are with no support and have not worked well for some time. They are mainly used for live viewing while the recording function has either been abandoned (as it is no longer efficient for storage with physical tapes) or has stopped working altogether. There is a big opportunity for installers who can provide these small and medium sized businesses (SMBs) with a good service package, which offers them the option of either buying the hardware with the service, or leasing the cameras that come with a service agreement.
For instance, according to the Annual Centre for Retail Research survey looking into the use of CCTV in retail, over 60 per cent of UK retailers are planning to adopt IP video surveillance in the next three years.
Omid Ghannad, owner of security installer GH Data in Sweden, pointed out that price is often the determining factor for SMBs. There is also the challenge of the lack of knowledge about what's on offer from network cameras. "It really helps answer a lot of questions when we demonstrate even the basic features of the IP-based solutions", added Ghannad.
There is also an increasing need from customers to demand more from video surveillance solutions – other than straightforward security. For example, a caretaker who oversees the garbage rooms within a region used to have to drive from place to place to review each room, which he gets to check on once a week as it's time consuming to drive around every single one of them on a daily basis. But with the help of network cameras, he can see the status of each room remotely and in real-time. It saves him time and the expenses to travel, not to mention that it's much better for the environment.
Improved security
For medium-sized organisations, being able to see different offices or shops anywhere and anytime has become an appealing reason for installing IP-based cameras.
GH Data has been working with hairdresser SKULT to improve the security of the retail chain. The owner of SKULT had been looking into getting a security system for each shop but the cost of installing one analogue system per shop was simply inefficient. The idea of having one video surveillance system hooked onto one network and across all sites was a simple and cost-effective solution to the problem.
Since installing the IP-based security system, the management of SKULT can now view every section of all sites including the shop floors, back offices, etc. from anywhere and anytime. The retail chain no longer needs to hire security guards to go around each shop before closing to check if the premises are empty. All this can be done remotely via the network cameras.
According to GH Data, a majority of its customers have had an old analogue system, and are looking into upgrading to IP video surveillance. A well-received recommendation is to start with a video encoder solution, in which users can integrate their existing analogue cameras with products that bring their system up to speed with the latest IP technology.
Video encoders give users the immediate network video benefits, as well as a platform to expand and update their infrastructure with IP-based cameras, software and networking/storage devices. Ghannad commented: "Once the customers have noticed the significant difference from analogue to digital, they would gradually upgrade to IP solutions. Many are very impressed with the huge difference in image quality."
Professional vendor support makes a big difference
Ghannad thinks that vendor support is key in helping installers materialise the huge market opportunity with SMBs. While having a wide camera range covering different needs is important, listening to market feedback is key to a successful partnership.
"We work with multiple camera vendors and often share with them our initial feedback as we tend to be the first group to try out new products. I was particularly impressed with one incident when tweaks were made within 24 hours after our feedback was sent back to the Axis product team. They really listen and act on our input," he said.
The SMB IP video surveillance market is expected to continue growing from 2015 and onwards. GH Data has already seen more than a double of the installations from last year.
One of the keys for installers to be successful with SMBs is to provide good service packages. While enterprises and other big organisations have their IT department to handle the initial installations, SMBs are relying on the installers to start with the technical process. However, the real competitive advantage lies with the installers who offer the best ongoing services that would add value to customers' businesses beyond security.
For more information contact Axis Communications, +27 (0)11 548 6780, [email protected], www.axis.com
Credit(s)
Further reading:
Avoiding human error at ports
LD Africa Transport (Industry) CCTV, Surveillance & Remote Monitoring Products Logistics (Industry)
LD Africa introduced a local port to the AxxonSoft Port Security System ,a solution that helps overcome the element of human error and eliminate paperwork.
Read more...
---
Compact, lightweight bullet cameras with support for analytics
Axis Communications SA Products CCTV, Surveillance & Remote Monitoring
Axis Communications announced two new outdoor-ready bullet-style cameras featuring deep-learning processing units for analytics based on deep learning on the edge.
Read more...
---
Numerous challenges for transport and logistics
Transport (Industry) CCTV, Surveillance & Remote Monitoring Security Services & Risk Management Logistics (Industry)
Operators are making significant investments in automation and digitalisation in order to address security concerns, improve loss prevention as well as efficiency, and reduce unit order costs.
Read more...
---
A key to urban transport challenges
Axis Communications SA Transport (Industry) CCTV, Surveillance & Remote Monitoring Integrated Solutions Logistics (Industry)
There are many enabling technologies that can impact transportation in South Africa, but a good place to start is by considering the applications for smart physical technology with the ability to collect and respond to data.
Read more...
---
Hikvision aims for solutions
Technews Publishing Hikvision South Africa Editor's Choice CCTV, Surveillance & Remote Monitoring News Integrated Solutions Conferences & Events
Hikvision recently held a roadshow titled Industry X, where the company highlighted its latest products and solutions, supported by partners and distributors.
Read more...
---
Reliable, low-maintenance video appliances
Technews Publishing Editor's Choice CCTV, Surveillance & Remote Monitoring News IT infrastructure Products
Symetrix, part of the Agera Group, has added the AES range of video recording servers, storage appliances and workstations to its portfolio.
Read more...
---
A new full-colour era
Dahua Technology South Africa CCTV, Surveillance & Remote Monitoring
Traditionally, there have been two options for using surveillance cameras in the dark: flooding the scene with visible light, or alternatively using infrared (IR) illumination.
Read more...
---
AIoT delivers dynamic digital platforms
Hikvision South Africa CCTV, Surveillance & Remote Monitoring
Many stadiums or venues are seeking new, smart solutions that can help venue operators to stay on top of real-time situations dynamically on digitally driven platforms, and to achieve more efficient and sustainable venue management.
Read more...
---
Upgraded security and AI monitoring at upmarket estate
Watcher Surveillance Solutions Editor's Choice CCTV, Surveillance & Remote Monitoring Integrated Solutions Residential Estate (Industry)
Estate upgrades and enhances its security through a partnership between surveillance specialist Watcher and the incumbent guarding company.
Read more...
---
Security solutions that go the distance
Avigilon Logistics (Industry) CCTV, Surveillance & Remote Monitoring Asset Management, EAS, RFID Transport (Industry)
Avigilon self-learning video analytics help detect potentially critical events and issue an alert within the ACC dashboard, allowing officers to then verify event alarms.
Read more...
---