printer friendly version
Making the right decisions
CCTV Handbook 2015 Security Services & Risk Management, CCTV, Surveillance & Remote Monitoring
A surveillance installation is more than putting a few cameras on the wall and connecting them to a control room. From the initial concept, through to the solution design, the roll out and the eventual live performance, all the phases are interlinked and require careful thought and planning.
Questions the customer needs to answer include what the company wants, how it plans to get it and what budget will be required versus what is available? Further along the process, decisions about hardware and software need to be made, as well as who will do what? Will the final system be run and managed by onsite staff, or will it be partially or completely outsourced?
In smaller installations, it may be sufficient to retain the services of an installer or integrator to manage the whole process. In large installations, however, consultants are often called in to oversee the planning and installation process.
Consultants are often the butt of jokes because they apparently talk a good talk and then get someone else to do the work before they collect a big cheque. This is obviously not a reasonable view of consultants as many of them form a critical component of successful system rollouts. Hi-Tech Security Solutions decided to find out what the role of consultants in large projects is, and how they advise clients on what is required.
To start with, the million-dollar question is: What benefit does a customer gain by using a consultant?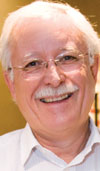 Rob Anderson, Rob Anderson & Associates.
Rob Anderson, MD of Rob Anderson & Associates, says that the consultant should be able to provide a number of services that the manufacturer or contractor generally does not, assuming the consultant is working off an engineering base. These include:
* Evaluate the requirements and define the total solution, regardless of product or system. This should provide improved integration and upgrade paths.
* Provide a clear functional specification that covers electronics, manpower and management.
* Document the requirements so that the system can be priced by a number of vendors. The offers are then all based on the same solution so the evaluation is easier. You don't need to try and understand what has been offered.
* The consultant should have enough ­experience to also evaluate any alternative solutions.
* During the construction phase, the consultant will ensure that what is delivered is what was priced and paid for.
* If there is any contractual conflict, the consultant is in a position to act as a neutral party.
* The consultant should also provide indemnity insurance against a faulty design.
If the consultant does not have an engineering consultancy, the client should only be using the security consultant to assist with the skill set that they are trained for. Likewise, if the consultant has not obtained experience in the non-technical part of security, this should be obtained via a sub consultant.
"A good engineering consultant needs to understand the process to provide a quality solution," Anderson says. "If this is achieved, the fee is saved in the total cost of ownership by the client. It works in all other consulting disciplines, so it should work in security."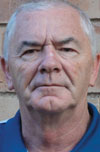 Brian Sharkey, SMC (Security Management Consultants).
Brian Sharkey from SMC (Security Management Consultants), adds, "Utilising the services of a completely independent consulting company that understands the client's business and that has the ability to design and source the best possible quality solutions that are fit for purpose for the clients specific needs at the best possible costs is key in selecting a consultant."
Sharkey notes that a good consultant will be able to take ownership and management of:
* The project from conception to conclusion.
* The relationship between the consultant/client and suppliers/installers and other entities.
* The ability of the consultant to think 'bigger picture' in terms of future add-ons and advancements in technology.
* The development of an on-going maintenance plan for all the equipment installed so that the equipment installed serves its purpose for its full term and beyond.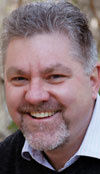 Dave Casey, RCN.
Dave Casey, CEO of RCN (Risk Consultancy Network), explains that CCTV systems can be complex and, more often than not, they are incorrectly specified when measured against actual requirements. "The unfortunate truth is that installers often only specialise in one or two brands and are thus blind to the benefits offered by other systems simply because they are unaware of other system capabilities or advantages. Using a reputable consultant solves this problem, but it costs money and is only justified in larger projects or in projects requiring complex integration."
He believes a good consultant will follow the following steps in order to deliver a system which meets the client's actual requirements:
* Take a detailed system requirement profile from the client.
* Workshop the elements of the system requirement with the role players by drilling into each element.
* Add value by suggesting refinements to the client's understanding of the deliverable.
* Compile a detailed system requirement for signature by the client. This should include detailed drawings of camera locations, fields of view and stated purpose of each camera etc.
* Provide detailed user requirement specification for integrated requirements.
* Provide budgets based on accurate bills of quantities.
* Provide a live system for the client to see and experience, which forms part of the acceptance process.
* Produce a tender pack which includes:
- The above documents.
- Installation specifications.
- Testing procedures and training requirements.
- An SLA to manage the system over a five-year period.
Project management and delivery to the client are the most critical components to the success of a new system. Far too many systems are delivered with no agreed specifications, resulting in disputes in terms of the delivered installation and operation of the system. The loser in this space is the client when in fact it should be the consultant.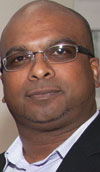 Logan Naidoo, CKR Consulting Engineers.
CKR Consulting Engineers' Logan Naidoo, notes that by using the services of a professional consulting engineer, the client gets "the benefit of the correct assessment of his requirements, optimal design and procurement of the best possible solution to answer the needs of a specific environment, such as banking, retail, offices, etc."
In the course of the project, the consultant would specify, design and implement the selected option, ensuring cost controls and delivery timelines. The systems must always be designed to South African and international industry standards, utilising the latest technologies available on the market. "The consultant will also ensure that the equipment is installed and handed over on time, and in line with the specified system."
Starting a project
The responsibilities of a consultant are therefore significant, and complex. But what does one do to get the ball rolling? What is the first step in a project?
Anderson says the first thing is to do is a survey of the site or premises, and develop a security plan. "With a security plan in place and agreed with the client, the next step is putting a design document together with drawings and specifications. This often goes beyond the electronic security to mechanical, civil and manpower related components. With a design in place and the specification defined, it is ready for pricing."
"An initial assessment by the consultant is very important," says Sharkey. "Once fully understanding what the current situation is, what the needs are, the nature and culture of the business, and what the client's vision is for his property or business, then the consultant can offer solutions, often offering solutions that will exceed expectations at little further cost."
"The type of building (mall, office block, data centre, bank, etc) and level of security required plays a role in selection of systems and the level required," says Naidoo. "By meeting with the client and assessing their needs and requirements assist in what systems need to be implemented. The client's budget also plays a major role in the equipment specification and level of security."
He adds that the knowledge and experience gained from implementing security systems for similar buildings and locations assists in advising the client on the best path forward.
Buying on price
One of the constant criticisms we hear is that South African companies are inclined to buy on price. Whether it's through ignorance of the benefits of better technology, or the drive to keep costs down no matter what the consequences, or any other reason, often the best plans and assessments are hamstrung by cost-based decisions.
So what does a consultant do to avoid this scenario? One doesn't want to go through the process of doing your homework and designing a good plan only to be told the cost is too much and efficacy needs to give way to budget. The resulting limitations on the efficacy of the system will generally cause more problems later on and nobody will be satisfied with the solution.
Anderson says because he first agrees on a security plan and then a design before looking at price, the price is often not an issue. "We also find that in many cases, we are able to find a more economic design than they had before, so the total cost is lower."
Then there is the comparison of guarantees and warranties on equipment; he says that usually makes it an easy decision. Pay 15% to 20% more and get a warranty of five years instead of one. "I often ask my client if he would buy his pacemaker on price or quality. Security is a life preservation system so the same principles apply."
Sharkey admits that cost control is an important issue for everyone. He suggests that when confronted with a limited budget, a phased-in approach or full maintenance leases can be considered. "Generally, however, we find that more expensive cameras or systems are not always the answer, with the exception of a particular product for particular needs, such as thermals.
"We have seen some exceptional results from some middle and upper product ranges and reputable products, while obviously avoiding the cheap and nasty options. The client contracts the consultant to find the best, most cost-effective solution and should be guided in this regard by the consultant."
Casey says RCN understands that specific cameras are required to fulfil specific requirements in diverse environments. There is no "one camera suits all" solution and the company therefore holds camera shootouts where the client is present to see for themselves how different cameras perform in different environments. "In this process we discard the specification sheets because the client requirements are based (more often than not) on a visual experience."
An initial risk assessment is important in determining what systems are required in what situations. Naidoo says that the risk analysis will indicate what is required, "and if it warrants a system with higher specifications, we advise the client accordingly, detailing the pros and cons of the various systems and allowing the client to make an informed decision."
Product agnostic or brand loyalty?
One complaint often heard in the security field is that a particular consultant always recommends a particular brand of products. The thinking is that this consultant may be on the payroll of that brand, or perhaps he simply sticks to the products he knows work as they should. Whatever the reason, most consultants do not stick to a brand irrespective of the job at hand. But it is important to know that your consultant is specifying the products that will deliver the solution you want now and over the long term.
Anderson says he has a group of manufacturers' products that he uses and, significantly, he does not consider every option available, because "there are too many products to play in a completely open field". He does, however, have rules regarding which products are on his list:
* Good support for the product in the area that it will be installed. Each region has its own product strengths.
* Recognised in the industry as a prominent product.
* Have sales and technical support in the area.
* Long guarantees.
* Reliability of product has been confirmed.
* Feedback from the security industry network. A few phone calls always provides the information you are looking for.
* And as always, testing the product ourselves if it is new.
Casey takes a similar approach, noting: "We operate in a market where reliability is paramount and for this reason we tend to stick to well-known brands with a proven track record. Important criteria are stock-holding, training capabilities, technical backup and availability. In the IP space, we are driving very hard to sign long-term deals on licensing issues to ensure the client understands all issues pertaining to these. Clients often do not understand the licensing terms, especially when the new versions offer no tangible benefits to their existing system."
What all the interviewees stress is the support aspect. For a brand to be considered in a large installation, it needs to have a reputable local support network. The days of sending faulty cameras overseas for repair are long gone.
Sharkey holds no specific brand loyalty. "As a consulting firm, we try wherever possible to use reputable brands in terms of product and importantly backup and support. We understand that surrounding ourselves with good quality products and installers reflects on our company."
CKR is also brand agnostic with Naidoo focused on offering the right products for clients' application/needs. At the same time, he also notes that the service/support from certain suppliers is extremely good and "therefore we tend to utilise products from these suppliers for high profile/critical/sensitive projects".
Back to school
While the consultants may not consider every product on the market for their projects, it is important for them to keep abreast of the latest developments in technology to be able to offer clients the best solutions for their needs. But in an industry that has a constant flow of new products and solutions, not to mention sales people always knocking on their doors to tell them about their latest 'state-of-the-art' technology, how do they keep up?
Anderson takes a philosophical and practical approach to new technologies, saying, "Change is generally a lot slower than people believe. The move into IP CCTV has taken years to mature. It is only getting there now. So there is plenty of time to evaluate the new products and follow their acceptance.
"In my world we will seldom be the early adopter of a brand new technology. It is just not the way you design big and critical projects. The new technology, when stable, could be an upgrade path for the design that was put in place. And it will also be less expensive later."
Once again, he has rules for new technology:
* The first rule is if the advert or spec appears to break all the rules of science, then drop it.
* If the spec is so amazing that there is nothing out there like it, then keep away from it.
* If the sales person cannot explain how it works – so you can understand it – then don't believe it.
* Lots of reading and developing a network of people in the industry is vital to be able to quickly get the latest information. The companies that rebrand products are often the best guide – they are looking for innovation as a full time job.</i>
Sharkey says SMC subscribes to a series of security publications, including Hi-Tech Security Solutions, and attends exhibitions both in South Africa and overseas. "Our ability to be aware of what advancements in technology solutions and products are available is a fundamental part of our business offering."
Naidoo also visits trade shows and expos to keep up to date, but also keeps in touch with a host of suppliers who update CKR on their latest products.
"This is the area where clients need to understand that our exposure in the market is via existing systems, managed on behalf of other clients, international shows and supplier presentations," says Casey. "All of these ­elements ensure that the experienced consultant is able to offer the client the best solution.
"Clients should always research the client-base of their proposed consultant and obtain first hand references. Consultants cost money because a portion of each cost goes towards the time spent in investigating new products on an ongoing basis, which benefits the client. Regrettably, there are poor consultants in the market who misrepresent their clientele. By way of example, we recently had a new client call for assistance; their consultant represented that they worked for a large petro-chemical company when in fact they did a small job on a petrol station forecourt."
For more information contact: CKR Consulting Engineers, +27 (0)11 217 7300, [email protected], www.ckr.co.za; RCN/Risk Consultancy Network, +27 (0)11 476 2502, [email protected], www.rcnet.co.za; Rob Anderson & Associates, +27 (0)31 267 4150, [email protected], www.robanderson.co.za; Security Management Consultants, +27 (0)11 795 2693, [email protected], www.smc.co.za
Credit(s)
Further reading:
Avoiding human error at ports
LD Africa Transport (Industry) CCTV, Surveillance & Remote Monitoring Products Logistics (Industry)
LD Africa introduced a local port to the AxxonSoft Port Security System ,a solution that helps overcome the element of human error and eliminate paperwork.
Read more...
---
Compact, lightweight bullet cameras with support for analytics
Axis Communications SA Products CCTV, Surveillance & Remote Monitoring
Axis Communications announced two new outdoor-ready bullet-style cameras featuring deep-learning processing units for analytics based on deep learning on the edge.
Read more...
---
Numerous challenges for transport and logistics
Transport (Industry) CCTV, Surveillance & Remote Monitoring Security Services & Risk Management Logistics (Industry)
Operators are making significant investments in automation and digitalisation in order to address security concerns, improve loss prevention as well as efficiency, and reduce unit order costs.
Read more...
---
Defining the resilience of cybersecurity
Cyber Security Security Services & Risk Management
Cyber resilience is less buzzword and more critical business strategy as the cybercrime landscape grows in intent and intensity.
Read more...
---
A key to urban transport challenges
Axis Communications SA Transport (Industry) CCTV, Surveillance & Remote Monitoring Integrated Solutions Logistics (Industry)
There are many enabling technologies that can impact transportation in South Africa, but a good place to start is by considering the applications for smart physical technology with the ability to collect and respond to data.
Read more...
---
Hikvision aims for solutions
Technews Publishing Hikvision South Africa Editor's Choice CCTV, Surveillance & Remote Monitoring News Integrated Solutions Conferences & Events
Hikvision recently held a roadshow titled Industry X, where the company highlighted its latest products and solutions, supported by partners and distributors.
Read more...
---
Reliable, low-maintenance video appliances
Technews Publishing Editor's Choice CCTV, Surveillance & Remote Monitoring News IT infrastructure Products
Symetrix, part of the Agera Group, has added the AES range of video recording servers, storage appliances and workstations to its portfolio.
Read more...
---
Technology and the future of security installation in South Africa
Editor's Choice Integrated Solutions Security Services & Risk Management
What are the technologies and trends shaping installation, service and maintenance teams globally, and how will they shape South African businesses today and in the future?
Read more...
---
Upgraded security and AI monitoring at upmarket estate
Watcher Surveillance Solutions Editor's Choice CCTV, Surveillance & Remote Monitoring Integrated Solutions Residential Estate (Industry)
Estate upgrades and enhances its security through a partnership between surveillance specialist Watcher and the incumbent guarding company.
Read more...
---
The technology wave implications for staff mismatches in control rooms
Leaderware Editor's Choice Security Services & Risk Management
An industry habit of looking at control rooms through a physical security lens has increasingly left clients and staff at a disadvantage in keeping up with control room technology and demands.
Read more...
---