printer friendly version
The dawn of intelligent security
CCTV Handbook 2015
News
Welcome to the CCTV Handbook 2015. We've collected a host of interesting and useful bits of information about the surveillance industry in this handbook in an attempt to provide our readers with an overview of the surveillance market. Naturally we can't cover everything there is to cover due to space restrictions, but we've tried to make it a comprehensive overview that's also an enjoyable and educational read.
One of the issues you will notice in this year's handbook is the trend to intelligence. We're not referring to intelligence gathered by video analytics alone, but what the IT-inclined refer to as business intelligence.
To be sure, video analytics have improved dramatically and can now deliver real value to a surveillance operation. Avigilon's recent spending spree clearly shows how important video analytics is becoming and we will still see amazing things happening over the next few years. The trend I'm referring to is to use your surveillance footage for non-security purposes.
Hi-Tech Security Solutions first noticed this trend in the breakfast sessions we held over the last year or two, where presenters started talking to marketers, operations and HR managers along with the usual security and risk managers. The idea is that, having a surveillance system that does what you want in terms of security, why not use that footage as a means to improve productivity or ensure adherence to standard operating processes, among other things.
The retail industry is the prime example everyone uses as it provides the easiest target for adding value to surveillance. In the course of the coming year, I expect we are going to see more examples of this type of intelligence being used in other industries with great success.
This year's handbook also includes a round-table consisting solely of end users responsible for the security of their companies. It was an interesting exercise as we all too often find ourselves influenced by vendors. Our round-table shows clearly that, while surveillance is important in the real world, it is only a part of a comprehensive security solution. The reality is that the more you can offer in terms of integration and value – that is, usable value (or intelligence) – the better you will do when approaching these guys. Selling a camera and a DVR is just not going to work.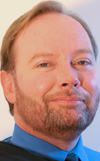 As usual, we also include our annual Camera Selection Guide to offer you a range of different cameras to evaluate in your buying decisions, as well as our DVR/NVR Round-Up. If you're in the market for new cameras or storage systems, this should be your first stop to gain a quick overview of what's out there and what the products offer.
I would like to thank everyone who contributed to the handbook – people took time out to speak to us and share their knowledge and we appreciate the efforts they made. We hope you enjoy the handbook and find value in it. If you have any comments or criticisms, or think there is something we need to include in the next one, please feel free to let me know on [email protected]. Your input is always valued.
Andrew Seldon
Editor
Credit(s)
Further reading:
Cyber resilience is more than cybersecurity
Technews Publishing Cyber Security Integrated Solutions IT infrastructure
Hi-Tech Security Solutions held a round-table discussion focusing on cyber resilience and found that while the resilience discipline includes cybersecurity, it also goes much further.
Read more...
---
Johnny Aucamp joins iPulse exco
News
Johnny Aucamp has joined iPulse Systems as its chief sales officer (CSO), adding a massive boost to the executive team.
Read more...
---
From the editor's desk: Security and resilience
Technews Publishing News
It's often said that South Africans are a resilient bunch, and history has proven this correct. When it comes to security, both cyber and physical, resilience is key to an effective defensive plan. ...
Read more...
---
Hikvision aims for solutions
Technews Publishing Hikvision South Africa Editor's Choice CCTV, Surveillance & Remote Monitoring News Integrated Solutions Conferences & Events
Hikvision recently held a roadshow titled Industry X, where the company highlighted its latest products and solutions, supported by partners and distributors.
Read more...
---
Olarm launches PRO 4G communicator
Olarm News Perimeter Security, Alarms & Intruder Detection Products
Olarm has announced an additional 4G/LTE version of its Olarm PRO smart communicator. It is aimed at areas suffering from poor connectivity by providing support for 4G, 2G and Wi-Fi networks.
Read more...
---
ADI Expo returns to South Africa
Technews Publishing ADI Global Distribution News
September saw the return of the ADI Expo to South Africa. The Johannesburg event was held at the Focus Rooms and the Durban event, two days later, at the Southern Sun Elangeni & Maharani.
Read more...
---
Technoswitch Awards dinner for 2022
Technews Publishing News Fire & Safety
Technoswitch hosted its fifth awards dinner at Montecasino in September, where customers and suppliers celebrated a year of success.
Read more...
---
Suprema joins FiRa Consortium
Suprema News Access Control & Identity Management
Suprema recently became a member of the FiRa Consortium, a consultative body that establishes standards for ultra-wideband (UWB) technology, the next generation of wireless communication.
Read more...
---
Reliable, low-maintenance video appliances
Technews Publishing Editor's Choice CCTV, Surveillance & Remote Monitoring News IT infrastructure Products
Symetrix, part of the Agera Group, has added the AES range of video recording servers, storage appliances and workstations to its portfolio.
Read more...
---
ZYTEQ Fire Engineering Summit 2022
ZYTEQ Fire Fire & Safety News
Cape Town-based ZYTEQ Fire hosted its inaugural Engineering Summit at the Commodore Hotel in Cape Town and the Leonardo Hotel in Sandton, Johannesburg.
Read more...
---