printer friendly version
Canon & Mirasys offer a strong solution for an integrated ­surveillance system
March 2015
CCTV, Surveillance & Remote Monitoring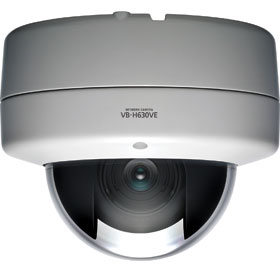 Canon recently announced eight new Full HD and 1.3 MP network cameras that combine developments in hardware design, such as improved PTRZ accuracy and resistance and enhanced control abilities, with the latest analytics and dual streaming capabilities to meet the market's most demanding monitoring needs.
Braam Steyn, business development manager, Canon South Africa, said: "Our new range of network cameras has been conceived for a wide variety of uses, including city surveillance, traffic and critical infrastructure monitoring, as well as indoor environments including airports, banks and casinos. With the H- and M-series, system integrators can now cater for an extremely wide range of environments, both indoors and outdoors, with one core model, while still delivering superb picture quality."
The new cameras are designed to balance low light performance, wide-angle views and high resolution with ease of use. Canon's network cameras are simple to install, compatible with ONVIF Profile S and are supported by an extensive warranty programme.
Canon is a registered Mirasys Platinum Technology Partner since 2014 – ensuring driver integration, and compatibility of new product as soon as it is available to the market. The first installations were completed last year and 2015 is looking very promising.
The only camera to use outdoors
The Full HD VB-H630VE (or the 1.3 MP VB-M620VE): These vandal-resistant dome cameras meet industry IP66 standards for dust and water protection. Offering an ultra-wide angle of view (111.0°) and 3x optical / 4x digital zoom, this model also has an advanced PTRZ installation function, helping to simplify initial set-up for system integrators. Once installed, the newly improved PTRZ mechanism ensures that the camera is far more resistant to adverse environments than ever before.

The only camera to use indoors
The Full HD VB-H630D (or the 1.3 MP VB-M620D): These fixed-dome cameras offer an ultra-wide angle of view (111.0°), 3x optical/4x digital zoom lens and feature the same improved PTRZ mechanism, delivering greater monitoring flexibility in indoor environments.
Mirasys ANPR+
The Mirasys ANPR+ (Automatic Number Plate Recognition) is a feature-rich automatic number plate recognition solution ideal for parking, vehicle entry and access control systems. Extremely scalable and easy integration with existing systems, it meets the requirements of both small- and large-scale business applications.
It has the best accuracy on the market and a very cost-effective management system for vehicle access control. Any camera connected to the ANPR+ system can be assigned to recognise visible number plates and support a wide range of IP cameras. It allows easy management of multiple cameras, ensuring a wide coverage of the sites, reducing installation and maintenance costs. The recognition engine is the heart of the system, which is highly accurate, and combines with further application level optimisation to avoid misreading.
Extremely configurable, Mirasys ANPR+ allows the creation of various scenarios for number plate logging, entry and exit controls, and limited access controls through both black and white lists. Entry and exit rights can be granted or denied through a configurable Web management application. The users can enter licence plates manually or by selecting automatically detected licence registers. Multiple users can have rights to create and maintain different access rules, allowing high flexibility and customisation.
Mirasys Carbon Reporting
Mirasys Carbon Reporting, also known as VCA, is a unique and valuable business intelligence tool that will help assist you getting the most out of your security system. It provides an extensive overview of alarms and events from multiple sources for analysing how the system is operating and how it can be improved.
With the Mirasys Carbon Reporting you can easily manage your data. The configured alarms and events are stored in a Microsoft SQL express database and can be effortlessly exported to Microsoft Excel, PowerPoint or Word as images or in list format. Pre-configured reports can be accessed without difficulty through bookmarks.
Audit trail reports provide a clear overview on all events in the system, allowing you to analyse staff workload, system usage, or to track a specific system modification. This will help you to make faster and better decisions, reduce the inefficiencies and strengthen the security system performance.
Security & Communication Warehouse stock a comprehensive range of security equipment from a large number of brands, including Canon and Mirasys. For further details or to find out how you can become a dealer of SCW, please contact +27 (0)12 653 1005 or e-mail marketing@securitywarehouse.co.za
Credit(s)
Further reading:
Drones and cybersecurity?
October 2019 , CCTV, Surveillance & Remote Monitoring
Hacker drones can eavesdrop electronically on conversations, can perform network attacks, or can create fake wireless access points.
Read more...
---
Body-worn cameras transforming security
October 2019 , CCTV, Surveillance & Remote Monitoring, Security Services & Risk Management
Police Service Northern Ireland now has over 7 000 officers using 2 500 cameras covering approximately 173 000 incidents each year.
Read more...
---
Camera Selection Guide 2019
CCTV Handbook 2019 , CCTV, Surveillance & Remote Monitoring
The Camera Selection Guide 2019 includes a range of IP, analogue, thermal and speciality cameras aimed at a broad range of surveillance functions.
Read more...
---
Intelligent analytics and the brains to match
September 2019, Bosch Building Technologies , CCTV, Surveillance & Remote Monitoring, Integrated Solutions
What if the brains behind our security cameras could be trained to improve their cognitive ability to pay attention, learn, and problem-solve according to specific rules and situations?
Read more...
---
AI-powered autonomous Drone-in-a-Box
September 2019 , CCTV, Surveillance & Remote Monitoring, Integrated Solutions
Organisations in the mining, energy and industrial, oil and gas, ports and terminals sectors can optimise security and business operations, whilst reducing risks and operational costs
Read more...
---
Cybersecurity for video surveillance systems
September 2019 , Cyber Security, CCTV, Surveillance & Remote Monitoring
Video surveillance systems are increasingly accessible over any IP network, which has led to the rise of potential cyberattack.
Read more...
---
A platform approach to innovation and value
CCTV Handbook 2019, Technews Publishing , Editor's Choice, CCTV, Surveillance & Remote Monitoring, Integrated Solutions, IT infrastructure
Moving to the platform model of doing business holds tremendous advantages for end users and smaller developers, but also for the whole technology supply chain.
Read more...
---
Back to manufacturer uniformity?
CCTV Handbook 2019, Dallmeier Electronic Southern Africa , CCTV, Surveillance & Remote Monitoring
Decision makers often have to choose between an all-inclusive, complete solution from one manufacturer and the products and services of several different providers.
Read more...
---
Open does not always mean easy integration
CCTV Handbook 2019, VERACITECH, Technews Publishing , Editor's Choice, CCTV, Surveillance & Remote Monitoring, Integrated Solutions
Customers who opt for best-of-breed solutions will have to rely on their integrators to develop customised integrated solutions for them.
Read more...
---
The impact of AI on the surveillance industry
CCTV Handbook 2019, G4S South Africa, Hikvision South Africa, Myertal Tactical Security, Technews Publishing , Editor's Choice, CCTV, Surveillance & Remote Monitoring
What the impact of AI will be on companies, the services and solutions they supply, as well as on the jobs people do.
Read more...
---