printer friendly version
Turnstar secures New Zealand naval base
October 2014
Access Control & Identity Management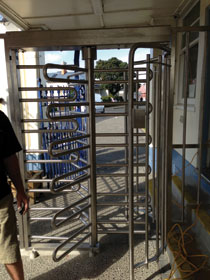 Named in 1996 by the then US President, Bill Clinton, New Zealand was accepted as a major non-NATO ally of the United States. This landmark event was the culmination of over 150 years of naval excellence and service to the crown. The New Zealand Defence Force (NZDF) headquarters is based in Wellington, however, the country's naval power is situated in Devonport, Auckland.
Devonport is a harbour-side suburb of Auckland and is located on the North Shore. Around 40 000 years ago, Devonport consisted of volcanic islands and eventually hosted early Maori settlements from the mid-14th century. The Devonport naval base of the Royal New Zealand Navy hosts a number of vessels at any one time and offers shore based support with a long and varied list of services and facilities such as sports training, cultural activities, dry dock and engineering and flight support. It also hosts a state-of-the-art navy hospital and hyperbaric unit.
The naval base recently undertook a landside renovation which included an upgrade of the security entrance points and guardhouses. Security at key military and key infrastructure points around New Zealand has recently become a talking point with the topic being discussed in parliament and also being mentioned during the current election campaign. Terrorist groups like ISIS might be a real threat in the Middle East, but an attack could be imminent anywhere in the western world.
There are two key areas to focus on when carrying out a security upgrade. Firstly, pedestrian traffic must be analysed and a suitable turnstile selected. A turnstile will ensure single entry access and provides a solid physical barrier preventing unauthorised entry. Secondly, vehicular traffic must be analysed and a suitable vehicle barrier selected.
The navy brass chose Turnstar to provide a secure solution to their various access control problems. A Turnstar TRIUMPH 3 turnstile was selected for the main gate entrance. The turnstile was manufactured from corrosion resistant marine grade 316 stainless steel and is fitted with brackets for the mounting of the card reader access control system. The turnstile is a 3-arm unit and is designed for heavy-duty operation. The 3-arm version was the preferred solution in order to accommodate the bulky and tall sailors. The turnstile is covered by the legendary Turnstar 5-year guarantee even though the turnstile is exposed to extremely harsh conditions being only 5 m from the ocean.
The Turnstar Traffic Master automatic vehicle barrier was selected to control vehicle access at four entry control points. The vehicle barriers were supplied with 4 m aluminium barrier arms and were manufactured form 316 grade brushed stainless steel. Each vehicle barrier is connected to a safety/closing loop which is installed in the roadway and prevents the accidental closing of the barrier if a vehicle is in the way of the barrier arm during closing.
With Turnstar being the largest manufacturer of physical access control in Africa and having an impeccable 25-year history, it's no wonder that the company was chosen to secure this highly prestigious naval base.
For more information contact Turnstar Systems, +27 (0)11 786 1633, craig@turnstar.co.za, www.turnstar.co.za
Credit(s)
Further reading:
Managing staff effectively
September 2019, dormakaba South Africa, iPulse Systems , Integrated Solutions, Access Control & Identity Management
Workforce management solutions allow organisations to track the relationship between productivity and the cost of employment, incorporating issues such as health and safety, T&A, rostering and more.
Read more...
---
Hennie Lategan joins Centurion as head of exports
September 2019, Centurion Systems , News, Access Control & Identity Management
Centurion Systems has announced the appointment of Hennie Lategan as the head of the company's exports department.
Read more...
---
New AlproMAX7 secures maximum rating
September 2019 , Access Control & Identity Management, Products
Alpro has launched a new range of ultra-secure mechanical mortice deadlocks, the AlproMAX7 which comply with BS EN 12209.
Read more...
---
ViRDI UBio Tab 5
September 2019 , Access Control & Identity Management, Products
ViRDI Distribution SA (ViRDI Africa) has announced the release of its long-awaited UBio Tablet to the South African market.
Read more...
---
Visitor access control at Ruimsig Country Club
September 2019, Elvey Security Technologies , Access Control & Identity Management, Products
Cost-effective access control solution that would control the ingress and egress of people, without hindering the traffic throughput of members.
Read more...
---
Estate-focused visitor management solution
September 2019, Vox Telecom , Access Control & Identity Management, Residential Estate (Industry)
Vox has expanded its cloud-based visitor management solution to cater specifically for the needs of small multi-dwelling unit estates and large residential estates.
Read more...
---
Biometrics control airport railroad
September 2019, Suprema , Access Control & Identity Management
63 km railroad to Incheon Airport is centrally controlled and secured by Suprema biometric hardware and software.
Read more...
---
Dual energy X-ray inspection system
September 2019, Regal Distributors SA , Products, Access Control & Identity Management
The ZKX6550 X-ray inspection system increases the operator's ability to identify potential threats; the device is designed to scan briefcases, carry-on baggage, small cargo parcels.
Read more...
---
ZKTeco parking barrier
September 2019, Regal Distributors SA , Products, Access Control & Identity Management
The PB3000 parking barrier is an ideal automatic car park barrier for parking lot and security control; it can easily integrate with revenue collection and access control systems.
Read more...
---
ZKTeco automatic bollard
September 2019, Regal Distributors SA , Products, Access Control & Identity Management
The high-quality automatic bollard is used to protect security areas from vehicle intrusion; in case of power failure, the bollard can be lowered manually.
Read more...
---