printer friendly version
Taking control of visitor management
October 2014
Access Control & Identity Management
Residential estate and office park managers are becoming more discerning about the type of visitor management systems they require. The use of outdated and fallible manual visitor log books is minimal, specifically in larger estates and business parks. John Powell, MD of Powell Tronics, explains what options are available to accurately capture visitor data and to provide superior management reporting.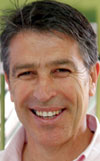 John Powell, MD of Powell Tronics.
He says that most customers are requesting a number of features they expect as the minimum from their visitor management solution. Primarily, they require easy to use technology that accurately captures visitor information as well as linking the visitor directly to the host (resident or employee). This is achieved by using portable scanners and pre-registering the visitor on the visitor management system.
Detailed reporting on who visited the property, how many visitors each resident or tenant or employee receives every month and where popular zones are within an estate are rated as the second highest requirement. Powell Tronics identified this gap in the market and quickly developed turnkey solutions that could cater for the varying requirements of visitor management. The company has developed two solutions that use driver's licence scanning as the basis of their visitor management systems. In both instances, the systems replace the manual visitor book.
The standalone solution, PT-Scan was designed to cater for sites that either had no access control or did not wish to integrate their visitor system to their existing access control infrastructure, while still wanting to accurately capture visitor details and transactions. Using a market related scanner, security guards scan the visitor's South African driver's licence, vehicle registration and select the destination and submit all the information which is uploaded over WiFi to PT-Scan's own database.
The varied range of reports available in PT-Scan allow the client to accurately report on the number of visitors, most popular destinations and visitors on site. As PT-Scan is not integrated to any access control system, it is a cost effective yet comprehensive solution.
PT-Guest Enterprise uses market-established handheld scanners to scan and decrypt South African driver's licences and then integrate the data captured with the ImproNet access control system. PT-Guest Enterprise allows for multiple forms of visitor entry, namely one time pin (PAC), proximity card issue and biometric enrolment, all of which are handled in a simple process by security at the main entry points of the site.
The full enterprise PT-GUEST solution also has the ability for pre-registration of guests through either the client's intranet or via SMS. Preauthorisation can be accomplished for up to five days (configurable) before the date of visit and will be applicable for one entry and one exit only upon first use. These systems provide a secure option for hosts to control the access of their visitor into a specific area within the facility. This will allow the site to set up pre-determined common zones within a facility as well as authorised internal areas.
PT-GUEST Prox is a proximity tag that contains a barcode and works in conjunction with PT-GUEST by populating data on ImproNet. The visitor will give the PAC to the security guard upon arrival as verification of pre-authorisation. After their driver's licence, vehicle disc and barcoded proximity card is scanned, the visitor will be handed the proximity card. The Prox card can be used to allow the visitor smooth passage through each initial entry point and within a facility, without having to rescan their driver's licence each time.
One of the biggest challenges for customers has been the arrival and management of unexpected visitors. PT-GUEST and PT-Scan help to control this dynamic by providing efficient management with as little or as much information as the customer demands.
Feature-filled reporting is available with both PT-GUEST and PT-Scan and dramatically reduces security risks and allows customers to extrapolate data that can be used to provide valuable feedback on trends within the estate or business park. An example would be the use of data to monitor how many people visit an on-site restaurant or conference venue. Reports can be generated automatically in standard or customised formats.
Because these systems are electronic, they cannot be tampered with. Together with scanning in the visitor's full name and ID number, the scanner also stores a photograph of the visitor on the database, so visual verification is provided. In addition, it saves money by eliminating the reprinting of the visitor's access ticket at each checkpoint. Most importantly though, because systems are electronic and decrypted via the barcode, it eliminates the human error factor from the equation, since the security guard is not required to manually input the visitor's name.
One further element that assists with visitor management is the use of licence plate recognition (LPR) systems. As a fully certified development partner of Milestone Systems, Powell Tronics has developed integration between the Milestone surveillance platform and ImproNet.
Visitors will press a button to dispense a tag when they reach the entrance or checkpoint booms and swipe this against the nearby proximity reader. At this point the tag will be paired with the vehicle's number plate. On leaving the premises, the card will need to be placed in a drop box before exit is permitted. If the LPR camera identifies the vehicle registration as not being the correct one linked to the proximity tag, it will send out an alarm and disallow visitor exit. This eliminates the opportunity for motor vehicle theft.
Powell emphasises that a system is only as good as its users and the benefits which can be derived are relative to the amount of effort customers put into using both the system's features as well as the data it produces. Customising a solution to a user's needs and providing full training will contribute to increased functionality of the system.
For more information contact Powell Tronics, +27 (0)861 787 2537, marketing@­powelltronics.com, www.p-tron.com
Credit(s)
Further reading:
HID addresses identification challenges at ID4Africa
August 2019 , News, Access Control & Identity Management, Government and Parastatal (Industry)
Being able to verify people's identities is critical for a nation's growth and prosperity and yet HID says nearly half of all African citizens can't prove who they are to vote, travel freely and receive government benefits and services.
Read more...
---
Came acquires Turkish company Özak
August 2019, CAME BPT South Africa , News, Access Control & Identity Management
Came broadens its market horizons and signals growth and consolidation in the Middle East.
Read more...
---
The benefits of electronic visitor management
August 2019, Powell Tronics , Access Control & Identity Management, Residential Estate (Industry)
Access control is a critical aspect of estate security as it represents the controls put in place to restrict entry (and possibly exit) along the outer boundary of the location.
Read more...
---
Addressing risks by means of access control layout and design
August 2019 , Access Control & Identity Management, Security Services & Risk Management
In order to develop a suitable, practical and appropriate security system for any organisation, it is essential to first develop a master security and life safety plan strategy.
Read more...
---
Secure hands-free access
August 2019, Suprema , Access Control & Identity Management, Residential Estate (Industry)
Suprema's facial biometric terminals bring no-touch access into secure residential estates, high-rise apartments and luxury homes providing fast, easy and intuitive user authentication with the added benefit of hygiene.
Read more...
---
MorphoAccess Sigma Extreme
August 2019, IDEMIA , Products, Access Control & Identity Management
MorphoAccess Sigma Extreme from IDEMIA is a touchscreen device with multiple recognition device interfaces (NFC chip reader, PIN and BioPIN codes, contactless card readers).
Read more...
---
Outdoor access terminals
August 2019, Suprema , Access Control & Identity Management, Residential Estate (Industry), Products
Rugged, dust- and weather-proof access control solutions that provide exceptional durability in extreme conditions is a strong requirement for many residential estates.
Read more...
---
MorphoWave Compact
August 2019, IDEMIA , Products, Access Control & Identity Management
The MorphoWave Compact captures and matches four fingerprints on either the right or left hand in any direction. It is robust to environmental factors such as extreme light or dust.
Read more...
---
MorphoAccess Sigma Lite
August 2019, IDEMIA , Products, Access Control & Identity Management
IDEMIA's MorphoAccess Sigma Lite and Lite + are fingerprint access control terminals, offering time and attendance in and out function keys.
Read more...
---
Eliminating forced gate opening scenarios
August 2019, ET Nice , Home Security, Access Control & Identity Management
When activated by the gate forced open alarm feature, the transmitter transmits a wireless alarm signal up to 750 metres in any direction.
Read more...
---