printer friendly version
The access control industry of tomorrow
October 2014
Access Control & Identity Management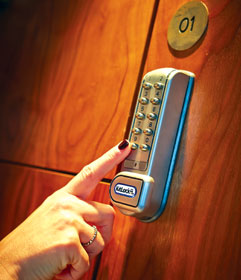 The access control industry is beginning to propel itself into innovation and technological advancement through integration. Open standards, convergence of access control and video, and partnerships with non-security related companies (and non-access control companies such as video surveillance providers) are the focus of the industry.
It is safe to say that access control providers, integrators and building IT managers are no longer hesitant to implement access control to its fullest capacity. Integrating access control with video allows for forensics and more seamless security. While video recording at the door is not an entirely new concept, many providers are looking to develop software and user interfaces which unify the two solutions. Additionally, ease of use and convenience are helping to drive the industry as well.
Access control does not always need to be used for only hardened security applications. Using social media and applications/hardware in conjunction with access control could help open the market to new opportunities since interacting with the access control devices is becoming increasingly popular. NFC (near field communication) and BLE (Bluetooth low energy) are also trending and will allow more options for end users in the medium term who wish to replace physical credentials with mobile credentials.
Additionally, open standards and interoperability standards may also begin to change the face of the industry over the next 12-36 months. ONVIF Profile C and Physical-Logical Access Interoperability (PLAI) may look to lead this movement. In addition to open standards, integration with hardware and software that is neither security related nor BMS related could also change the industry. Role-based access control is one example. Typically, access control rights today are assigned based on time schedules which often requires additional inputs from an administrator. However, there could be a trend toward using assigned roles to provide access to not only doors, but also to logical access control. So the future focus could be on allowing logical domains to work with physical domains in order to increase efficiency and open doors for other possibilities in addition to automated privilege management. Lastly, travel programmes within organisations could be tied to access control systems which automate access to different buildings within an organisation based on a colleague booking travel. Effectively eliminating the need for an administrator to grant each travelling colleague access rights to each building they are travelling to in a different city or country.
Overall, the access control industry is no longer standing still with innovation and implementation of technology, but is now firmly in the mix. The access industry is now thoroughly entrenched in wireless, IP-enabled devices and integration beyond video surveillance. Many of the leading suppliers of access control are working to offer a wide range of products and offerings which include not only enterprise, but also SMB.
One of the keys to success over the next several years will be to have an offering beyond traditional access control readers, panels, cards and software and embrace the new position of the industry which includes things such as remote management, mobile and fixed functionality credentials, wireless, reducing administrative burden and increased efficiency and integration with human capital management software. The access control industry of tomorrow is knocking at the door.
For more information contact IHS, +1 512 582 2023, blake.kozak@ihs.com, www.ihs.com
Further reading:
Managing staff effectively
September 2019, dormakaba South Africa, iPulse Systems , Integrated Solutions, Access Control & Identity Management
Workforce management solutions allow organisations to track the relationship between productivity and the cost of employment, incorporating issues such as health and safety, T&A, rostering and more.
Read more...
---
Hennie Lategan joins Centurion as head of exports
September 2019, Centurion Systems , News, Access Control & Identity Management
Centurion Systems has announced the appointment of Hennie Lategan as the head of the company's exports department.
Read more...
---
New AlproMAX7 secures maximum rating
September 2019 , Access Control & Identity Management, Products
Alpro has launched a new range of ultra-secure mechanical mortice deadlocks, the AlproMAX7 which comply with BS EN 12209.
Read more...
---
ViRDI UBio Tab 5
September 2019 , Access Control & Identity Management, Products
ViRDI Distribution SA (ViRDI Africa) has announced the release of its long-awaited UBio Tablet to the South African market.
Read more...
---
Visitor access control at Ruimsig Country Club
September 2019, Elvey Security Technologies , Access Control & Identity Management, Products
Cost-effective access control solution that would control the ingress and egress of people, without hindering the traffic throughput of members.
Read more...
---
Estate-focused visitor management solution
September 2019, Vox Telecom , Access Control & Identity Management, Residential Estate (Industry)
Vox has expanded its cloud-based visitor management solution to cater specifically for the needs of small multi-dwelling unit estates and large residential estates.
Read more...
---
Biometrics control airport railroad
September 2019, Suprema , Access Control & Identity Management
63 km railroad to Incheon Airport is centrally controlled and secured by Suprema biometric hardware and software.
Read more...
---
Dual energy X-ray inspection system
September 2019, Regal Distributors SA , Products, Access Control & Identity Management
The ZKX6550 X-ray inspection system increases the operator's ability to identify potential threats; the device is designed to scan briefcases, carry-on baggage, small cargo parcels.
Read more...
---
ZKTeco parking barrier
September 2019, Regal Distributors SA , Products, Access Control & Identity Management
The PB3000 parking barrier is an ideal automatic car park barrier for parking lot and security control; it can easily integrate with revenue collection and access control systems.
Read more...
---
ZKTeco automatic bollard
September 2019, Regal Distributors SA , Products, Access Control & Identity Management
The high-quality automatic bollard is used to protect security areas from vehicle intrusion; in case of power failure, the bollard can be lowered manually.
Read more...
---