printer friendly version
A booming access market
October 2014
News
Welcome to the Access & Identity Management Handbook 2015, Hi-Tech Security Solutions' annual round up of all things related to the access and identity management market. We've packed this handbook full of editorial covering most of the areas that are gaining attention and questions from users, in the hope that we can offer our readers a glimpse into what they should be thinking about or planning with respect to access control and identity management.
Of course we can't include everything, but we feel we've made a good effort to represent what is actually happening in the market. If we compare the 2015 issue to the 2014 issue, we can see that some things are changing rapidly, while others seem to be taking their own time to find a place in the market.
How long have we been hearing that smartphones are going to take over as the access and authentication medium of choice? Well it still hasn't happened, but perhaps now that Apple has caught up and is offering an option for NFC-based payment, the industry will get a shot in the arm. Other devices have had this ability for years, but Apple's marketing and its hordes of uncritical, adoring fans have made it big news (at last).
And then there's the question of access over IP. Last year we heard it was going to be a big thing, and this year we're told it's here in a big way. In our Access & Identity Management Round-Table we had some participants saying they only provide access solutions over IP. Perhaps IP doesn't have that much traction in the small business or home market yet, but the trend is there.
This year's round-table is slightly different from the last one in that we only invited system integrators (SIs) to attend. The reason was that we wanted to hear what the market was asking for and actually implementing. The result provides some interesting reading. Our only wish was we had the space to include the whole conversation.
And while IP is all the rage, there is still a distinct lack of companies integrating their logical and physical access – so you can't log into your computer if you haven't accessed the building, or if you leave the building it automatically logs you off, for example. There's a lot of talk, and some large companies are planning to introduce it somewhere in the future, but not many have done so to date.
The trend is definitely there, however, as many of the physical access integrators and installers are looking to move away from proprietary databases and use corporate identity resources, such as an enterprise directory as the source for their access data. If done properly, this will open the door to simpler integration and a bunch of applications that can run alongside traditional access solutions.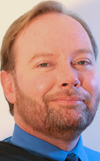 And IP isn't the only standard the access industry has to look at. ONVIF recently introduced its own access control standard which should provide users and integrators alike with a solid foundation to ensure interoperability. The standard is brand new so we haven't focused on it in this handbook as few have had the chance to adopt it as yet, but it should make an interesting case study for the 2016 handbook.
We hope you enjoy this year's handbook and we welcome comments and criticisms, as well as issues you feel we missed – there's always more to discuss and we rely on input from readers to focus our upcoming editorial. Send your opinions to andrew@technews.co.za
Andrew Seldon
Editor
Credit(s)
Further reading:
TAPA: The role of an effective treasury function in business risk management
June 2019, Technews Publishing , News
Neil Le Roux, the Founder of Diligent Advisors will speak at the TAPA SA (Transported Asset Protection Association) annual conference on 26 July 2019.
Read more...
---
iLegal 2019: Enhancing and empowering your control rooms
July 2019, Technews Publishing , News, Conferences & Events
iLegal 2019 will be held on 12 September 2019 at The Rosebank Crowne Plaza in Johannesburg. iLegal is the surveillance industry's premier one-day conference hosted jointly by Hi-Tech Security Solutions and Dr Craig Donald.
Read more...
---
Residential Estate Security Conference 2019: Managing for efficiency
July 2019, Technews Publishing , News, Conferences & Events
The Residential Estate Security Conference 2019 will be held on 20 August 2019, once again at the Indaba Hotel in Fourways, Johannesburg.
Read more...
---
Spending to save
August 2019, Technews Publishing , News
As residential estates and complexes grow like weeds across South Africa, often promoting themselves as more secure than a stand-alone house, many are finding that close proximity to a neighbour or a ...
Read more...
---
Risk assessment or product placement?
August 2019, Technews Publishing, Alwinco, SMC - Security Management Consultants , Editor's Choice, Security Services & Risk Management, Residential Estate (Industry)
Hi-tech security solutions asked a couple of experts to provide estate managers and security managers with some insights into what a 'real' risk assessment includes.
Read more...
---
Renewable energy for estates and homes
August 2019, Drensky Technologies, Technews Publishing, Specialised Battery Systems , Security Services & Risk Management
While individual homeowners might choose to install solar photovoltaic (PV) systems for when there's load shedding or a power failure, for an entire estate to harness its energy requirements from solar, and particularly their crucial security systems, would require that a large area of the property be dedicated to solar panels.
Read more...
---
From the editor's desk: The difference between potential and skills
August 2019, Technews Publishing , News
This issue of Hi-Tech Security Solutions includes our annual Local Manufacturing feature and it's great to know that local security manufacturers are still going strong, even if the general manufacturing ...
Read more...
---
A customised solution for backup power
August 2019, Specialised Battery Systems , News, Integrated Solutions
Specialised Battery Systems designed and implemented a bespoke solution for Stallion Security Electronics to deploy at almost any site.
Read more...
---
Addressing risks in the healthcare sector
August 2019, Secnovate, Technews Publishing, ZKTeco , Healthcare (Industry), Security Services & Risk Management
The healthcare sector poses unique challenges and risks. Hospitals, for example, need to have a more-or-less 'open door' policy when it comes to people entering the premises and the main reception area.
Read more...
---
Patient critical – healthcare's cybersecurity pulse
August 2019, Wolfpack Information Risk , News, Cyber Security, Healthcare (Industry)
The healthcare industry has become one of the leading cybersecurity attack vectors worldwide for several reasons.
Read more...
---