printer friendly version
Integration and information is the name of the game
September 2014
News
If you're a regular Hi-Tech Security Solutions subscriber (do you follow our LinkedIn Group?), you'll know that we're about to launch our 2015 version of the Hi-Tech Security Business Directory, the most comprehensive resource in Africa for all things security. Whether you're looking for contact details for a specific company, or for potential companies to contact for a specific job, the Hi-Tech Security Business Directory has answers for you.
Naturally, the print copy of the Hi-Tech Security Business Directory is supported by an online site (www.hsbd.co.za) where you can search for whomever or whatever you need. This year we have not only updated the online site in conjunction with the release of the printed publication, but we have also applied a few tweaks to the Hi-Tech Security Solutions website (www.securitysa.com) to keep it as smooth and slick as possible. The look and feel is not that much different, but the performance and functionality has been improved substantially.
The big news, however, is not simply the improved websites and new database for the directory. As part of the revamp, we have integrated both sites with relevant links to each other. If, for example, you are reading an article on access control on www.securitysa.com, above the article will be a few tags that you can click on to take you to the relevant category in the directory where suppliers of access equipment are listed. Similarly, when you're in www.hsbd.co.za, the top of the page will list tags that will take you to the relevant section in www.securitysa.com.
The tags are colour coded, meaning that clicking on green tags will take you to the directory, while red tags take you to Hi-Tech Security Solutions.
If you're in the directory, looking at a particular company's details, you not only get their address, email, website and phone numbers, but also the option to find branches, key contact people, their distributors (for vendors) or the brands they sell. Naturally, the accuracy of this information depends on whether the company supplied us with their details; and if you speak to some companies listed in the directory they will tell you nightmare stories of being called numerous times with queries in our effort to get it right.
Another addition to the directory is that underneath all the company details, you will find a list of the articles Hi-Tech Security Solutions has run about that company over the past months or years – depending on how much they have had to say. If they are the silent type, we supplement the list of articles with those from the relevant section – such as Surveillance or Alarms etc.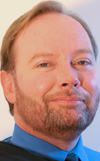 We have done a significant amount of work to make our sites more relevant and useful to the security industry and we hope you find it useful. We know it's not perfect, but we're getting there. If you have any comments or suggestions, please let me know on [email protected].
But wait, there's more
Our October issue will be posted with the Access & Identity Management Handbook 2015, another one-of-its-kind annual in Africa. Be on the lookout!
Andrew Seldon
Editor
Credit(s)
Further reading:
The future of AIoT
Hikvision South Africa News CCTV, Surveillance & Remote Monitoring
Hikvision hosted its 2022 Shaping Intelligence Summit in Bali, Indonesia, on 29-30 November, where the company, its customers, and technology and solution partners, looked into the future of AIoT and explored paths to shared success.
Read more...
---
Top fraud trends to watch in 2023
News Security Services & Risk Management
Even though financial concerns remain a significant obstacle for companies in implementing new anti-fraud technologies, 60% of businesses expect an increase in their anti-fraud technology budgets in the next two years.
Read more...
---
Healthcare and the edge
Technews Publishing Healthcare (Industry)
With the proliferation of IoT devices in healthcare, more data is generated which drives the need to distribute it efficiently and keep it closer to the user.
Read more...
---
Be cautious when receiving deliveries at home
News Perimeter Security, Alarms & Intruder Detection Security Services & Risk Management
Community reports of residents being held up at their gate when collecting fast food deliveries at home are once again surfacing.
Read more...
---
Securiton and Dallmeier announce partnership
Dallmeier Electronic Southern Africa News
Securiton AG Switzerland is now integrating the Panomera and Domera camera systems from Dallmeier to ensure its customers benefit from the highest standards of privacy and security.
Read more...
---
Sasol ensures Zero Trust for SAP financials with bioLock
Technews Publishing Editor's Choice Cyber Security Security Services & Risk Management
Multi-factor authentication, including biometrics, for SAP Financials from realtime North America prevents financial compliance avoidance for Sasol.
Read more...
---
KPMG 2022 CEO Outlook, South African edition
Editor's Choice News
Mid-November saw the release of the latest KPMG 2022 CEO Outlook, South African edition, aptly sub-titled 'Potential Growth in Uncertain Times'.
Read more...
---
Mending Africa's digital infrastructure gaps
News
inq. Fabric is the first African-developed cloud connectivity, network-as-a-service software for automated provisioning and routing.
Read more...
---
Suprema renews international privacy and security standard certifications
Suprema News Access Control & Identity Management
Suprema has simultaneously renewed two important international standard certifications regarding information security management (ISO/IEC 27001) and privacy information management (ISO/IEC 27701).
Read more...
---
Technoswitch partners with Ciqurix for video fire detection
Technoswitch Fire Detection & Suppression News Fire & Safety
Technoswitch is pleased to announce the signing of an exclusive distribution agreement with Ciqurix (UK), a leading supplier of video fire detection products.
Read more...
---