printer friendly version
Lost your keys? There's an app for that
August 2014
News
Working on a magazine like Hi-Tech Security Solutions makes it easy to forget that all the technology that is dominating the security industry these days doesn't really impact most people's lives very much. And while many security firms out there are hopping on the mobile bandwagon, I recently discovered that old-timer security is also getting funky.
We all still use keys to lock the doors to our homes and businesses, although these are mostly supplemented with some form of additional security. It's hard to imagine a South African thinking that their house is secure because they locked the door!
The problem is, when you forget your alarm code, you can get around that problem with a phone call. When you forget or lose your keys, on the other hand, things get sticky. You either bug someone who has a spare key or call out a locksmith, which is going to cost you a pretty penny – and even with today's exchange rate, many pennies.
In the First World they have come up with a solution to this problem. KeyMe is an American company that will make you a spare key via an app on your mobile phone. It looks like it's only available on iPhones, but one can hope for an upgrade to Android.
The process works as follows: you use the app to scan your key (basically take a picture of both sides of the key). The company then prints it via a 3D printer and sends it to you (in the USA). You pay per key that is printed and can store your keys on your phone until needed. The company uses the US Postal Service, which immediately means the business model won't work in South Africa, but there is another option.
KeyMe also has kiosks where you can go and make a key in 30 seconds, even with a cool design. If you're using the kiosk, you'll need to scan a fingerprint biometric, which is apparently part of the security of the system. There are other companies that work on similar principles, such as Keys Duplicated, but you can even order keys via your web browser with this one, or KeySave if you happen to be in Belgium.
While the concept is brilliant and it certainly is cool to 3D print your keys (mostly house and business keys, apparently not car keys yet), the security implications are rather disconcerting. Simply taking a few seconds to take a photograph of someone's keys gives you the ability to get into their house or business.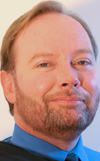 Of course, any individual who wants to copy your keys can make a clay impression in a few seconds or find another way to get an image to copy so this is not much more of a security risk. However, because there's an app for it, I imagine many iPhone users are going to think it hilarious to visit their friends in the middle of the night for a joke – until someone gets shot.
On a very different note, it was somewhat refreshing to see a biometric reader put to the test recently. The tester compared a cheap-and-nasty reader to a brand name that cost significantly more. The cheap one failed to identify the users (there were only three users in the test) 13% of the time, while the brand name scored 100%. You get what you pay for.
Andrew Seldon
Editor
Credit(s)
Further reading:
Consumer robotics is a market in transition
September 2019 , Home Security, News
ABI Research says smart home integration will drive consumer robot shipments into the home to the tune of 39 million units per year by 2024.
Read more...
---
Distributed architecture lowers TCO, increases scalability
September 2019, Technews Publishing , CCTV, Surveillance & Remote Monitoring, Transport (Industry)
Faced with a number of security challenges and planned future expansion, a major airport decided it was time to implement a scalable security surveillance solution.
Read more...
---
TAPA: The role of an effective treasury function in business risk management
June 2019, Technews Publishing , News
Neil Le Roux, the Founder of Diligent Advisors will speak at the TAPA SA (Transported Asset Protection Association) annual conference on 26 July 2019.
Read more...
---
From the editor's desk: More things change
September 2019, Technews Publishing , News
Welcome to the CCTV Handbook 2019. This year's handbook breaks a long tradition of publishing the handbook in the first half of the year by releasing it along with the October issue of Hi-Tech Security ...
Read more...
---
A platform approach to innovation and value
September 2019, Technews Publishing , Editor's Choice, CCTV, Surveillance & Remote Monitoring, Integrated Solutions, IT infrastructure
Moving to the platform model of doing business holds tremendous advantages for end users and smaller developers, but also for the whole technology supply chain.
Read more...
---
Open does not always mean easy integration
September 2019, VERACITECH, Technews Publishing , Editor's Choice, CCTV, Surveillance & Remote Monitoring, Integrated Solutions
Customers who opt for best-of-breed solutions will have to rely on their integrators to develop customised integrated solutions for them.
Read more...
---
The impact of AI on the surveillance industry
September 2019, G4S South Africa, Hikvision South Africa, Myertal Tactical Security, Technews Publishing , Editor's Choice, CCTV, Surveillance & Remote Monitoring
What the impact of AI will be on companies, the services and solutions they supply, as well as on the jobs people do.
Read more...
---
Video analytics and AI
September 2019, Axis Communications SA, Dallmeier Electronic Southern Africa , Hikvision South Africa, Technews Publishing, Dahua Technology South Africa , Editor's Choice, CCTV, Surveillance & Remote Monitoring, Integrated Solutions
Artificial intelligence has the potential to deliver real benefits in the world of video analytics and many companies are already delivering customer benefits.
Read more...
---
Integration insights
September 2019, Gijima Electronic and Security Systems (GESS), Technews Publishing, neaMetrics , Integrated Solutions
The security industry would be a vastly different place if installers and integrators were not able to make a range of different products work together.
Read more...
---
Taking analogue to HD
September 2019, Dahua Technology South Africa, Technews Publishing, Hikvision South Africa , CCTV, Surveillance & Remote Monitoring
Hi-Tech Security Solutions spoke to two companies that are driving the two primary analogue HD technologies.
Read more...
---