printer friendly version
Home is where the surveillance is
July 2014
News
South Africa is generally pretty isolated from the big news happenings in the First World and we sometimes only feel the effects of global events long after, which is fortunate in some cases and unfortunate in others. Fortunately for the First World, it is isolated from what's happening down here, which is why we have a steady stream of people emigrating.
One of the big trends that's starting to happen in America and, no doubt soon, in Europe, is what is known as the smart home. Of course we have smart home technologies in South Africa, but realistically these are exclusive to those with spare cash, which is few of us. South Africans prioritise a secure home before they worry about a smart home. The result is expensive goods for the exclusive few with money to burn or those willing to get into even more debt.
Not so in the First World. A while back, Google bought Nest for just over $3 billion, which is basically a smart thermostat. More recently, Nest bought Dropcam for about $555 million. Dropcam makes it simple to set up a camera in your home and hook it up to the Internet via your wireless network where you can stream video, have conversations via the camera's microphone, get intelligent alerts and even record up to 7 days of video in the cloud for about R1000 per year (or 30 days for around R3000).
The Pro version of Dropcam sells for about R2000 (converting at R10 to $1) and it's not a cheapie that will fall apart after two weeks.
The purchase of Dropcam gives Nest (or Google) an even better foothold in the home with plenty of data to gather – for our own good, of course. It also shows how security is becoming integrated with about everything else and that pure security players have a limited lifespan if you can't offer the 'cool stuff' in addition to the security grudge purchase.
Naturally it will be a long time before something like this is standard fare, and even longer before it hits local shores at reasonable prices – just imagine how much your South African broadband will cost to support one Dropcam Pro streaming at 720p (HD at 1280 x 720 at 30 frames/sec), even with H.264 encoding.
The fact is this is simply another step in the advancement of security technology to the level where it can't be separated from other technologies, such as home entertainment, visitor management and the like. More importantly, it's the beginning of the integration of security systems into the Internet of Things, a buzzword that means the integration of all electronic devices onto the Internet. Apple is also working on a platform that will allow you to connect everything to your Apple product (we are talking about people with money to burn).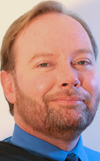 In the business field we're seeing the same process; we're already seeing building management incorporating security and what was security analytics as standard, along with the ability to measure and control electronic devices that are far removed from traditional HVAC systems. It really is a software world, perhaps that's one of the reasons Canon bought Milestone.
And to change the topic completely, would any readers like to see Hi-Tech Security Solutions as a Flipboard publication? If you would, let me know on andrew@technews.co.za along with any other comments.
Andrew Seldon
Credit(s)
Further reading:
A contact-free hotel experience
Issue 7 2020, Technews Publishing , Access Control & Identity Management
Check-in and go straight to your room without stopping at the reception desk at Hotel Sky in Sandton and Cape Town.
Read more...
---
New hires at iPulse
Issue 7 2020, iPulse Systems , News
iPulse has welcomed two new employees into its ranks. Shai Weil has been appointed as operations director, while Corneli Botha is the new customer sales liaison.
Read more...
---
HID Global acquires Access-IS
Issue 7 2020, HID Global , News
HID Global acquires provider of miniaturised reader devices that combine key technologies for mission-critical markets.
Read more...
---
Securing digital transformation
Issue 7 2020 , News
Schneider Electric partners with Fortinet to strengthen ability to secure operations across the business lifecycle and unlock the advantages of a secure IIoT.
Read more...
---
Suprema integrates with Paxton's Net2 access control
Issue 7 2020, Suprema , News
Suprema has announced it has integrated its devices with Paxton's access control system, Net2.
Read more...
---
Free cybersecurity courses
Issue 7 2020 , News
Check Point Software partners with Harvard and MIT-founded edX to deliver free online courses to help close the cybersecurity skills gap.
Read more...
---
Fidelity partners with Auto & General Insurance
Issue 7 2020, Fidelity Security Group , News
Fidelity Services Group in partnership with Auto & General Insurance has launched Fidelity InSure, a comprehensive vehicle, home, and building insurance offering.
Read more...
---
More apps for open camera OS
Issue 7 2020 , News
The App Challenge will result in 21 new apps running on the Security & Safety Things' camera OS, based on the Android Open Source Project.
Read more...
---
Milestone Systems announces Thomas Jensen as new CEO
Issue 7 2020, Milestone Systems , News
Milestone Systems announced that its board of directors has appointed Thomas Jensen as chief executive officer. Jensen will assume the role on October 1, 2020.
Read more...
---
Suprema announces its first virtual event
Issue 7 2020, Suprema , News
Suprema will be hosting its first virtual event, Suprema Connect 2020, which is scheduled to take place over one month from September 15.
Read more...
---