printer friendly version
Convenience surveillance in Canada
April 2014
CCTV, Surveillance & Remote Monitoring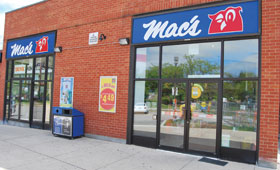 For the past 50 years, Mac's Convenience Stores have served the needs of Canadian customers throughout a multitude of locations in Ontario and Western Canada. Mac's Convenience Stores offer a variety of products associated with the general convenience store industry, while certain branches also provide gasoline with gas stations attached to their stores.
Beginning in 2007, Mac's transitioned from its old analogue surveillance system into a digital platform. As a result, Hikvision was chosen to help them do so. However, this newer Hikvision-based solution was not simply meant to provide better hardware, instead Hikvision was chosen to provide both technology and a solution that would:
* Provide iVMS software to connect individual stores to corporate headquarters.
* Provide security for the entire chain of stores – regardless of location.
* Individualise store-based solutions for each specific branch.
* Future-proof.
Provide equal, but individualised, security
As can be expected with such a large geographical footprint, the dynamics of individual Mac's stores greatly vary. Some are located in metropolitan cities of considerable sizes, others in rural areas. Some are more heavily trafficked and others less so. Some are much larger with busy gas stations attached to them, where others are simply of the convenient store variety.
At issue was a great deal of variance between individual stores throughout central and western Canada. However, regardless of this variance, Mac's required each of its stores to be secured.
To address this issue, Mac's hired the Canadian security firm Reliance Protectron to act as integrator for this solution.
John Watts, national account manager at Reliance Protectron, decided something other than a one-size-fits-all approach for DVRs was needed: "We had to initially take into account the specific dynamics of each store. In some cases, smaller convenience stores were in rural areas and had enjoyed years of service without any security incidents whatsoever; but in other instances, certain Mac's were in heavily trafficked urban environments where customers primarily visited the stores to purchase gasoline. Both usage and history of previous theft, etc., needed to be understood."
For Watts, key to this effort would be Hikvision's iVMS-5000 software. This software allows Hikvision hybrid DVRs to connect to Mac's central security operations in Toronto via the Internet. Currently, each individual Mac's store largely handles its own security footage and issues; however with the introduction of this iVMS-5000 software, Toronto now has the ability to access stores' security footage, automatically update DVR features, and better future-proof individual stores for the time when more interconnectivity may be required.
However, before any specific DVR units could be selected for individual stores, testing was required. Watts continued, "It was decided the DVRs would be secured in an area accessible only by the store manager after a predetermined time-lapse period to provide additional protection for the DVRs ... so they cannot simply be picked up and stolen by the bad guys in a theft."
Based on these results, a variety of Hikvision's 7000/8000 Series of DVRs were chosen.
As earlier noted, the particulars of each store greatly varied. Since most of these stores used pre-existing black and white analogue cameras, the specific Hikvision DVR model was selected based on the number of cameras at a store. Since both of these Hikvision DVR series offer a range of channels, a rural store with only a few cameras would receive a different DVR model than a branch in Toronto that had 16 cameras for its store and adjacent gas station. Regardless of channel number, each model includes two terabytes of hard-drive space to ensure enough memory is available.
In this fashion, the DVR solution was specifically tailored to the needs of the individual store – providing maximum coverage, but without wasting resources.
Hybrid future-proofing
Initially, the above solution provided the means for individual Mac's stores' security. However, looking ahead, Reliance Protectron's goal was to gradually upgrade these stores' security and ensure any future changes would be possible. In short, future proofing.
Watts explained, "A number of surveillance upgrades are being planned. We see the point-of-sale area as critical, as well as additional coverage for problematic gas lanes and stores that experience a higher crime rate."
To accomplish this goal, Hikvision's 8 and 16 channel 9000HFI-ST/SH Series of Hybrid DVRs was selected. Since these areas – POS, gas lanes, etc. – will likely employ high-definition IP cameras, Hikvision's hybrid DVRs with up-to five megapixel resolution recording, and HDMI and VGA output at up to 1920×1080P resolution, allow newer IP cameras to function alongside older analogue models.
For more information contact Hikvision, +86 571 8700 6060, wulin@hikvision.com, www.hikvision.com
Credit(s)
Further reading:
Shorten your checkout lines to enhance customer experience
September 2019, Hikvision South Africa , Retail (Industry), CCTV, Surveillance & Remote Monitoring
Hikvision's queue detection technology is purpose-built to offer cutting-edge flow analysis to retail outlets and any situation where waiting to pay is required.
Read more...
---
Constructive CCTV contributions to research
September 2019, Leaderware , Editor's Choice, CCTV, Surveillance & Remote Monitoring
Study leads to understanding that we need more recognition and reward for constructive participation in society.
Read more...
---
New Africa sales manager for Axis Communications
September 2019, Axis Communications SA , News, CCTV, Surveillance & Remote Monitoring
Axis Communications has appointed Brendon Hall, previously the founder and MD of Pentagon, as its new sales manager, Africa.
Read more...
---
Hikvision helps secure African Union Summit
September 2019, Hikvision South Africa , News, CCTV, Surveillance & Remote Monitoring
Hikvision established a complete intelligent video solution to ensure the security of the thirty-third African Union (AU) Summit held on 7 July in Niamey, the capital of Niger.
Read more...
---
Genetec to integrate CylancePROTECT
September 2019, Genetec , Editor's Choice, CCTV, Surveillance & Remote Monitoring, News
Genetec has announced it is partnering with Cylance, a business unit of Blackberry, to bring AI-based antivirus protection to its appliance customers.
Read more...
---
Dashcams useful for more than social media
September 2019, Graphic Image Technologies , CCTV, Surveillance & Remote Monitoring, Transport (Industry)
Logistics companies need to make sure that they have a complete solution that allows real-time driver monitoring and event notifications as they happen.
Read more...
---
Best in class at sea and ashore
September 2019, Axis Communications SA , Transport (Industry), CCTV, Surveillance & Remote Monitoring
Thermal network cameras support the guard tour function that can be used for continuous monitoring of a particular area according to the pre-set guard tour.
Read more...
---
Improving operational efficiency through surveillance
September 2019 , CCTV, Surveillance & Remote Monitoring, Products
Today?s surveillance systems are no longer just about monitoring, but more so the intelligence that sits on the camera and what businesses can do with that information proactively.
Read more...
---
New thermal/visual drone
September 2019 , CCTV, Surveillance & Remote Monitoring, Products
New drone equips security professionals and first responders with a reliable everyday tool for dynamic operations in challenging environments.
Read more...
---
Securing ATMs 24/7
September 2019, Hikvision South Africa , CCTV, Surveillance & Remote Monitoring, Financial (Industry)
To be effective, most ATMs need to be in public areas and open all hours, and they hold cash, making them an attractive target.
Read more...
---