printer friendly version
Walking the talk
April 2014 CCTV, Surveillance & Remote Monitoring, Retail (Industry)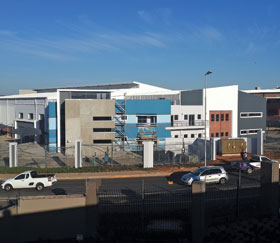 Elvey Security Technologies recently moved to its new state-of-the-art facilities in Greenstone Park, Edenvale, after spending almost 40 years in Benrose. Not only is the move a strategic business decision, but it allows Elvey to showcase the brands it sells to its customer base.
"We have pulled out all the stops on the installation of a fully integrated holistic building management system, which is precedent setting in terms of the combination of technologies used," says sales director Ingo Mutinelli. Matt Short from Pentagon adds, "Our aim was to develop an integrated system that allows us to manage all security sub-systems from a single user interface. The system uses customisable action plans that allow the operator to respond to events in a coordinated and efficient manner."
This building management solution comprises internationally recognised brands including the world's first fully digital public address and emergency sound system – Bosch Plena Matrix and the well-known Bosch Praesideo; Impro Portal Enterprise access control system; the Bosch BVMS Enterprise system with Bosch HD IP CCTV cameras, all integrated onto BIS (Bosch Integrated System).
BIS is extremely modular, allowing customers to select specific elements for integration. For example, a company could upgrade their CCTV system and as budget allows, they can add in other elements like access control, intrusion detection and fire detection.
There are 85 Bosch HD surveillance cameras situated throughout the facilities to ensure that all company assets and employees are in a secure monitored environment. Not only does the network of IP cameras monitor any possible threats, but it will also be useful in maintaining a working environment that harbours maximised health and safety practices.
The Bosch Video Management System is an enterprise IP video security solution that provides seamless management of digital video, audio, and data across any IP network. Short explains that Bosch video analytics (IVA) will be used on selected cameras in areas such as the warehouse and offices.
The Impro Portal Enterprise access control system has also been deployed throughout the facilities on 120 door openings, using a combination of proximity readers, time & attendance readers and biometric fingerprint readers. The latter are installed at what the company considers the more sensitive areas, where the protection of intellectual property is of concern, such as the accounts and IT departments.
A further backup to the security system comes in the form of the wireless Visonic visual verification intrusion system. The Visonic wireless range covers the entire site. Instant pictures are generated by the integrated camera PIRs verifying alarm conditions so that Elvey can ascertain the alarm's source and authenticity.
Known as Elvey Techno Park, these new facilities truly encapsulate the ideal of full integration. In addition to seamlessly tying the access control, surveillance and fire detection systems together, the electric fencing and intrusion detection also form part of the holistic building management solution.
Strategically positioned cameras are trained on sensitive areas on the perimeter and should an alarm on the fence be activated, the camera's position will swivel to the correct position. Video verification completes the picture and allows the control room operators to ascertain the nature and size of a potential threat.
Mutinelli explains that the company took a decision when considering the relocation to equip the facilities in such a way that high level security was top of mind. "By equipping our own facilities with cutting edge technology, we are literally walking the talk with our customers. This investment adds impetus to the solution recommendations we make to customers and adds integrity to our product capability claims."
Short believes that the project is the only one of its kind within South Africa. Elvey's facilities are a perfect example of what can be achieved by using the right products, combined with the project specification capabilities of Pentagon.
Elvey welcomes requests to visit the site, please contact info@Elvey.co.za or +27 (0)11 401 6700.
Credit(s)
Further reading:
Shorten your checkout lines to enhance customer experience
September 2019, Hikvision South Africa , Retail (Industry), CCTV, Surveillance & Remote Monitoring
Hikvision's queue detection technology is purpose-built to offer cutting-edge flow analysis to retail outlets and any situation where waiting to pay is required.
Read more...
---
Constructive CCTV contributions to research
September 2019, Leaderware , Editor's Choice, CCTV, Surveillance & Remote Monitoring
Study leads to understanding that we need more recognition and reward for constructive participation in society.
Read more...
---
New Africa sales manager for Axis Communications
September 2019, Axis Communications SA , News, CCTV, Surveillance & Remote Monitoring
Axis Communications has appointed Brendon Hall, previously the founder and MD of Pentagon, as its new sales manager, Africa.
Read more...
---
Hikvision helps secure African Union Summit
September 2019, Hikvision South Africa , News, CCTV, Surveillance & Remote Monitoring
Hikvision established a complete intelligent video solution to ensure the security of the thirty-third African Union (AU) Summit held on 7 July in Niamey, the capital of Niger.
Read more...
---
Genetec to integrate CylancePROTECT
September 2019, Genetec , Editor's Choice, CCTV, Surveillance & Remote Monitoring, News
Genetec has announced it is partnering with Cylance, a business unit of Blackberry, to bring AI-based antivirus protection to its appliance customers.
Read more...
---
Dashcams useful for more than social media
September 2019, Graphic Image Technologies , CCTV, Surveillance & Remote Monitoring, Transport (Industry)
Logistics companies need to make sure that they have a complete solution that allows real-time driver monitoring and event notifications as they happen.
Read more...
---
Best in class at sea and ashore
September 2019, Axis Communications SA , Transport (Industry), CCTV, Surveillance & Remote Monitoring
Thermal network cameras support the guard tour function that can be used for continuous monitoring of a particular area according to the pre-set guard tour.
Read more...
---
Visitor access control at Ruimsig Country Club
September 2019, Elvey Security Technologies , Access Control & Identity Management, Products
Cost-effective access control solution that would control the ingress and egress of people, without hindering the traffic throughput of members.
Read more...
---
Improving operational efficiency through surveillance
September 2019 , CCTV, Surveillance & Remote Monitoring, Products
Today?s surveillance systems are no longer just about monitoring, but more so the intelligence that sits on the camera and what businesses can do with that information proactively.
Read more...
---
New thermal/visual drone
September 2019 , CCTV, Surveillance & Remote Monitoring, Products
New drone equips security professionals and first responders with a reliable everyday tool for dynamic operations in challenging environments.
Read more...
---