printer friendly version
The safest estate in Africa?
CCTV Handbook 2014 CCTV, Surveillance & Remote Monitoring, Access Control & Identity Management, Perimeter Security, Alarms & Intruder Detection, Residential Estate (Industry)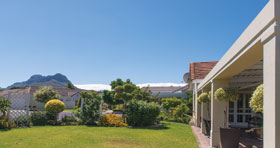 Helderberg Village was originally the brainchild of a visionary entrepreneur, who purchased the wine farm Shemara on the outskirts of Somerset West with the intention of developing a truly unique and exclusive retirement estate.
Bordering the Stellenbosch Winelands, this site had it all, from stunning views of the Helderberg Mountain, Table Mountain, the Stellenbosch and Constantia mountain ranges, vineyards to scenic views over False Bay. This was to become the magical setting for Helderberg Village.
The development and sales of homes commenced in earnest in 1987. The growth of Helderberg Village was phenomenal. The need for more homes was quickly identified and resulted in the acquisition of additional land, but not before the 34-bed healthcare centre and central clubhouse were completed.
Today, Helderberg Village is fully developed – comprising approximately 84 ha of land that includes:
* 720 homes comprising one, two and three bedroom cottages.
* 37 one and two bedroom apartments.
* 18 assisted living bed-sitter apartments annexed to the healthcare centre.
* 66-bed healthcare centre. The healthcare centre has been extended on three occasions by the association using its own funds.
* A magnificent all-purpose clubhouse recently extended and upgraded by the association using its own funds.
* Numerous ancillary community facilities.
* Administration, housekeeping and common property and infrastructure offices.
* Four swimming pools, one of which is heated.
* Sporting facilities comprising a nine-hole golf course with alternate tees, two bowling greens, a croquet court, two tennis courts and a jeu de boules court.
* Arts and crafts studio.
* Hairdressing salon.
* Woodwork studio.
* Pottery studio.
* Gymnasium.
Recent renovations have seen the estate become a market leader in the estate world. One of the key components to this enhanced lifestyle is the peace of mind from effective estate security.
Helderberg Village has embarked on a major security upgrade. Vagn Nielsen, the CEO of Helderberg Village, has spearheaded this with the support of a small project team. He pointed out that with close to 800 houses on the estate and 1200 residents, together with contractors, staff and visitors, access control is definitely a high priority.
"We are currently undertaking a R15-million security upgrade which is necessitated because of the increase in crime in the Western Cape in recent years. The security upgrade will address perimeter security, access control and general surveillance and response. Electric fencing, roving guard patrols on the perimeter and the scanning of driver licences and vehicle licence plates are currently the major focal areas," said Nielsen.
Estate management is also introducing resident awareness campaigns to ensure that residents play a more active role in the security process. "We have formed close relationships with both local community policing forums and the neighbourhood watch as well as with the SAPS. We are also installing intruder detection alarms in each residence and we have added a combination of 54 HD and thermal cameras on the perimeter. These are connected via a fibre optic network to the control room and we have a medical and armed response team in place to assist with any situation," he said.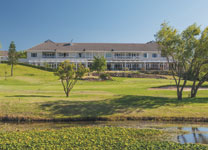 Major technology innovations include:
* Separate server room and control room environment.
* Correctly designed and implemented ergonomic control room.
* Real command and control environment.
* 48 core industrial Ethernet backbone.
* Back to back Bosch thermal cameras with advanced video analytics.
* Integrated electric fence and other outputs.
* Advanced Impro access control for visitor management with handheld scanners for licence discs and drivers' licences.
* High definition video at the entrances.
* Real-time guard tracking.
* Monitoring and managing home alarms from the control room.
* Centralised camera, fire, access control, fence, intruder alarming, generator monitoring and other alarms including analytic alarms.
* Rapid medical and armed response, roving dog patrols and tight gate control.
* Control room management.
Rob Anderson, MD of Rob Anderson & Associates is the primary consultant on the project. Wayne Devy, previously GM of Helderberg Village and now an independent consultant, is project managing all the security upgrade implementations. Xone Integrated Security is the installer, integrator and turnkey service provider. Douw Vermeulen, the manager, security services manages the onsite operations.
The entire project has taken less than four months since approval to implementation, and further phases are now underway. Since implementation there has not been a single breach and numerous would-be perpetrators have been monitored and dealt with appropriately. On Sunday 16th February 2014, a perpetrator drove up to a civil engineering container on the outside of the fence line and using a bolt cutter, attempted to open the container. The video analytics triggered in the control room and Xone Integrated Security immediately dispatched its armed response officers who were able to deal with the matter. Although the suspect fled the scene, further information at hand is being investigated.
More than technology
Ian Downie, director of Xone Integrated Security, says that technology on its own is limited in its ability to address security issues and that it's only the intelligent combination of people and processes with technology that can unlock solutions that have a real chance of keeping assets, people and information safer.
"While technology is obviously the first step in any state-of-the-art security system, it is of limited use without intelligent processes and systems behind it," says Downie. "Technology is the enabler, a thousand CCTV cameras on their own – no matter how cutting edge – are not going to tell you anything. It's the people and processes behind them that will make the system smart."
The Helderberg Village installation is a textbook case of how the integration of people, processes and technology makes for a powerful combination that not only improves safety and security, but also boosts overall business intelligence. The various mechanisms are integrated into a central command centre through wired and wireless technology that allows a single operator to monitor the entire complex in real time.
Downie says, "In any security implementation, it is important for the customer to be part of the process – but in something of this size and scale it is vital," he says. "What often happens with security is that the customer wants to fold their arms and sit back while the 'experts' solve their security risk. Security doesn't work that way. We were fortunate with Helderberg Village to have forward thinking clients who were willing to roll their sleeves up and get involved in every detail. Every camera must have an outcome and nobody knows better what that should be than the client. Vagn, Wayne and Rob used their extensive estate knowledge to drive out a solution that really considered all aspects of securing an estate in the most technically advanced manner possible."
Thus Downie and his team spent adequate time working with Helderberg Village to identify and prioritise risks and plot processes. Vagn Nielsen, Rob Anderson, Wayne Devy and Douw Vermeulen identified where the key problem areas in the operation are and defined areas of productivity and desired outcomes. This information was then programmed into the system to drive operators to respond appropriately to a variety of incidents. The Xone security personnel, including Xone control room management, security operators and armed response can then be driven by this process to provide reliable objectively measurable results.
Management by exception
Rob Anderson said that this project brought together all the necessary skills from client, consultant and service provider in a cohesive team that produced a world-class solution. "The client, as well as the rest of the team, can be proud of the outcome. This project should be used as a benchmark in estate security upgrade projects."
On the people front, Xone Integrated Security also had a hand in providing and training skilled personnel to work in the control room and retains a full-time team of technicians to make sure that the technology that enables it all keeps running smoothly.
Now, if something happens on the estate it is picked up by an alarm, analytics or/on a camera and relayed in real time to the control room operator. A series of processes enables the operator to determine whether the event is a safety, productivity or security issue and a pop-up screen will then literally tell them what to do. In essence, the system helps the operator to make a more accurate and informed decision, faster.
"This is management by exception," says Downie. "The beauty of the system is that it virtually eliminates human error while speeding up the decision-making process and response times.
"Even more powerfully, the software can generate reports allowing operators to get an immediate snapshot of safety, security and productivity. They can use that business intelligence to weigh up risks, measure trends and ultimately to drive to outcomes to improve the risk perspective."
Downie says that it is the only system he has ever seen that comes full circle. It shows the event and how it was resolved. "The system allows operators and village management to keep their finger on the pulse in a way not previously imagined," says Downie.
"It was absolutely essential to get the best security systems in place so that this tranquil setting could remain just that, tranquil without the threat of crime," says Wayne Devy, project manager.
Downie adds that Helderberg Village share a commitment to a safer environment that is admirable. "You need to look at it as a pyramid," he says, "some companies do technology, some do process well and others are strong on the people front. But unless those three are integrated and equally strong, the pyramid has a part missing and you can never have great risk management."
Contacts
Helderberg Village: Vagn Nielsen, CEO, +27 (0)21 855 8300, vagn.nielsen@helderbergvillage.co.za
Rob Anderson: Rob Anderson & Associates, MD, +27 (0)31 267 4150, rob@robanderson.co.za, www.robanderson.co.za
Wayne Devy, Devy Management Solutions Group, managing partner, +27 (0)79 881 9796, wayne.devy@dmsolutionsgroup.co.za, www.dmsolutionsgroup.co.za
Ian Downie, director, Xone Integrated Security, +27 (0)82 906 7600, ian@xone.co.za, www.xone.co.za
Credit(s)
Further reading:
Retail solutions beyond security
Issue 8 2020, Axis Communications SA, Technews Publishing, Hikvision South Africa , Editor's Choice, CCTV, Surveillance & Remote Monitoring
The need for security technology to deliver more than videos of people falling or stealing from retail stores is greater than ever.
Read more...
---
A 'step-change' in tracking and monitoring
Issue 8 2020, Dahua Technology South Africa , CCTV, Surveillance & Remote Monitoring, Products
View an overall scene while monitoring a specific person or vehicle, or obtain a panoramic view while being able to zoom in and track particular targets.
Read more...
---
AI-powered hardhat detection
Issue 8 2020, Hikvision South Africa , Industrial (Industry), CCTV, Surveillance & Remote Monitoring
Hardhats save lives, but only if people wear them. Intelligent, AI-powered hardhat cameras are helping to ensure workers in dangerous locations stay safe at all times.
Read more...
---
AI surveillance protects valuable stock
Issue 8 2020, Dahua Technology South Africa , CCTV, Surveillance & Remote Monitoring, Retail (Industry)
Hyundai Somerset West branch store equipped with AI-enabled Dahua WizMind surveillance solution to keep valuable stock safe 24 hours per day.
Read more...
---
Net2 integrates with additional thermal scanners
Issue 8 2020, Paxton , News, Access Control & Identity Management
Paxton has updated Net2 to include six new thermal temperature scanning integrations to assist in managing the pandemic.
Read more...
---
App Challenge winners
Issue 8 2020 , News, CCTV, Surveillance & Remote Monitoring
Security & Safety Things announced the winners of App Challenge for innovation in AI-enabled smart camera applications.
Read more...
---
Camera Selection Guide 2020
CCTV Handbook 2020 , Camera Selection Guide, CCTV, Surveillance & Remote Monitoring
The Camera Selection Guide 2020 includes a range of IP, analogue, thermal and speciality cameras aimed at a broad range of surveillance functions.
Read more...
---
Storage Selection Guide 2020
CCTV Handbook 2020 , Storage Selection Guide, CCTV, Surveillance & Remote Monitoring
The Storage Selection Guide 2020 includes a range of video storage and management options for small, medium and large surveillance operations.
Read more...
---
First Distribution to distribute Video Storage Solutions
Issue 8 2020 , News, CCTV, Surveillance & Remote Monitoring, IT infrastructure
First Distribution has signed an agreement to distribute the entire Video Storage Solutions (VSS) product line of video surveillance appliances.
Read more...
---
Ring Africa launches new cameras in SA
Issue 8 2020 , News, CCTV, Surveillance & Remote Monitoring, Smart Home Automation
Ring Africa has officially launched a range of indoor and outdoor home security cameras in South Africa.
Read more...
---