printer friendly version
Getting digital with analogue
April 2014
CCTV, Surveillance & Remote Monitoring
Cloudview has announced the launch of the world's first corporate-grade surveillance solution designed to deliver the benefits of IP and cloud-based technology without the associated costs or complexity.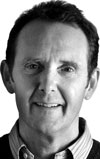 Cloudview CEO, James Wickes
Vendors of network video surveillance systems have spent the last decade and more trying to convince customers to abandon old-style analogue technology in favour of digital, IP-based alternatives. Despite those not-inconsiderable efforts, however, many remain stubbornly attached to analogue CCTV with IP systems accounting for little more than a fifth (20%) of all installations.
That, though, could soon change, a recent RNCOS report (Global CCTV Market Forecast to 2014 – RNCOS (Aug 2012), www.rncos.com/report/IM374.htm) predicting that, against a background of demand for more sophisticated solutions, IP-based surveillance products could gain the upper hand for new installations by the end of 2014. However, given the sluggish rate of churn in the CCTV industry, it could take decades before the millions of installed analogue cameras get a digital makeover. A fact not lost on surveillance vendors, many of which offer hardware adaptors to enable customers to go digital at their own pace.
Known as digital video encoders, these products simply convert analogue video to digital format for use with IP-based surveillance systems. Unfortunately that's all they do – customers still have to buy into a new digital infrastructure (digital recorders, storage, monitoring/management consoles, etc), so the only saving comes from being able to re-purpose existing analogue cameras. Added to which, digital encoders do nothing to address the need for a different mind-set and considerable technical expertise when switching from analogue to digital surveillance.
Cloudview addresses all these issues, making it possible to switch analogue CCTV cameras onto the benefits of digital technology without having to invest in a complex and costly supporting infrastructure. Something it achieves using a combination of simple plug-and-play hardware (the Cloudview Visual Network Adapter) and another trend highlighted in the RNCOS report – a move away from local recording, monitoring and management to cloud-based video surveillance as a service (VSaaS).
The monitoring and recording software is hosted with recordings similarly stored in the cloud so the only extra required is the Cloudview Visual Network Adapter (VNA) to allow existing analogue CCTV cameras to be used. The investment required is minimal, plus there's no need for special network skills or a different mindset to install or use Cloudview. Indeed it's no harder than analogue CCTV, as outlined in this article, which also explains the advantages and benefits of the Cloudview solution.
Technology perspective
The VNA is not just another IP video encoder. There are five differences between a conventional encoder and the VNA.
1. The Cloudview VNA digitises analogue video (as does a traditional encoder), but is also a self-contained computer, linked to a cloud-based management and storage platform.
2. Digital encoders typically require a fixed Ethernet connection. A Wi-Fi or 3G dongle can be plugged into the USB port on the Cloudview VNA to enable it to connect wirelessly to the Internet.
3. A digital encoder continually digitises and streams CCTV video, requiring constant bandwidth. The Cloudview VNA can be configured to only forward data when motion or other trigger events are detected, minimising bandwidth without compromising quality.
4. A digital encoder is a proprietary device designed to integrate analogue CCTV cameras into a specific IP surveillance ­solution and supporting monitoring/recording infrastructure. The VNA integrates analogue CCTV cameras into a cloud-based IP surveillance system. No additional infrastructure is required, just a PC, tablet or smartphone with Internet access.
5. Local surveillance hardware and their recordings can be tampered with, stolen or destroyed altogether, for example in a fire. Cloudview is hosted in secure remote data centres with recordings optionally digitally watermarked to prevent tampering. Recordings stored in the Cloudview inbox can be retained for up to 90 days or six years when held in folders. Regular backups are taken, and footage can be downloaded or archived to secure cloud-based storage, as required.
Cloudview features
A corporate-grade cloud surveillance solution, Cloudview, is designed to deliver the benefits of IP and cloud-based technology without the associated costs or complexity. The key differences and selling points of Cloudview are:
* Can be quickly and affordably added to any existing analogue CCTV system without impacting existing recording/monitoring arrangements.
* Scalable from one to thousands of cameras.
* No up-front investment in IP infrastructure required.
* Installs in minutes with minimal technical knowledge required.
* Support for wired, WiFi and 3G/4G wireless connectivity.
* Minimal bandwidth and storage overheads.
* Easily integrated with external alarm sensors and device actuators.
* Corporate grade security to protect both data transfers and stored footage.
* Monitoring of camera availability and alerting when cameras go offline.
* Edge recording to SD card if network ­connection lost.
* Easy to use cloud-based management and monitoring platform.
* Built-in motion detection technology ­independent of cameras used.
* e-mail and SMS alerting.
* Integration with leading ARC (alarm ­receiving centre) platforms.
* Automatic remote updates.
Cloudview deployment scenarios
Cloudview is a flexible and affordable video surveillance as a service (VSaaS) solution. Designed to be easy to install and manage it can be put to a wide variety of uses, here are just three common scenarios.
Visual verification: False alarms are a common problem with intruder alarm systems with over 90% of callouts caused by either equipment, communication or user error. To restore faith in the alarm system requires the addition of extra confirmation technology. Either sequential verification (where multiple detectors have to be triggered); audio verification (where staff at the monitoring centre listen in to confirm an alarm); and video verification (where cameras are targeted on the monitored area).
Migration to IP surveillance: Although recognised as technologically superior, digital IP systems have not replaced analogue CCTV anywhere near as quickly as once predicted. Partly because upgrading will typically require the existing analogue infrastructure to be ripped out and replaced, and partly because analogue is still seen as easier to install and manage.
With Cloudview, there's no need to rip out the existing analogue CCTV infrastructure – it can be migrated to digital at the customer's own pace. That's because the Cloudview VNA can connect existing analogue cameras to the digital world while still allowing them to feed into the on-site analogue monitoring/recording systems.
Remote CCTV monitoring: Despite its popularity, one thing that analogue CCTV can't do – at least, not easily – is give operators remote access to CCTV recordings. Unfortunately, remote access and management is fast becoming a common requirement with alarm monitoring companies and end-users alike. Moreover, providing remote access requires complicated VPN (Virtual Private Network) tunnels to be configured in order to keep data secure.
Cloudview, by contrast, can be added to any existing CCTV or IP surveillance system at minimal cost. It also stores video in the cloud using 256-bit AES encryption to scramble the data, eliminating the need for complicated VPN tunnels and making Cloudview recordings securely accessible over the Internet to any authorised user or operator equipped with just a PC, tablet or smartphone.
This article has been shortened. For more information on Cloudview, visit www.cloudview.co
Further reading:
Securing Savannah Hills Estate
August 2019, Rhyco Risk Projects , CCTV, Surveillance & Remote Monitoring, Perimeter Security, Alarms & Intruder Detection
Savannah Hills Estate in Midrand planned a security upgrade which was awarded to Rhyco Risk Projects. The project started in March 2019 and was completed in May 2019.
Read more...
---
10 things to consider when shopping for a VMS
August 2019, Genetec , CCTV, Surveillance & Remote Monitoring, Integrated Solutions
Today's video management systems (VMS) provide a wide range of tools and capabilities that help make security personnel more efficient by allowing them to focus on what really matters.
Read more...
---
How far are we really at with artificial intelligence?
August 2019, Axis Communications SA , Editor's Choice, CCTV, Surveillance & Remote Monitoring, IT infrastructure, Residential Estate (Industry)
Justin Ludik unpacks exactly how far AI has come and what it potentially can do for society and more importantly, surveillance.
Read more...
---
Enhancing security with AI
August 2019, Hikvision South Africa , CCTV, Surveillance & Remote Monitoring
Hikvision explains how residential estates can revolutionise their security strategies and outcomes with artificial intelligence.
Read more...
---
More than simply a camera
August 2019, Forbatt SA, Secutel Technologies , CCTV, Surveillance & Remote Monitoring, Residential Estate (Industry)
With the human element being the weakest link in all security solutions, Hi-Tech Security Solutions looks at the pros and cons of using body-worn cameras in estates.
Read more...
---
The importance of effective perimeter security
August 2019, Elf Rentals - Electronic Security Solutions, Stafix , Editor's Choice, CCTV, Surveillance & Remote Monitoring, Residential Estate (Industry)
Protecting the perimeter is critical for any residential estate; how does one go about making sure your perimeter is as secure as possible?
Read more...
---
Security playing speedcop
August 2019, Axis Communications SA, Hikvision South Africa , CCTV, Surveillance & Remote Monitoring, Residential Estate (Industry)
Estates now have a legal precedent to manage their traffic and fine people in the estate for violations of the rules; all they need do is find solutions that will support them.
Read more...
---
CathexisVision video management software
August 2019, Cathexis Technologies , Products, CCTV, Surveillance & Remote Monitoring
The CathexisVision IP video management software (VMS) helps clients get the most out of their surveillance investment and reap rewards for their companies.
Read more...
---
Capture every detail with Smart PIR kits
August 2019, Longse Distribution , Home Security, CCTV, Surveillance & Remote Monitoring, Residential Estate (Industry)
Longse Technology offers DIY smart security kits that are easy to install and offer a Wi-Fi range that can reach up to 300 metres.
Read more...
---
Future-facing cameras
August 2019, Bosch Building Technologies , Products, CCTV, Surveillance & Remote Monitoring
All FLEXIDOME IP starlight 8000i cameras feature built-in Intelligent Video Analytics, making them intuitive, and elevates their importance far beyond security alone.
Read more...
---