printer friendly version
Lighting for network cameras – the dark art is revealed
April 2014
CCTV, Surveillance & Remote Monitoring
Every camera needs light to see and network cameras are no different. Network cameras need lighting to achieve high quality images at night, reduce their bandwidth and storage requirements and to allow faster frame rates. Without good lighting network cameras won't live up to their full potential; they will not be able to deliver the superior resolutions they are capable of, and may overload a system with the large amount of data they generate. Benefits of correctly illuminating your network camera:
* High quality night-time images.
* Save up to 90% on bandwidth usage.
* Save up to 90% on storage space.
* Allows higher frame rates.
* Allows video analytics to work.
Megapixel cameras and their requirement for light
There is one simple rule to remember, if all other variables remain equal, the resolution of a camera increases as its sensitivity to light decreases. This is down to the size of the individual pixels on a sensor (think of the pixel as a little bucket to collect light). Consider the two examples in Figure 1.

Figure 1.
Clearly the sensor on the right with 16 pixels has four times the resolution of the sensor on the left with 4 pixels. But take a look at the size of the individual pixels on each sensor; the pixels on the sensor on the left are much larger, capable of collecting much more light and are therefore able to deliver better performance in lower light conditions.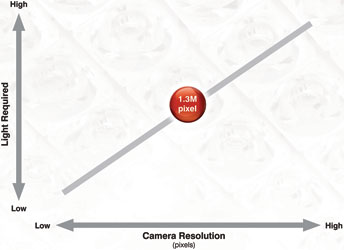 Figure 2.
Because of the relationship between a camera's resolution and its requirement for light, professional lighting is even more advantageous with modern megapixel cameras than it is with analogue technology. The higher the resolution of the camera, the more light that is required to deliver high quality images at night.
Video compression needs good lighting
Moving to megapixel allows for higher resolution images, each containing more data than standard analogue images. The benefits are numerous and include sharper pictures, the ability to cover larger areas with one camera, and the ability to digitally zoom into the image and maintain a good image quality. But of course, increasing the data in each frame increases the file size of each frame resulting in greater network and storage demands.
Higher resolution = larger file size = more bandwidth and storage
Video compression is an essential part of the megapixel camera's offering because, without it, a lot more data has to be handled leading to higher bandwidth and storage requirements. Compression techniques such as H.264 work on compressing the raw data into smaller 'chunks' to reduce bandwidth requirements. In simple terms compression works by replicating data from previous frames and only the pixels that have changed (due to colour or movement) are transmitted and updated in the live video image.
Most security professionals will be familiar with the noisy 'white-noise' images that cameras produce when there is not enough light on scene. With each pixel changing frequently the camera is fooled into thinking there is constant movement throughout the image and this prevents video compression from working.
A fundamental benefit of professional lighting for network cameras results from delivering enough light to prevent noise in the image. In turn this provides higher quality pictures, allows compression techniques to work and substantially reduces bandwidth and storage requirements.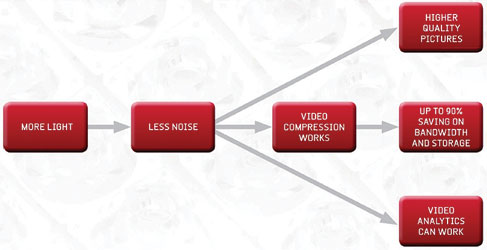 Figure 3.
Practical demonstrations
From these test images in Figure 4 it's easy to see that adding lighting to a megapixel camera dramatically reduces bandwidth and storage requirements at night. But a closer inspection reveals other lessons that can be learned: Consider the bit-rate of each test with the IR off – all are pretty similar. Now review the bit-rate of the three images taken with the IR on. The lowest bit-rate is seen on the image from the darkbox test, followed by the image from the indoors tests, with the lowest saving (still a significant 74%) achieved with the outdoor camera. This occurs because in indoor environments the IR lighting has more opportunity to illuminate the full scene and the scene is more likely to contain objects able to reflect light back to the camera. With an outdoor scene, the IR will never be able to illuminate the sky – which often represents a significant part of the image.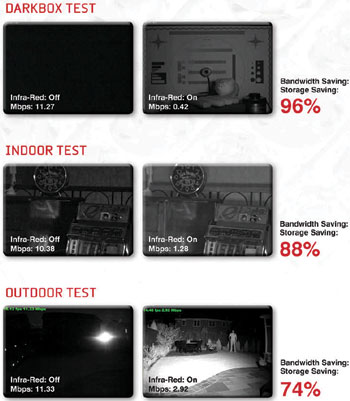 Figure 4.
Take another look at the outdoor images – in both images the intruder holds a flashlight. Without any IR lighting the flashlight appears as a bright spot in the image, an area overexposed to the camera. By adding infrared not only can the whole scene now be seen, but glare from the flashlight is reduced. The extra light provided by the IR illuminator means there is less contrast between the brightest and darkest parts of the image and the camera can handle the dynamic range of the scene much more effectively.
* Largest savings available on indoor scenes.
* For outdoor applications, pointing the camera down to include less sky in the image will provide greater bandwidth and storage savings.
* Adding IR light reduces the effect of glare from flashlights, streetlights and headlights.
Guidelines for installers and specifiers
Like all cameras, network cameras require good quality, even illumination to produce the best images at night. But in addition, network cameras have further demands for light. They need lighting to reduce bandwidth and storage, to allow video analytics to work and to support higher resolution images. By adding professional lighting network cameras can provide fantastic images whether supported by infrared or white-light. Take a look at what is possible in Figure 5.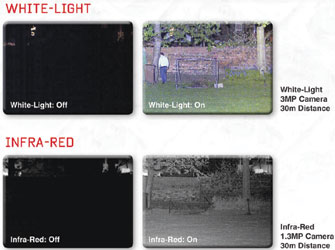 Figure 5.
Raytec offer a free lighting design service to assist all installers and specifiers in choosing the best locations for lighting, correct light levels (minimum, maximum and average) and to provide the energy savings possible in using Raytec's infrared or white-light LED technology.
Raytec also supports installers of network cameras with a range of illuminators directly powered from PoE to make installation easier, quicker and more cost effective when only PoE is available. More developments, purpose designed for the unique requirements of network cameras, are planned for the future.
Conclusion
Operating network cameras at night will always come down to a choice for the end-user. Without light, the end-user needs to pay to increase the system data handling capability, both bandwidth and storage, accept lower frame rates and accept significantly lower quality video, or limit the number of cameras in a system. Alternatively they can choose to add lighting to support their network cameras, lowering infra-structure costs, delivering better pictures and allowing video analytics to work to its full potential.
Only one of these solutions delivers fantastic night-time pictures: Use lighting to support your network cameras.
For more information contact Roston Sadie, GIS SA, +27 (0)71 560 4151, roston@gis-sa.net, www.gis-sa.net
Credit(s)
Further reading:
Why rehearsals and drills for crises and evacuation are so important
August 2019, Leaderware , CCTV, Surveillance & Remote Monitoring, Security Services & Risk Management
The rehearsal of concept (ROC) drill has been used extensively in the military, but is just as important when facing risks in organisations and institutions to protect people on the ground.
Read more...
---
Milestone partners prove their skills
August 2019, Milestone Systems , News, CCTV, Surveillance & Remote Monitoring, Training & Education
Within the span of one week in mid-May, the Milestone Learning & Performance group celebrated important benchmarks: 200 000 course registrations and tutorial views, and 10 000 certifications.
Read more...
---
ONVIF Hosts 20th Developers' Plugfest
August 2019 , News, CCTV, Surveillance & Remote Monitoring
ONVIF, the global standardisation initiative for IP-based physical security products, hosted its twentieth ONVIF Developers' Plugfest in early June in Tokyo.
Read more...
---
Licence plate recognition camera
August 2019 , Products, CCTV, Surveillance & Remote Monitoring
VIVOTEK has introduced a new licence plate recognition camera featuring built-in licence plate recognition software and edge-computing capability.
Read more...
---
Securing Savannah Hills Estate
August 2019, Rhyco Risk Projects , CCTV, Surveillance & Remote Monitoring, Perimeter Security, Alarms & Intruder Detection
Savannah Hills Estate in Midrand planned a security upgrade which was awarded to Rhyco Risk Projects. The project started in March 2019 and was completed in May 2019.
Read more...
---
10 things to consider when shopping for a VMS
August 2019, Genetec , CCTV, Surveillance & Remote Monitoring, Integrated Solutions
Today's video management systems (VMS) provide a wide range of tools and capabilities that help make security personnel more efficient by allowing them to focus on what really matters.
Read more...
---
How far are we really at with artificial intelligence?
August 2019, Axis Communications SA , Editor's Choice, CCTV, Surveillance & Remote Monitoring, IT infrastructure, Residential Estate (Industry)
Justin Ludik unpacks exactly how far AI has come and what it potentially can do for society and more importantly, surveillance.
Read more...
---
Enhancing security with AI
August 2019, Hikvision South Africa , CCTV, Surveillance & Remote Monitoring
Hikvision explains how residential estates can revolutionise their security strategies and outcomes with artificial intelligence.
Read more...
---
More than simply a camera
August 2019, Forbatt SA, Secutel Technologies , CCTV, Surveillance & Remote Monitoring, Residential Estate (Industry)
With the human element being the weakest link in all security solutions, Hi-Tech Security Solutions looks at the pros and cons of using body-worn cameras in estates.
Read more...
---
The importance of effective perimeter security
August 2019, Elf Rentals - Electronic Security Solutions, Stafix , Editor's Choice, CCTV, Surveillance & Remote Monitoring, Residential Estate (Industry)
Protecting the perimeter is critical for any residential estate; how does one go about making sure your perimeter is as secure as possible?
Read more...
---