printer friendly version
Feeling the heat with thermals
CCTV Handbook 2014
CCTV, Surveillance & Remote Monitoring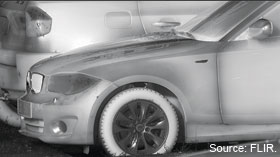 With thermal cameras surging into the mainstream as more companies offer the technology and pricing is forced lower, Hi-Tech Security Solutions asks two industry experts for their take on the world of thermal imaging, where it's going and what the benefits of thermals really are.
Thermal cameras have moved from military use to everyday use as the prices have come down and businesses have discovered their usefulness in almost any conditions. Hi-Tech Security Solutions asked a couple of people to tell us more about this technology and the areas it is most effective in.
Hi-Tech Security Solutions: Thermal cameras are becoming more popular with more companies brining out their own models. What are the benefits of thermals and in which environments do they work best?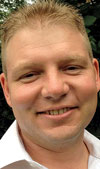 Haiko Wöstmann, director of ProDIS.
Haiko Wöstmann: Thermal cameras work differently to normal cameras in that they sense the heat radiated from the objects rather than the light reflected from the object. Different materials have their own heat signature, which is sensed by the thermal sensor. Thermal cameras work without any light source, so an object or a body can be seen in total darkness.
Thermal radiation can, to an extent, be seen though other objects with the exception of glass. Mammals and other hot objects can be seen through bushes and shrubbery, engines and bearings with high temperatures can be seen through steel casings. Light does not affect thermal cameras so whether it's day and night, direct beam of light or pitch darkness, foggy or clear, rain or snow the thermal camera is not affected. Greater distances can be sensed with a thermal camera than a normal camera with similar a lens. Thermal works best in any environment where light is limited, difficult, unwanted or not present. Perimeter protection, border protection, coastal, hazy, foggy, bushy areas, plant and machinery where operation and safety of maintenance is important, any other area were light is a problem.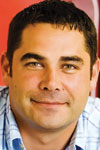 Brendon Cowley, business development director, C3 Shared. Services.
Brendon Cowley: Thermal cameras enable continuous monitoring at any time (day or night, fog, smoke etc.). They boost video analytics performance with long-range detection, as well as reduce false alarms derived from shadows, flickering lights etc, and are best suited for low light conditions and large open spaces where intrusions with a normal day/night camera become difficult to detect.
Hi-Tech Security Solutions: Identification is impossible with thermals. Would it not be better to use thermals in cooperation with 'normal' cameras to pick up motion and then zoom in to obtain an identification? Is this a reasonable idea? What about the costs of two cameras?
Haiko Wöstmann: Resolution on commercial grade thermal is still low and one is looking at a heat signature so an object shape can be determined. The combination is definitely an option if identification is required. Cost is one thing, but functionality and integration between two cameras is another challenge. The Mobotix M15 has an optional additional lens for this purpose, were lighting is required it can be controlled by the camera automatically or manually. The MxActivity Sensor motion detection feature is not prone to false alarms from environmental conditions, and it works on both sensors. The M15 can be equipped with a low light sensor in any of its lenses and all features can be configured on either or both sensors as required. Therefore only one camera is required with all the functionality for all light conditions on a single camera with an insignificant extra cost for the sensor.
Brendon Cowley: The combination of Day/Night and thermal cameras is the ideal one, it provides the ultimate coverage. If cost is an issue, it's recommended to place PTZ cameras in selected locations as a complementary solution to the thermal and therefore reduce the number of cameras and costs. Ideally, there would be video analytics connected to the thermal camera in order to have real time monitoring and not a passive approach. Further costs can be saved by having the ability to reduce the guarding element due to analytics being an effective alternative.
Hi-Tech Security Solutions: Why not simply use a low-light camera to do the job of the two cameras? What are the differences between low light and thermal cameras? Are thermals really necessary if low light cameras work as advertised?
Haiko Wöstmann: Low light cameras can be used were sufficient light reflection can be achieved, their efficiency is decreased in poor weather conditions: fog, rain etc. Contrast of the object also plays a role, dark objects are difficult to see in low light conditions, just like a white object is difficult to see in the snow. The thermal signature of mammals and vehicles is normally very different to their surroundings, this is why thermal cameras are so effective for detection. Great distances can be covered with a thermal camera. Low light cameras, professional IR lighting and even your cheap IR cameras have their application in the market. One needs to identify and weigh up the risks, choose the best or most effective solution based on ROI.
Brendon Cowley: Low light cameras do what they promise, which is to work in low light and not in the dark. Compromising on that means not having visibility in the most crucial scenarios when most crimes take place – which is at night in the dark. Therefore, compromising on low light cameras means compromising on security which is much more expensive in the long run than to invest in a decent thermal and analytics solution.
Hi-Tech Security Solutions: Can you describe some thermal solutions you sell and tell us what makes it a good buy in what scenarios/environments?
Haiko Wöstmann: Thermal solutions have been around for a while now, but have only recently become cost effective for more commercial use. Mobotix makes the combination solution highly efficient and cost effective. As mentioned earlier, thermal solutions work effectively for perimeter protection: rhino camps, extra-urban estates, mining, manufacturing and so forth.
Brendon Cowley: DVTel thermal cameras combined with DVTel video analytics are the ideal perimeter solution. The cameras have better analysis compared to other cameras (14 bits per pixel) which enlarges the detection range and in turn lengthens the distance between the cameras and reduces the number of cameras and costs. It also has a unified Web interface with the analytics and unified setup etc. The combination of DVTel thermals and analytics makes it the complete real-time monitoring solution for any light/environmental condition.
Hi-Tech Security Solutions: Is there any place left for IR cameras? If so, where do they fit in?
Haiko Wöstmann: Yes, they are applicable in most places where they are currently used. There is also a big difference between an IR bullet camera and a low light camera with professional IR lighting.
Brendon Cowley: We believe that IR cameras will soon be gone. The main problems with IR cameras is the limited range compared with thermal cameras and the heat that IR cameras generate, which attracts insects to the camera and that disturbs the analytics by covering the field of view (FOV).
Contacts
ProDIS, +27 (0)12 753 4491, [email protected]
C3 Shared Services, +27 (0)11 312 2041, [email protected]
Credit(s)
Further reading:
Mount Nelson opts for cloud surveillance
CCTV, Surveillance & Remote Monitoring Entertainment and Hospitality (Industry)
IOT Revolution Technologies, in partnership with MeyCom, will be implementing over 250 cloud driven Verkada cameras at the Belmond Mount Nelson Hotel.
Read more...
---
Avoiding human error at ports
LD Africa Transport (Industry) CCTV, Surveillance & Remote Monitoring Products Logistics (Industry)
LD Africa introduced a local port to the AxxonSoft Port Security System ,a solution that helps overcome the element of human error and eliminate paperwork.
Read more...
---
Compact, lightweight bullet cameras with support for analytics
Axis Communications SA Products CCTV, Surveillance & Remote Monitoring
Axis Communications announced two new outdoor-ready bullet-style cameras featuring deep-learning processing units for analytics based on deep learning on the edge.
Read more...
---
Numerous challenges for transport and logistics
Transport (Industry) CCTV, Surveillance & Remote Monitoring Security Services & Risk Management Logistics (Industry)
Operators are making significant investments in automation and digitalisation in order to address security concerns, improve loss prevention as well as efficiency, and reduce unit order costs.
Read more...
---
A key to urban transport challenges
Axis Communications SA Transport (Industry) CCTV, Surveillance & Remote Monitoring Integrated Solutions Logistics (Industry)
There are many enabling technologies that can impact transportation in South Africa, but a good place to start is by considering the applications for smart physical technology with the ability to collect and respond to data.
Read more...
---
Hikvision aims for solutions
Technews Publishing Hikvision South Africa Editor's Choice CCTV, Surveillance & Remote Monitoring News Integrated Solutions Conferences & Events
Hikvision recently held a roadshow titled Industry X, where the company highlighted its latest products and solutions, supported by partners and distributors.
Read more...
---
Reliable, low-maintenance video appliances
Technews Publishing Editor's Choice CCTV, Surveillance & Remote Monitoring News IT infrastructure Products
Symetrix, part of the Agera Group, has added the AES range of video recording servers, storage appliances and workstations to its portfolio.
Read more...
---
A new full-colour era
Dahua Technology South Africa CCTV, Surveillance & Remote Monitoring
Traditionally, there have been two options for using surveillance cameras in the dark: flooding the scene with visible light, or alternatively using infrared (IR) illumination.
Read more...
---
AIoT delivers dynamic digital platforms
Hikvision South Africa CCTV, Surveillance & Remote Monitoring
Many stadiums or venues are seeking new, smart solutions that can help venue operators to stay on top of real-time situations dynamically on digitally driven platforms, and to achieve more efficient and sustainable venue management.
Read more...
---
Upgraded security and AI monitoring at upmarket estate
Watcher Surveillance Solutions Editor's Choice CCTV, Surveillance & Remote Monitoring Integrated Solutions Residential Estate (Industry)
Estate upgrades and enhances its security through a partnership between surveillance specialist Watcher and the incumbent guarding company.
Read more...
---