printer friendly version
Effective storage of surveillance footage
April 2014
CCTV, Surveillance & Remote Monitoring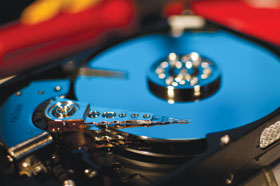 Storage models have to be able to cope with both the sheer volume of surveillance footage acquired as well as ensure its integrity and accessibility. While there is still a place for DVRs and NVRs in the foreseeable future, this is destined to make way for options like SSD or edge storage.
Graham Goldridge, regional sales director for MEA, UK and France, says that as a software company NUUO offers both Windows and embedded Linux NVRs. The Linux offering can take on-board a maximum of 32 TB of storage, but the company does understand that the system integrator requires additional storage, so they then adopt ISCSI/SAN/DAS using EMC, HP and Proware for example.
According to Brian Wynberger, national technical manager at Reditron, the use of different storage formats is very market/application driven. The largest portion of the market is still using DVRs and NVRs, with larger drive capacities like 3 and 4 TB becoming available, they gain the advantage of longer periods of storage. For larger systems, the trend is to use the storage array to store all video images. This option is becoming more attractive as hard drive capacities increase at reduced prices.
Bruce Askham, surveillance and forensic security manager at Dell says that the size of an installation as well as the resolution of the cameras will play a large determining role in the need for DVR/NVR as opposed to alternative storage mechanisms. He adds that the retention period of data and the frame rates required will also influence the choice of storage.
Nigel Steyn, subject matter expert for EMC, says that for the meantime, while the South African government is not imposing regulations concerning the adoption of megapixel cameras, it is still acceptable to use DVRs and NVRs for storage in small to medium sized installations of CCTV, whilst the larger enterprise installations are best suited to EMC Isilon architectures. However, as megapixel cameras gain popularity, their bandwidth greedy nature will require alternative methods of storage.
Arrays designed for video
Wynberger points out that traditional storage array suppliers make their standard products available for use in CCTV systems. It is however up to the CCTV manufacturer to make sure these are integrated into the storage/recording management software for use in a CCTV system. There are companies like Promise that are providing storage arrays more specifically for the video industry and more CCTV suppliers are including storage arrays or NVR/servers with a larger number of hard drive bay capacities in their portfolios.
Steyn believes that the DVR manufacturers are putting less effort into upgrading their products as these will eventually become obsolete. Products like EMC's Isilon are providing a suitable alternative for easily deployable surveillance footage storage.
Askham says that some of the traditional video management solution (VMS) companies are collaborating with hardware developers to find workable solutions for the security surveillance industry.
With regard to software management in storage offerings, Askham says that this is not so critical if you are using a good VMS, as the system will already be handling and manoeuvring data. Steyn agrees that storage offerings should not need to offer management capabilities as the CCTV system should be doing this. To reduce costs on systems, manufacturers are looking at ways of removing some of the non-essential technology such as reduplication capabilities.
SSD hardware is costly
Askham says that the benefit of SSD (solid state disks) for storage is that they are incredibly fast. However, cost is a factor and for the interim, a multi-tiered approach with VMS coupled with SSD for specific applications, will have to suffice.
Goldridge says that NUUO does not use SSDs locally since they find that the Seagate SV35 Series or the new Seagate Constellation HDD for surveillance is best suited for reading and writing for video.
Wynberger continues that the capacities of these SSDs are too low for use in CCTV applications. SSD would be useful for specific applications and small systems like mobile applications where robustness of storage is important.
He adds that edge storage will reduce the number of physical DVR/NVRs being used in the system. With large capacity arrays it makes storage close to the source of the video more feasible, in combination with good VMS software.
Wynberger believes that for many sectors of the market there is still the question of costliness of storage arrays over that of DVRs and NVRs. There is also the question of redundancy. Most DVR/NVRs in a system offer better redundancy than a single edge storage solution for all video. Edge storage by nature provides protection against failure but this comes at a price.
Contacts
NUUO, +27 (0)11 475 3254, graham@nuuo.com, www.nuuo.com
Reditron, +27 (0)87 802 CCTV(2288), sales@reditron.co.za, www.reditron.co.za
Dell, +27 (0)11 549 4035, bruce_askham@dell.com, www.dell.co.za
EMC, +27 (0)11 581 0000, sonelia.dupreez@emc.com, www.emc.com
Credit(s)
Further reading:
Securing Savannah Hills Estate
August 2019, Rhyco Risk Projects , CCTV, Surveillance & Remote Monitoring, Perimeter Security, Alarms & Intruder Detection
Savannah Hills Estate in Midrand planned a security upgrade which was awarded to Rhyco Risk Projects. The project started in March 2019 and was completed in May 2019.
Read more...
---
10 things to consider when shopping for a VMS
August 2019, Genetec , CCTV, Surveillance & Remote Monitoring, Integrated Solutions
Today's video management systems (VMS) provide a wide range of tools and capabilities that help make security personnel more efficient by allowing them to focus on what really matters.
Read more...
---
How far are we really at with artificial intelligence?
August 2019, Axis Communications SA , Editor's Choice, CCTV, Surveillance & Remote Monitoring, IT infrastructure, Residential Estate (Industry)
Justin Ludik unpacks exactly how far AI has come and what it potentially can do for society and more importantly, surveillance.
Read more...
---
Enhancing security with AI
August 2019, Hikvision South Africa , CCTV, Surveillance & Remote Monitoring
Hikvision explains how residential estates can revolutionise their security strategies and outcomes with artificial intelligence.
Read more...
---
More than simply a camera
August 2019, Forbatt SA, Secutel Technologies , CCTV, Surveillance & Remote Monitoring, Residential Estate (Industry)
With the human element being the weakest link in all security solutions, Hi-Tech Security Solutions looks at the pros and cons of using body-worn cameras in estates.
Read more...
---
The importance of effective perimeter security
August 2019, Elf Rentals - Electronic Security Solutions, Stafix , Editor's Choice, CCTV, Surveillance & Remote Monitoring, Residential Estate (Industry)
Protecting the perimeter is critical for any residential estate; how does one go about making sure your perimeter is as secure as possible?
Read more...
---
Security playing speedcop
August 2019, Axis Communications SA, Hikvision South Africa , CCTV, Surveillance & Remote Monitoring, Residential Estate (Industry)
Estates now have a legal precedent to manage their traffic and fine people in the estate for violations of the rules; all they need do is find solutions that will support them.
Read more...
---
CathexisVision video management software
August 2019, Cathexis Technologies , Products, CCTV, Surveillance & Remote Monitoring
The CathexisVision IP video management software (VMS) helps clients get the most out of their surveillance investment and reap rewards for their companies.
Read more...
---
Capture every detail with Smart PIR kits
August 2019, Longse Distribution , Home Security, CCTV, Surveillance & Remote Monitoring, Residential Estate (Industry)
Longse Technology offers DIY smart security kits that are easy to install and offer a Wi-Fi range that can reach up to 300 metres.
Read more...
---
Future-facing cameras
August 2019, Bosch Building Technologies , Products, CCTV, Surveillance & Remote Monitoring
All FLEXIDOME IP starlight 8000i cameras feature built-in Intelligent Video Analytics, making them intuitive, and elevates their importance far beyond security alone.
Read more...
---