printer friendly version
After high-definition
April 2014
CCTV, Surveillance & Remote Monitoring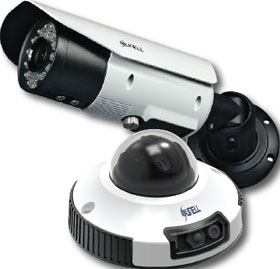 As high-definition and megapixel cameras become the norm, what's next? Ultra HD or 4K cameras, multi-lens cameras? And what about the screens used to view video; can they match the advances in image quality? More to the point, is more really necessary?
And what about H.265? It offers brilliant compression – a 50% increase on H.264 according to rumour, which many dispute – but are manufacturers getting on board? What about compatibility with older products? Hi-Tech Security Solutions spoke to MJ Oosthuizen, a consultant with Sunell and asked him these questions.
Hi-Tech Security Solutions: How realistic is the next generation of HD in the real world? Are you planning to supply cameras and related products to support this resolution? Where would they be useful to deploy? Will they be available at a reasonable cost?
Oosthuizen: Sunell is hard at work on its launch later this year of an 8 megapixel (MP) solution, which will offer the resolution of UHD, (2160p, or 3840 × 2160, or 8.3 MP). This is roughly equivalent to 4K cinema imaging or 4-times the number of pixels in full HD format (1080p). Building a quality and stable offering using cutting-edge processors and sensors still leaves the challenge of delivering a quality image in relationship not just to the pixels, but also the lens and sensor capabilities.
Hi-Tech Security Solutions: What about bandwidth? Ultra HD needs ultra bandwidth – surely this must limit the scope of this technology?
Oosthuizen: The age-old fight of bandwidth and storage is always a factor. However, using compression, noise reduction and also having edge recording as well as edge analytics will let bandwidth be used only where needed – but this is mere bandwidth management. All Sunell products offer edge recording, as well as motion detection at the edge, meeting ONVIF Profile S compliancy.
As this is now becoming common for all platforms to offer this key element to limit bandwidth, the ultimate question for storage remains how much your available budget is. This will however, not stop the transition to this technology. The hunger for better and higher quality video will continue to grow.
Hi-Tech Security Solutions: Even with H.265, bandwidth at high resolution is a problem. How do users overcome bandwidth issue while still getting the value of 4K?
Oosthuizen: A complete roll out of ultra HD cameras onto one site would not be an ideal scenario for the foreseeable future. However, running a mix of IP megapixel cameras on a properly designed site, adding a few ultra HD models into the mix in key areas would make more sense for the balance of storage and bandwidth management.
Bandwidth issues remain a factor not taken into consideration by the majority of users, nor do all system integrators consider it correctly.
H.265 is promising up to 50% less than H.264 (still to be confirmed). However, the hunger and need for resolution brings us to the debate of whether a camera with 4-times the definition will cover the same need as two cameras with one-quarter of the resolution?
Hi-Tech Security Solutions: What about H.265? Are you planning on using it? Can your current systems be upgraded or will they be compatible with H.265?
Oosthuizen: DSP providers now have and are working on H.265 encoding for security products. The focus, however, is still the drive for the development of devices for the domestic market as this is the driving force for our section of the industry. Sunell will support H.265 as soon as the low-level encoding is provided and the R&D engineers have been hard at work to make sure the transition will take place in alignment with market demand.
Currently the requirements of H.265 is a quad-core level processor clocked at around
1.5 GHz. Heat is a serious issue for the new, more powerful processors running at higher clock speeds, so a lot of work still needs to be done. Keep in mind that the transition to H.264 took almost 10 years to mature and become the standard platform in the CCTV world. We believe H.265 in the mainstream it is still a year or so away before affordability becomes visible for these solutions and the migration process starts.
Hi-Tech Security Solutions: Are there reasonably priced 4K accessories – such as monitors that can handle 4K?
Oosthuizen: Indeed the current rush since the CES show in Las Vegas in January has seen a number of leading manufactures announce very respectably priced monitors. For example, Lenovo's ThinkVision Pro2840m 4K monitor and the Asus PB287Q, both at $800, and there is Siki which has selling a TV for $500.
More importantly, it's not just the monitor, it is how people deliver 4K output and this is left, to a degree, in the hands of the graphic card masters where high-end cards are needed. You need a capable system to display this, either from HDMI v1.3 or using display ports. Expect a vast array of cost effective graphics cards to become more common. 4K recording is available on some smart phones/phablets already. Watch this space in 2014 as 4K displays and equipment will be greatly improved.
Ultra-high-definition defined
Ultra-high-definition (UHD) television, also abbreviated UHDTV, is a digital television display format in which the horizontal screen resolution is on the order of 4000 pixels (4K UHD) or 8000 pixels (8K UHD).
Technically, a 4K UHD display has 3840 pixels horizontally and 2160 pixels vertically for a total of 8,294,400 pixels or 8.3 megapixels. An 8K UHD display has 7680 pixels horizontally and 4320 pixels vertically for a total of 33 177 600 pixels or 33,2 megapixels. Therefore, 4K UHDTV has roughly four times as many pixels as conventional HDTV (high-definition television), and 8K UHDTV has roughly 16 times as many pixels as conventional HDTV.
Source: http://whatis.techtarget.com/definition/Ultra-High-Definition-TV-UHDTV
For more information contact MJ Oosthuizen, Sunell SA, +27 (0)11 469 3598, mj@sunellsecurity.com, www.sunellsecurity.com
Further reading:
Securing Savannah Hills Estate
August 2019, Rhyco Risk Projects , CCTV, Surveillance & Remote Monitoring, Perimeter Security, Alarms & Intruder Detection
Savannah Hills Estate in Midrand planned a security upgrade which was awarded to Rhyco Risk Projects. The project started in March 2019 and was completed in May 2019.
Read more...
---
10 things to consider when shopping for a VMS
August 2019, Genetec , CCTV, Surveillance & Remote Monitoring, Integrated Solutions
Today's video management systems (VMS) provide a wide range of tools and capabilities that help make security personnel more efficient by allowing them to focus on what really matters.
Read more...
---
How far are we really at with artificial intelligence?
August 2019, Axis Communications SA , Editor's Choice, CCTV, Surveillance & Remote Monitoring, IT infrastructure, Residential Estate (Industry)
Justin Ludik unpacks exactly how far AI has come and what it potentially can do for society and more importantly, surveillance.
Read more...
---
Enhancing security with AI
August 2019, Hikvision South Africa , CCTV, Surveillance & Remote Monitoring
Hikvision explains how residential estates can revolutionise their security strategies and outcomes with artificial intelligence.
Read more...
---
More than simply a camera
August 2019, Forbatt SA, Secutel Technologies , CCTV, Surveillance & Remote Monitoring, Residential Estate (Industry)
With the human element being the weakest link in all security solutions, Hi-Tech Security Solutions looks at the pros and cons of using body-worn cameras in estates.
Read more...
---
The importance of effective perimeter security
August 2019, Elf Rentals - Electronic Security Solutions, Stafix , Editor's Choice, CCTV, Surveillance & Remote Monitoring, Residential Estate (Industry)
Protecting the perimeter is critical for any residential estate; how does one go about making sure your perimeter is as secure as possible?
Read more...
---
Security playing speedcop
August 2019, Axis Communications SA, Hikvision South Africa , CCTV, Surveillance & Remote Monitoring, Residential Estate (Industry)
Estates now have a legal precedent to manage their traffic and fine people in the estate for violations of the rules; all they need do is find solutions that will support them.
Read more...
---
CathexisVision video management software
August 2019, Cathexis Technologies , Products, CCTV, Surveillance & Remote Monitoring
The CathexisVision IP video management software (VMS) helps clients get the most out of their surveillance investment and reap rewards for their companies.
Read more...
---
Capture every detail with Smart PIR kits
August 2019, Longse Distribution , Home Security, CCTV, Surveillance & Remote Monitoring, Residential Estate (Industry)
Longse Technology offers DIY smart security kits that are easy to install and offer a Wi-Fi range that can reach up to 300 metres.
Read more...
---
Future-facing cameras
August 2019, Bosch Building Technologies , Products, CCTV, Surveillance & Remote Monitoring
All FLEXIDOME IP starlight 8000i cameras feature built-in Intelligent Video Analytics, making them intuitive, and elevates their importance far beyond security alone.
Read more...
---