printer friendly version
The importance of CCTV training
CCTV Handbook 2014
CCTV, Surveillance & Remote Monitoring
In this article we take a look at what suppliers are doing to provide installers with adequate CCTV training. A number of comprehensive courses are available and provide skills from the most basic level up to programming status.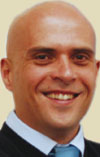 Ingo Mutinelli
Ingo Mutinelli, sales director at Elvey, says that the company provides a number of product-related courses as well as specific courses on the fundamentals of CCTV and system design. These courses are provided countrywide by both an in-house team of trainers as well as through the company's licence agreement with UK-based Tavcom Training.
Tavcom is a provider of online and classroom based security systems training courses across the whole spectrum of security. All courses are written in South Africa and invigilated by Tavcom's team in the UK.
Mutinelli believes that those distributors who are serious about providing installers with an added value, will offer appropriate training, from a grass roots level right up to technical levels. Distributors also need to stay completely up-to-date on current technology in order to provide benchmark service levels.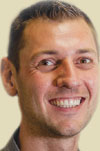 Ettienne van der Watt
Ettienne van der Watt, sales engineer at Axis Communications SA, says that Axis provides classroom training sessions, webinars and certification courses whereby learners undertake the course, complete assignments which are sent to a third party for marking, then write exams. Courses run from the fundamentals through to encoder (analogue to IP conversion) and design (of software and storage). Additional A&E (architect and engineer) specific courses on CAD drawings and specifications are also provided.
Rory Webber
Rory Webber, national sales manager at Reditron points out that the company goes out with the client and trains the end-user on Reditron's products. The end-user needs to be able to use the equipment with ease, in order to engender a feeling of comfort and trust in the product. The company offers monthly training on basic CCTV training and basic IP CCTV understanding for new entrants into the industry. Advanced product specific training is provided for system integrators on an ad hoc basis.
IP basics
With IP being the new buzzword in industry, training has evolved to keep up with demand. Webber says that understanding the basics of networking is very important in compiling a system to operate at its maximum ability. If the installer does not know how to install the product, it could lead to the loss of the contract. Reditron provides a fully certified training course on IP and the installation of IP cameras and NVRs as well as access control.
While there is definitely an interest in the training courses provided by suppliers, filling seats is often quite challenging. Mutinelli says that the primary reason for this is not the cost of training, but rather the fact that the installers are needed in the field, rather than in the classroom. By taking some of the training to customer sites, he believes that they are able to kill two birds with one stone.
Van der Watt points out that because end-users are now becoming more discerning about what installers are placing on site, Axis has seen an increased demand for end-user training.
Webber says that customers are showing increased interest in IP training and skills as IP camera systems become more price accessible and are demanded by end users. Some SIs lack the skills and understanding required to install and configure IP-based CCTV systems. "A lot of the smaller companies do not have IT specialists, but this is not an issue since we are seeing an increasing overlap between IT and IP installers. You do not need a degree in IT to install or understand the workings of an IP system if you receive adequate training."
A lack of skills in industry, ranging from a basic understanding of CCTV through to IP and design is apparent and this is where suppliers can help to fill the gap. By firstly assessing what current skills a candidate has, then placing them on the correct training programme, coupled with remaining flexible in terms of training schedules (for example, training on weekends and on site), will ensure an increase in learner numbers. This in turn will result in a more educated installer base and higher quality installations for end-users.
Contacts
Reditron, 087 802 CCTV (2288), [email protected], www.reditron.co.za
Axis Communications, +27 (0)11 548 6780, [email protected], www.axis.com
Elvey Security Technologies, +27 (0) 11 401 6700, [email protected], www.elvey.co.za
Credit(s)
Further reading:
Future-proofed intrusion detection for retail
Elvey Security Technologies Retail (Industry) Perimeter Security, Alarms & Intruder Detection Products
One of the ongoing challenges that has faced retailers during their adoption of security technology is the issues caused by non-standardisation of technology.
Read more...
---
A comprehensive video solution for retail
LD Africa Retail (Industry) CCTV, Surveillance & Remote Monitoring Products
Retail Intellect is a comprehensive, flexible solution for retailers that matches technologies to ensure point-of-sale safety and security with video analytics.
Read more...
---
Understanding customers better using AI
Secutel Technologies Retail (Industry) CCTV, Surveillance & Remote Monitoring Products
With in-store analytics of consumer behaviour, retailers can improve store performance and boost the productivity of their business.
Read more...
---
Benefits beyond just security
CCTV, Surveillance & Remote Monitoring
Store cameras are boosting customer experience and sales, as well as preventing losses, finds market research e-book from IDIS.
Read more...
---
Hikvision unveils first 'True 8K' NVRs
Hikvision South Africa CCTV, Surveillance & Remote Monitoring Products
The new M-Series NVRs can be used with a host of Hikvision cameras, and are ideal for environments where a wide field of view and extremely high image resolution are needed.
Read more...
---
Real-world sustainability and innovation
Axis Communications SA Security Services & Risk Management
Technology such as smart city surveillance systems, in combination with video analytics that use artificial intelligence to analyse, prioritise and make decisions, enables cities to use resources as efficiently and sustainably as possible.
Read more...
---
AI in video analytics
CCTV, Surveillance & Remote Monitoring Integrated Solutions
AI (artificial intelligence), has been developed and debated ever since the first computers were invented, and while the most revolutionary incarnations are not yet here, AI-based technologies are widely used today.
Read more...
---
Milestone flies a Kite for small businesses
Milestone Systems CCTV, Surveillance & Remote Monitoring
Milestone Systems introduces Milestone Kite for small to medium-sized businesses and organisations, supporting 6000+ camera models from 100+ manufacturers.
Read more...
---
Railway AI-enabled video analytics
Rugged Interconnect Technologies CCTV, Surveillance & Remote Monitoring
The Rugged Computing Group has announced the AVA-RAGX, a fanless AIoT video analytics platform for railway applications, paired with Nvidia's Jetson AGX Xavier platform.
Read more...
---
No supply chain delays from Germany
Dallmeier Electronic Southern Africa News CCTV, Surveillance & Remote Monitoring Products
Dallmeier announces that its complete Domera single-sensor camera family is available without delivery problems for installers and channel partners.
Read more...
---